Fast rising metal stars Bleed From Within have today been confirmed to headline Friday night at Les-Fest 3 in 2014. Having recently concluded the highly successful Defenders of the Faith Tour with Carcass, Amon Amarth and Hell and now ready to hit the road in 2014 with DevilDriver, once again Les-Fest continue to raise the bar year on year.
Organiser Dave Ritchie stated. "I am highly delighted to secure a band with the rapidly growing stature of Bleed From Within, who are undoubtedly now Scotland's largest and most successful metal band, so it makes absolute sense for them to headline Scotland's biggest metal festival"
Switching from metal to hard rock, we are also delighted to confirm hotly tipped, UK, bravado rockers The Burning Crows who's infectious mix of good time rock n' roll, with an attitude, has earned them the reputation of being one of the very best live bands on the scene today.
They will be joined by North Eastern, Scottish hard rockers GutterGodz rated 'particularly awesome' by Kerrang radio
Concluding our fifth main stage announcement and the last one in 2013 we are also delighted to confirm 3 of the bands that performed at the recent Scottish showcase gigs in the shape of Edinburgh based thrashers Disposable, metal rockers Vantage Point and Glasgow based Stoner Rock outfit Bacchus Baracus.
We can also now officially confirm our latest additions to the very exciting Cackblabath.com Stage, this year featuring headline act Steel Threads making a triumphant return for the second year. They will be joined by a number of acts doing acoustic unplugged sets including Bad Touch, Inferno, ExitState, Incassum and singer songwriter Scott Cowie.
Tickets available now from www.les-fest.co.uk
Full confirmed line up to date:
Main Stage
Bacchus Baracus, Bad Touch, Black Belt Karate, Bleed From Within, Cambion, Cypher 16, Deadly Circus Fire, Defy All Reason, Demonic Resurrection, Disposable, Exit State, Fallen Fate, Falling Red, Fireroad, Fury, Grifter, GutterGodz, Hostile, Incassum, Incinery, Inferno, Mask of Judas, Massive Wagons, Mothers Ruin, Nightmare World, Reign of Fury, Revoker, Sa-da-KO, Screaming Eagles, Spill 16, Spirytus, Stormzone, Skreamer, The Burning Crows, Vantage Point, Voodoo Vegas and the Wild Lies
Cackblabbath.com Stage
Bad Touch, ExitState, Incassum, Inferno, Scott Cowie and Steel Threads.
Next years event takes place within Valley International Park, Crossford, South Lanarkshire, on the 27th until the 29th June 2014.
Tickets are on sale now click here
Weekend Ticket – No Camping. £37.50*
Weekend Ticket – With Camping – £50.00*
*Plus Booking Fee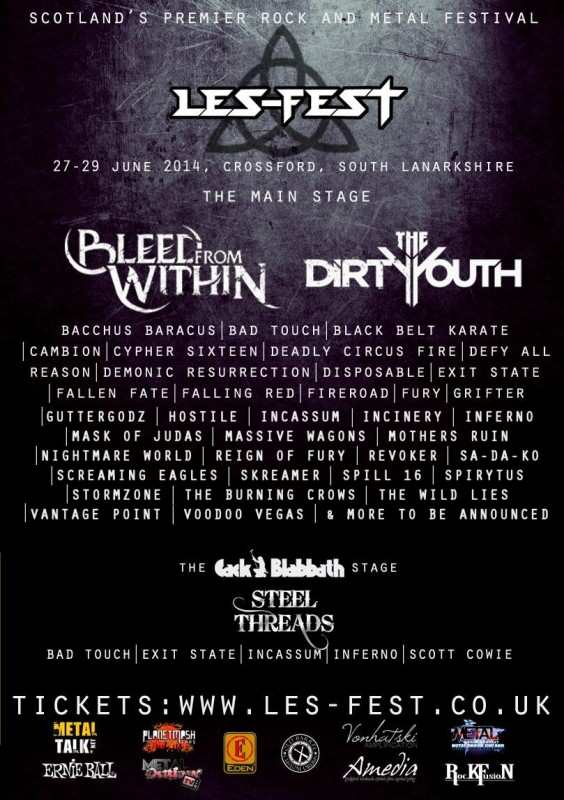 Links:
https://www.facebook.com/LesFest