Blasphematory serve up a disgusting feast of filthy, necro death metal on new album The Lower Catacombs
Hailing from New Jersey USA, Blasphematory have been emitting forth their vile take on death metal since 2019. With one EP, two splits, and now two full length albums, these guys know how to take death metal, and make it even more rotten…
Imagine a mass grave, that's been festering under a very hot sun for several weeks, and now been dug up. Imagine the stench and fetor. Well, that is pretty much how this album sounds! Truly grotesque, Blasphematory spew up seven tracks of nasty, necrotic, and yet surprisingly groovy and melodic filth over the 38 minute playing time.
First impressions…
Just the look of the album artwork – a black & white drawn depiction of an eruption of various demonic forms, shite, filth, and miasma gives a pretty good idea of what to expect. "Cruciform Shadows" starts us off with a low budget horror film type intro, before the first mid paced riff hits and draws you in. We then get an Entombed style bridge, before the vocals and main body of the track kicks in.
I should have anticipated the vocal style to come, which can only be described as abyssal cave man grunting. This dude must honestly have not seen the light of day for most of his life! This is devolved and primal – yet it is EXACTLY the thing for this music!
No messing around..
Blasphematory don't waste time getting these litanies of morbidity into your head. The first track has no sooner finished, and given you enough time to just about start drawing breath before second track "Unclean Eulogies" hits you like a rotting liver to the face. You are then given the "Key to the Furnace" which drags you further into the depraved cavernous sound of these "lower catacombs".
By the time the fourth track lurches out of my speakers, I'm already loving this "Perpetual Despair" I'm beginning to experience! This track slows things down to Autopsy like pace, with a chugging riff akin to a corpse dragging itself along the floor as assorted bits fall off it…
"Flooded Graves" sounds like a waterfall of liquified decay pouring into some underground fane of the dead. The rapid snare roll at the beginning, and at various points throughout this track adds to that effect. This draws us nicely into the last two tracks of the album
"Corruption of the Saints" rattles along like a marauding skeleton horde. Though the overall pace is much the same, the double kick drums really up their speed, underpinning another great riff.
Finally, we get to the title track "The Lower Catacombs". This is the longest track, clocking in at just over 7 minutes. It's a strong track, with some interesting little breaks and bridges in it that keep the ear happy.
To sum things up…
With this album, Blasphematory are not creating a new sub genre or anything groundbreaking. What they do give us is an album that really captures the essence of what I call true death metal. The production really helps with reverb on the vocals, and a warm old school analogue sound to it. Yet we can hear the instruments clear enough, but not losing that filthy vibe I mentioned in several metaphors above!
If you like your death unpolished, but with enough groove and earworms (or should that be maggots) to keep your feet tapping, then this is definitely for you!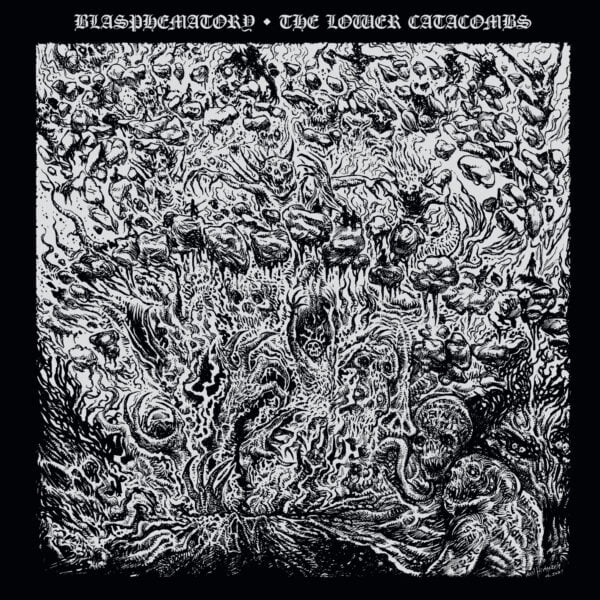 Track Listing
01 – Cruciform Shadows
02 – Unclean Eulogies
03 – Key To The Furnace
04 – Perpetual Despair
05 – Flooded Graves
06 – The Corruption of Saints
07 – The Lower Catacombs
The album is out NOW from the bandcamp link below!
Links
https://blasphematory.bandcamp.com/
https://www.facebook.com/blasphematory/
https://www.instagram.com/blasphematory/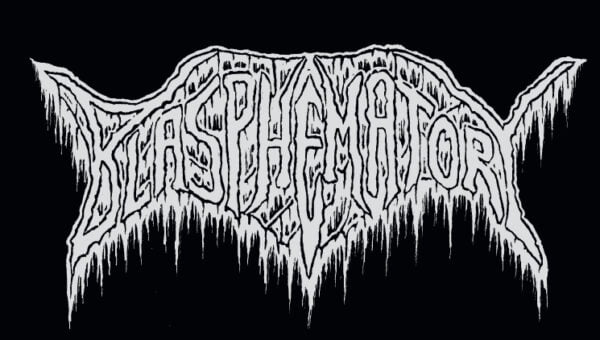 If you like your death unpolished, but with enough groove and earworms (or should that be maggots) to keep your feet tapping, then this is definitely for you!