Blackwater are a hybrid band formed of a Brit and two Swedes, which cannot make arranging band practise either an easy or cheap affair. At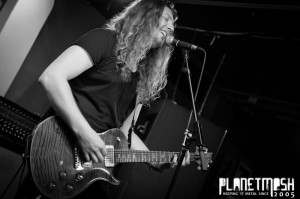 last they have brought themselves to singer/guitarist Jay Bartlett's home country for their first UK gig, after a selection of shows in Sweden and to play none other than the 100 Club on London's Oxford Street.
There was a reasonable audience in attendance, but it seems the Bank Holiday weekend, music festivals and summer holidays may have had an effect on numbers, as often is the case at this time of year. Unperturbed, Blackwater took to the stage opening with 'Perfect 10' to play songs from their forthcoming album.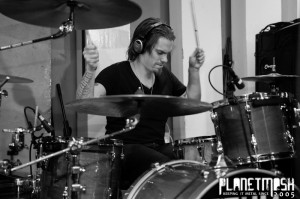 Single 'By Day & By Night', for which today's gig was the culmination of a charity campaign around this single for Cancer Research UK was, to my surprise, included halfway through the set rather than as the finale, but I am sure they had their reasons for doing so. This is a great, thoughtful and well written song that cannot fail to touch those who have felt a loss or seen someone they care about suffer, it was sensitively played by the band and well sung by Jay.
Unfortunately, the set was affected by bad sound and it was hard to hear the vocals in particular, which was a shame as the band do have a good classic rock vibe about them and listening to their material online, it would have been good to hear a better live mix.
Recognising that a lot of fans in attendance tonight are more familiar with Jay's previous band Counterpoint, Blackwater chose to close their performance with a song taken from that band's repertoire called 'As One'.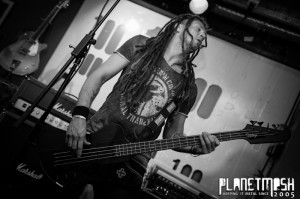 Blackwater make a solid sound for a three piece and certainly have something good lurking in the mix, but there was sadly a little too much against them this time and to spin on the penultimate song's title, I had hoped for 'Something Better'. Nevertheless, I do look forward to catching them again and hopefully hearing a better mixed and tighter show.
Set List
Perfect 10
Lonestar
Back Home
By Day & By Night
Without You
Something Better
As One