Forty-five years.  Forty-five fucking years.  Not only is that the length of time since Black Sabbath first unleashed their pioneering brand of heavy metal on a deeply unsuspecting world, and changed its musical landscape forever, but it also how long it has taken the genre's founding fathers to appear on a stage here in Belfast.  For many present, that represents a lifetime – and, in some cases, much longer – of anticipation…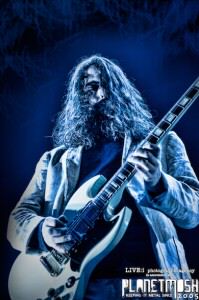 The unenviable task of opening proceedings fell to Uncle Acid And The Deadbeats:  while their brand of thumping retro-psyche-doom was arguably the perfect appetizer, and Kevin Starrs and his three bandmates tried their hardest – with varying degrees of success – to win over the earlycomers, they seemed somewhat lost and out of place in the surroundings of a major arena.  Their sound is most definitely better suited to more bijou environments than such cavernous auditoria, but it was a brave effort and they certainly rose to the challenge with aplomb and bravura.
Setlist:
Mt Abraxas / Mind Crawler / I'll Cut You Down / Death's Door / Poison Apple / Valley Of The Dolls / Over And Over Again / Desert Ceremony
http://www.http://acidcoven.com/
https://www.facebook.com/uncleacid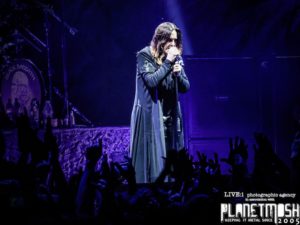 Having made their fans wait almost half a century for this moment, the Sabs obviously didn't want to keep them hanging around any longer as, four minutes ahead of schedule, the silhouetted shape of Ozzy Osbourne, arms raised in cruciform, appeared behind the cross-encrusted stage curtain.  With lasers and spotlights piercing the darkened auditorium, and wailing sirens heralding the arrival of the 'War Pigs', the fans gathered in their masses did not need a second invitation to "go fucking crazy" as the arena erupted into a seething mass of waving arms and bouncing bodies.
What was immediately obvious was the clarity of the sound:  for a venue that has always suffered from the muddiness of its audio delivery, it was like crystal, with every note and nuance as clear as the now long-departed daylight, matching the extremely high overall production of the show itself and allowing Geezer Butler's deep, throaty bass work to ram itself down every throat and Tony Iommi's superb guitar work to swoop and soar with the eagle-like majesty it deserved.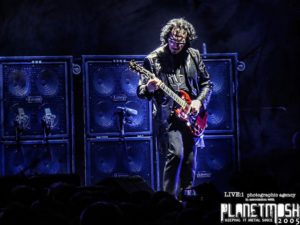 With Butler stoically nonchalant stage right, and Iommi threatening to crack a smile (or several) underneath his trademark shades, Ozzy prowled back and forth in his characteristic mien, whipping the crowd to even higher levels of craziness and giving the feeling that he was interacting personally with each and every person present, with his "I love you all" and "are you having fun?" shout outs.  OK, he may have shuffled across the stage on a few occasions, and he did forget the words now and again (most notably at the start of 'Iron Man'), but he was as enthusiastic as ever:  he's never been the greatest singer in the world, but these are songs only he could deliver in true, anarchic Ozzy style.
Underpinning the front of stage action was the quite frankly awesome drumming of Tommy Clufetos – who, despite the substantial age difference between he and his bandmates, looked and played like he had been in Sabbath all his life and was made to fill the stool vacated by the now disillusioned Bill Ward.  To describe his performance as a 'powerhouse' would be unfair and an injustice to his incredible talent, epitomized best by his titanic five-minute solo spot.
They may have been around for half a century and, with one exception, able to travel back and forth to gigs on their free bus passes, but tonight Sabbath proved that they are still more than capable of delivering some of the most thunderous heavy metal on the planet, and remain fully worthy of the respect and adoration which the faithful masses continue to show – and hopefully will continue to do so for some time to come.
Set list:
War Pigs, Into The Void, Under The Sun / Every Day Comes And Goes, Snowblind, Age of Reason, Black Sabbath, Behind The Walls Of Sleep, Bassically (Geezer Butler bass solo) / N.I.B., End Of The Beginning, Fairies Wear Boots, Rat Salad / drum solo, Iron Man, Dirty Women, Children Of The Grave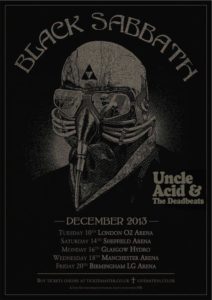 Encore:
Sabbath Bloody Sabbath (intro) / Paranoid
The tour continues on the following dates:
Saturday 14th – Sheffield Arena
Monday 16th – Glasgow Hydro
Wednesday 18th – Manchester Arena
Friday 20th – Birmingham LG Arena
Check out more exclusive photographs from the gig here: http://planetmosh.com/black-sabbathuncle-acid-the-deadbeats-odyssey-arena-belfast-12122013/