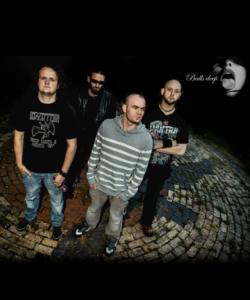 Balls Deep are set to play the Jägermeister Stage at this years Bloodstock festival on Saturday the 10th August.
We catch up with the band to find out more about them, the festival, their thoughts and what you lucky Bloodstock go-er's will see!
Can you give the readers a quick introduction please.
We are Balls Deep a 4 piece metal band from Stoke on Trent. We have been together 2 years and are just ready to release our debut album  A THOUSAND NIGHTS at bloodstock.
How would you describe your sound.
We are Balls Deep metal. No fucking around, no build ups, no fancy pants or flashy knickers. Straight to the point. Taking our influences from the likes of snot, pantera, dry kill logic to name a few
Why did you want to become part of the Jagermeister Stage line up. 
Because Jagermeister is fucking gorgeous. And they have always supported the metal music scene and up and coming artists. And the music industry needs companies like jagermeister to help the little guys and its a great pleasure and honour to be asked to play.
What was your initial reaction when you found out you were playing on the Jagermeister.
Its hard to put into words what we felt. An explosion of excitement, honour and achievement as we have worked really hard in this short space of time to get our name out there. We will show you on stage what it means to be asked.
How does it feel to be doing an acoustic set?
We wont be doing an acoustic set…. it will be the full cock and bollocks.
What can the audience expect from you at the festival.
Loud, aggresive, beer and jager drenched balls deep metal. Good times. Fun for all the family
Have you ever been to Bloodstock before? If so when and what did you enjoy most about it.
Butt hinge (guitarist) played back in 2009 with his old band long time dead. But other than that we are all virgins.
Just the atmosphere and organisation in genral is better than any other festival. Its a great mix of the big bands with a chance for new and up n comin bands to be on a line-up with there heros. Its also a great way to find new bands rather than always listening to what you already know.
What is your opinion of the Bloodstock line-up.
It gets bigger and better every year. A great mix of old and new. Personally we all have different bands we really wanna catch so i caters for all of us in some way or other.
What are you looking forward to most at Bloodstock. 
Just drinking with friends meeting new people and listening to good tunes. Ohhhhh and of course seeing all you guys at the front of the Jager stage.
Are there any bands you're hoping to watch while you're there.
Anthrax, Devil Driver, Lamb of God, Slayer, dude just all of them… mostly looking forward to finding some new stuff
Can you sum up Bloodstock in one sentence!
Metal festival, run by metallers for metallers.
Any message you wish to pass on to the PM readers
balls deep, saturday, Jager stage, See you at the front with a beer. We wont dissapoint
Thank you for taking the time out to complete this interview, we are looking forward to seeing you at Bloodstock \m/ \m/
Links: