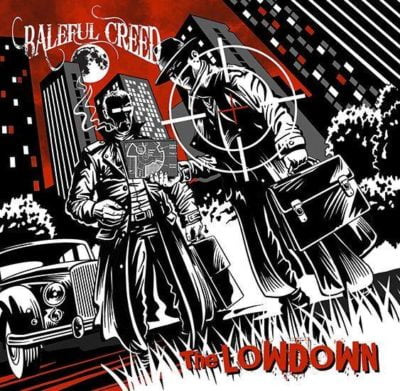 No lows, just highs on this bruising new album The Lowdown from Belfast based Baleful Creed. Currently available on their bandcamp page, these ten songs hit hard and heavy as opener 'Mr.Grim' is far from grim as it lumbers along on a steadfast stoner stomp and wailing wah-wah solos will get air guitarists in full flight.
'The Phoenix' is all body blow dynamics that hit hard, especially from the rumbling bass guitar lines. Riffs resonate like weapons of mass destruction throughout 'Pilot My Head', a real gravelly groover. 'Riled Up' certainly is as it has as much vitriol than a fight in a pub car park.
By the time you've wrestled with pronouncing 'Tramalamapam', five minutes of bass heavy ballsy blues is already on its way, ending on guitar laden outro backed by snappy snares. Catchy rhythms give a feel good vibe for 'Confused' that will have you reaching for a beer and kicking back as it eases into a trippy jam midway.
'One Shot' is a soul searching meandering journey that highlights the depth of their songwriting. 'End Game' is an aural battery of stoner rock that's so convincing, you can almost feel the desert sand blowing in your face. 'Line Of Trouble' is a heart melting ballad. If the lyrics don't move you then the sultry grooves will. Album closer 'Southgate Of Heaven' is not Slayer related but they do go all Deep Purple on us with keyboard bolstered heavy rock, topped off with some mighty "Whoa oh oh's" and harmonica.
The Lowdown track listing :-
Mr. Grim.
The Phoenix.
Pilot In My Head.
Riled Up.
Tramalamapam.
Confused.
One Shot.
End Game.
Line Of Trouble.
Southgate Of Heaven.
Baleful Creed band line up :-
Davy Greer – Bass guitar/vocals.
Fin Finlay – Vocals/guitar.
John Allen – Guitar.
Dave Jeffers – Drums.
Sign up to this crunching creed!