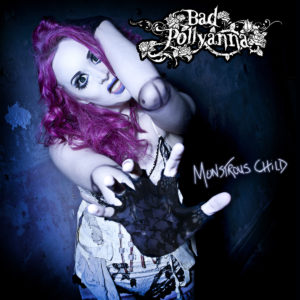 What would happen if you repackaged trendy pop music with a little bit of emo, and some of burlesque subculture's image? You'd end up with something like Bad Pollyanna.
Sugary sweet, digitally perfect female vocals merged with a litany of electronica sounds and effects comprise 2013's release, Monstrous Child. The well-mixed, crisp, current, ten track album features what seems to be virtually no analog instrumentation.
Written and produced in a straightforward 'L.A pop' vein or style, it's destined for far more then fifteen minutes of fame.
This will appeal to fans of electronica, emo, goth, alternative, and 'current' pop music.
Track Listing:
Hollow
Awake Now
Monstrous Child
Liquid Lover
Where Does It Hurt
Letting You Go
My Incubi
The Living Dead
Chase The Demons (From My Bed)
Epilogue (Invincible Girl)
Band Lineup:
Olivia Hyde – Vocals, Piano
Nikki Kontinen – Bass, Programming
Stephen Kilpatrick – Guitar
Valerian Adore – Drums