Brighton-based rock band, Bad Luck Friday release Rebel With A Cause, the third single from their eponymous debut album. Released by Wilde Fire Records, the single is available to stream HERE.
"Rebel With A Cause is Bad Luck Friday's unambiguous statement about Britain's current political climate," says the band's guitarist Steve Brook. "Channelling Rage Against the Machine, the track's opening riff serves as a rallying call to the disaffected, the downtrodden and jaded alike: get off your rear and get to the front! It's big, bold and demands to be heard."
The Rebel With A Cause music video is available to watch at:
The band's eponymous debut album is available on CD and limited edition coloured vinyl from www.badluckfriday.com.
Bad Luck Friday support Jared James Nichols at The Black Heart in London on Wednesday 22 February. Tickets are available from https://myticket.co.uk/artists/jared-james-nichols
Don't be fooled by the harmonica. Bad Luck Friday is not your typical blues rock band. Will Wilde has a reputation in the blues world as a pioneer of the rock harp, but with Bad Luck Friday, he's taken the music well beyond its traditional blues roots.
The band formed during the ashes of the pandemic when live music ground to a halt. Frustrated but still determined and highly creative, Wilde teamed up with guitarist, Steve Brook, and together they journeyed inward and developed their original style before bringing in Alan Taylor and Jack Turnbull to complete the line-up. Their fusion of bluesy classic rock and aggressive, contemporary hard rock encompasses anthemic choruses, catchy riffs, searing vocals, and Wilde's blistering harmonica solos.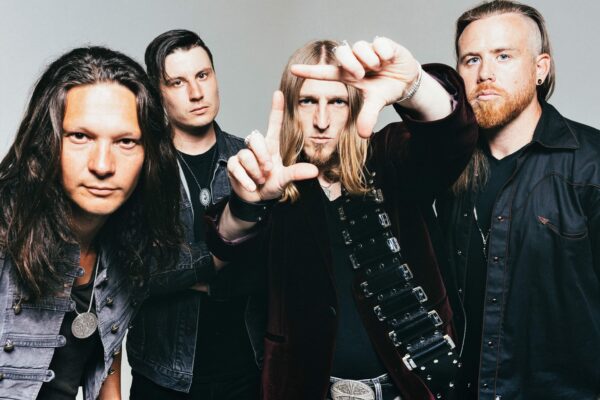 ALBUM TRACK LISTING

1. BAD LUCK FRIDAY (3:26)
2. 666 AT THE CROSSROADS (3:16)
3. BANSHEE (3:19)
4. DUST & BONES (4:03)
5. JEALOUS WOMAN (3:36)
6. TAKE THE BEST OF ME (4:18)
7. MISTRESS (4:08)
8. LOW DOWN DIRTY (4:27)
9. BONNIE TO MY CLYDE (3:05)
10. REBEL WITH A CAUSE (4:01)

All songs: Music written by Will Wilde and Steve Brook, lyrics by Will Wilde and Sara Starbuck
BAD LUCK FRIDAY SUPPORT JARED JAMES NICHOLS AT
THE BLACK HEART, LONDON ON WEDNESDAY 22 FEBRUARY 2023
TICKETS AVAILABLE HERE
Photo of Bad Luck Friday courtesy of Blackham Images
For further information about Bad Luck Friday, please visit:
Website | Facebook | Instagram | Twitter | YouTube| Spotify