Ba'al, Prognosis, 4GEN7 Live Review Grand Central, Manchester
Live music on a Sunday night has now become a weekly occurrence at GC, and tonight was offering a tasty line up of Ba'al, Prognosis, Idio, and Sparrowhawk. However, there is a late-in-the-day cancellation from the latter 2 bands, and so the very popular local band, and always good 4GEN7 (Agent 47) take their place(s), and open proceedings.
4GEN7
Just before the music started, Rik Hunter (Bass, Vocals) remarked that the original poster could easily have been changed to reflect the new line up simply by crossing out Sparrowhawk, and adding a T and an S to Idio! Such self-effacing humour is typical of these guys though, and they are far from being idiots!
They themselves have had a slight change with one of their 3 guitarists (yes!) out with Covid. This does not stop them from tearing into a fine set of their groovy, hardcore-tinged metal. Opening with "One Bad Day" I'm hit with how good the sound is for such a relatively small venue. Not only that, the guys all look to be having a great time already. Several songs in, we hit "Junkie" and the first amusement of the set. Guitarist Mark sets things off, then Rik stops and tells him that he's meant to be playing "Junkie", not "Never Again"!
A similar good natured cock up happens with "Dissimulator", which keeps smiles on all our faces. This is also my favourite song of their set. After a couple more songs, Rik introduces a new song called "Get Off My Lawn (You C**t)". It's a 15-second grindcore blast about the neighbour's cat that keeps shitting on Rik's lawn! "Rise//Fall" rounds their set off, and I have to say that in the many times I have seen 4GEN7, this has to be one of the best!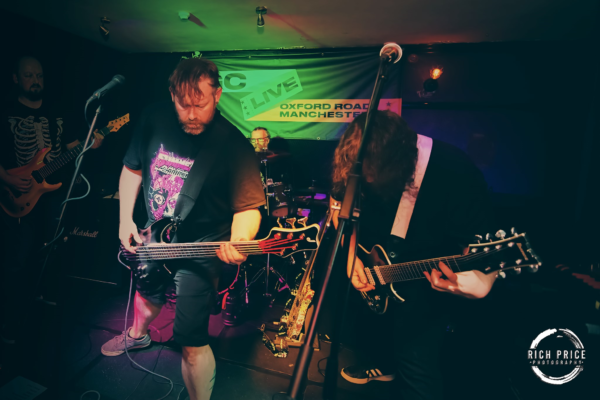 Set List
OneBadDay, Grindr, Suffer, Breath, Junkie, Never Again, Mantra, Dissimulator, Ashes, TRRS, Get Off My Lawn (You C**T), Rise//Fall
Prognosis
It has been a while since I have seen Prognosis and their technical prog metal, so I'm looking forward to hearing them. With only Phil Weller remaining of the line-up I last saw, they are now minus a bass player (Danny Daemon used to be bass and vocals) so it's going to be interesting. Well, as they open up after their intro with "Kraken" it is not noticeable that there is no bassist! Drop-tuned guitars cranking out big fat tasty riffs either discount the fact or drown out any backing that may be playing the bass lines.
Drummer Yan is smashing out some fine polyrhythmic beats as a mesmerising swirl of technical riffs and melodies provide the canvas for vocalist Corban to deliver over. He's a very slight lad, and it's amazing to see and hear him go from clean singing to screams and Tyrranosaur-like bellows. With little pause between songs, their set becomes a vast epic soundscape, with fine alternating leads from guitarists Phil and Lewin. Definitely a very tight and comprehensive unit, Prognosis has delivered in spades tonight proving that you can be highly melodic and technical, whilst still being crushingly heavy – Mess-hugger please take note! Outstanding!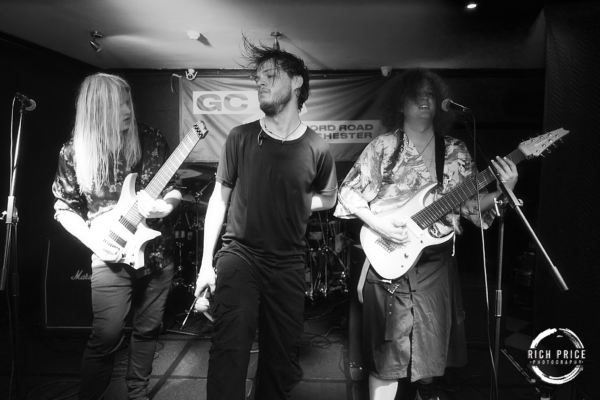 Set List
Intro – Apparition, Kraken, Drones, Bones of Flowers, Dinosaurs, Follow You Down, Kissing Vipers, Phantom Force
Ba'al
In the opposite of the previous bands, this is actually my first time seeing Ba'al live, and my anticipation is high. Having recently interviewed vocalist Joe Stamps (link to that at the end), and knowing there would be new material having its first airing tonight I'm ready to enjoy the moments.
Kicking off with the fast-paced and brutal "Long Live", it's great to hear Joe's vocals as clearly as they are. On studio work, I feel his singing is not as far forward in the mix as it should be – something akin to how Ihsahn of Emperor's is on "Anthems To The Welkin At Dusk". Now we get the full force of his rampant roars, screams, and plaintive whispers.
The first new song of the night comes with "Ornamental Doll". It's lush, epic, and ebbs and flows like the sea, then hits like storm-driven waves. As does "An Orchestra of Flies" – I just have to close my eyes and be one with just the music and vocals – Ba'al are not just sonically heavy but are emotionally heavy too. Proved perfectly by "Father, The Sea, The Moon" which Joe introduces as a song for anyone who has ever known the loss of someone close. A few days before, I had been at the funeral of one of my best mate's father, so this one hits hard, yet adds a great deal of positivity to the lament.
In between those two songs, was another of the new ones entitled "Yearn To Burn Bright" which really showcases the musical skills of guitarists Nick and Chris, bassist Richard, and drummer Luke. They are the driving force behind Joe's heartfelt lyrics and never miss a beat.
Finishing off with another new one – "Grief Tourist", and "Legasov", Ba'al have delivered a phenomenal set. Despite the individual length of some of the songs (hence only a 7-song set), it never got boring or lost its intensity. Even the softer atmospheric parts hit like a stake to the heart. I'm on a different spiritual plain at this point and need a couple of minutes to come down from it and go speak to the band and let them know how much I enjoyed it, and what it meant to me. If you have yet to experience Ba'al in the live setting, or indeed just the studio output, then treat yourself to one of their gigs in October! You will not be disappointed.
Ba'al Gigs:
6 Oct. Brighton, UK. EAST STREET TAP.
6 Oct. London, UK. Retribution Alive: Dark Clouds Over Maryland.
8 Oct. Cardiff, UK. Fuel Rock Club.
13 Oct. Liverpool, UK. Zanzibar.
14 Oct. Edinburgh, UK. Legends Edinburgh.
15 Oct. Sheffield, UK.Corporation
16 Oct. Sheffield, Heel Turn Festival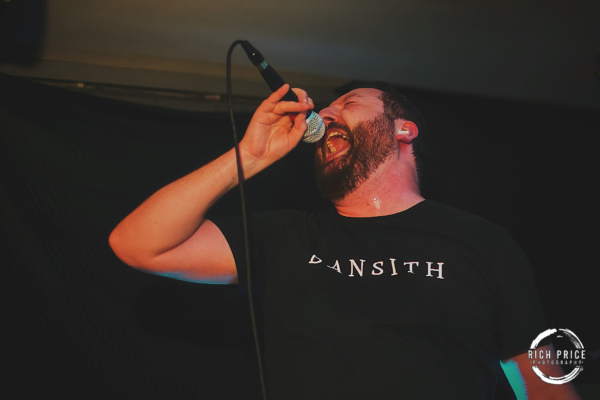 Set List
Long Live, Ornamental Doll, An Orchestra of Flies, Yearn To Burn Bright, Father The Sea The Moon, Grief Tourist, Legasov
https://www.planetmosh.com/joe-stamps-of-baal-and-hecate-enthroned-interview/
Finally, many thanks go to all the bands for the setlists, Robin Plumbly of GC for putting on the gig, and especially Rich Price for allowing me the use of the 4 photographs used herein. Cheers!