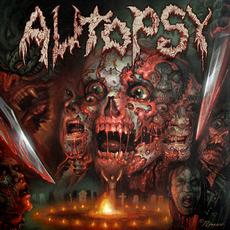 It is ironic that a record label called Peaceville release albums as heavy as Autopsy make but thanks to them Autopsy's 6th full length studio album The Headless Ritual was unleashed on June 24th 2013 with a release date of July 2nd in the USA. The jaw dropping album artwork by Joe Petagno (who designed Motorhead's "Snaggletooth" logo) is gruesome to say the least,giving the listener a good idea to what is in store!
Along with Possessed and Death,Autopsy have always been associated as one of the originators of US death metal following their formation in 1987 in the Bay Area of San Francisco. They released 4 studio albums via Peaceville Records but frustration led them to split in 1995 but to the delight of their fans,reformed to record an e.p in 2010 followed by the 2011 album Macabre Eternal thus receiving widespread acclaim.
Three of the original members are still pummelling away to show that age has not slowed them down as the 45 minute running length of the album rushes by in the blink of an eye with non conforming blistering death metal. Every track is a benchmark of the genre and album opener Slaughter At The Beast is a prime example as Autopsy set their stall out from the off with a whirlwind of vociferous rage. Guttural bellows and demented shrieks come forth from lead vocalist/drummer and founding member Chris Reifert showing you do not have to lead from the front to be a frontman! The track surprisingly grinds to a deathly halt at the 3 minute mark as a monotone drum beat and discordant  bass guitar set the tone for a torturous spoken word passage by Chris which gives way to a frenzied ending.
Other gory gems that spew forth are Mangled Far Below,the title befittingly describes the effect of the crushing guitars as the tempos steamroller in on an Entombed type groove. She Is A Funeral is another 6 minute plus epic as its distorted intro riff makes way for a claustrophobic main riff over yet another bilious vocal with some strafing guitars solos midway. When The Hammer Meets Bone is 100mph thrash metal which brakes hard midway into serrated riffing and a morose guitar solo as insane rhythms close the song.
Thorns And Ashes is a short sharp track  with an intense riff backed by hammer blow drumming. Arch Cadaver is a pulse quickening speed metal assault reminiscent of Hell Awaits era Slayer. Running From The Goathead is definitely the most angry song on the album as it rages in on a bluster of guitars which drive on into full on death metal. The title track and the last on the album is a brutal instrumental,a fine way to close a near faultless release!
Recorded and mixed in April 2013,The Headless Ritual cd comes in a jewel case with digibook and expanded booklet and a vinyl edition is also available. A must have for any extreme metal fan!
Autopsy band line up :-
Chris Reifert – Drums/Lead vocals.
Eric Cutler – Guitars/Vocals.
Danny Coralles – Guitars.
Joe Allen – Bass Guitar.
The Headless Ritual track listing :-
Slaughter At Beast House.
Mangled Far Below.
She Is A Funeral.
Coffin Crawlers.
When The Hammer Meets Bone.
Thorns And Ashes.
Arch Cadaver.
Flesh Turns To Dust.
Running From The Goathead.
The Headless Ritual.