When an album starts with an eerie intro such as this you know it's going to be one hell of a ride. Pouring rain and a single church bell chime, Sabbath-esque, which eventually falls in time with the opening riff. So haunting, so perfect. Ashen Crown have produced a blinding debut album here. The Brummie metallers play intense thrash to the extreme and this journey isn't one you'll forget in a hurry.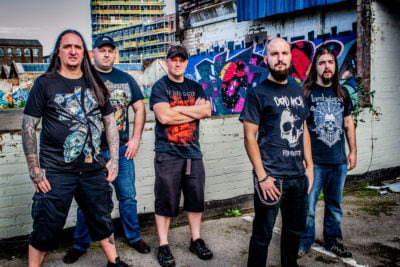 Tuning guitars down to produce a more depressing sound has always been a favourite of mine. The opening riff in 'Unbroken Faith ' demonstrates this with stunning effect. Kieran's vocals sound almost throat ripping. Gurgling like a goat with Listerine. Mike's double bass drum technique is plain for all to hear in 'Crimson Sea ', a crunching track with some perfectly aligned time changes, and a beautiful, peaceful mid-section. A lengthy number too clocking in at just over six minutes, as does 'Unbroken Faith '.
'Ultimatum ' sends us more towards the Slayer genre. Another crunching number with more speed but not quite as magnificently depressing as the opening two numbers, but holds a spectacular finale. 'Right To Rise ' tails a little more towards mainstream thrash / metal (if there is such a thing), but it's not a bad thing as it sits nicely within this album.
There isn't a bad track here. Not a single one. 'Blood Beneath Us ' proudly spawns a Slayer style riff, like something from the 'South Of Heaven ' era, before unleashing into a pulsating onslaught of speed. 'Under The Leaves ' closes this brilliant debut album. Another haunting intro which is eventually replaced by speed and power, and boasts an empowering ending with some haunting female vocals. Perfect. Drums are prominent, as they have been throughout. A superbly produced and constructively brilliant album from a band going places.
Track List:
1 – Unbroken Faith   2 – Crimson Sea   3 – Ultimatum   4 – Right To Rise   5 – Guilty Of Hatred   6 – Blood Beneath Us
7 – Fall Of Thine Eyes   8 – Under The Leaves
Line-up:
Kieran Scott – Vocals   /   Ste Fowkes – Guitar   /   Jay Rogers – Guitar   /   Philip Milman – Bass   /   Mike Ellis – Drums
Links:
Release date: 01/11/19. Running length: 43mins 44secs. Superbly produced and constructively brilliant.