Anvil – Live Stream Metal Show Review – L'anti Bar And Spectacles, Quebec City, Canada, 4th July 2020.
Anvil, the band that seems to tour non-stop! Unfortunately, Covid-19 put the brakes on the early leg of their 2020 Legal At Last tour but dates have been rescheduled and for those who have not yet seen them on this tour, on July 4th 2020, they played a virtual concert with perfect sound quality and various camera angles that make it a visual and audio feast!
It's available on live stream until July 14th as they powered through an eighty minute set of old and new classics with a special surprise for the encore. It was played to an empty room with added crowd noise, much to the amusement of lead vocalist/guitarist Steve 'Lips' Kudlow who quipped about it throughout, backed by the dynamic rhythm section of Chris Robertson on bass guitar and Robb Reiner on drums.
"Hello, we are Anvil and we play heavy fucking metal" was a statement of intent by Lips, point proven as the band locked in hard for the mental instrumental 'March Of The Crabs' from their seminal album Metal On Metal. Even with the lack of crowd, their smiles were still there due to their love of performing.
Hand signals from Lips could only mean one thing, the intro to '666'. Riffs fly out hard and heavy and there is no stopping Robb when he hits his stride, seemingly lost in music as was Chris, swaying with the groove.
The Anvil time machine took us way back to 1981 with the catchy little ditty 'Ooh Baby', from their debut album Hard N Heavy, introduced by "fuck you Covid-19, you can't stop rock and roll'.
After an hilarious anecdote about Chuck Berry and Bill Cosby, the main riff for 'Badass Rock N Roll' would get the stiffest neck headbanging, that intensified when Lips ripped into the Ted Nugent tinged fretboard burning solo.
"From our latest album Legal At Last, definitely paying homage to Canada, you know" saw them rip into the title track. A worthy addition to their speed metal back catalogue. Rhythms are unrelenting as Chris thuds along behind Lips solo. The song portrays the legalization of cannabis in Canada with lyrics that include "they say it's educational, profits are sensational".
Also from that album, 'Nabbed In Nebraska' is a groovy grinder, peppered with guitar solos as Lips delivers his lyrics with a snarl.
"All about keeping the peace, which we could do with some these days" preceded a raging 'Winged Assassins'. Chris pummeled away with fingers of steel on his five-stringed bass whilst pogoing on the spot! It's one of the heavier tracks from 1983, Forged In Fire and the powerful anti-war lyrics still ring true.
'Free As The Wind', another turbocharger from it was emotionally introduced as "here's a song I'd like to dedicate to our good old buddy, now deceased, the fucking awesome guy Lemmy Kilmister". A longer heartfelt tale came from being on the road supporting Motorhead in 1983. Definitely one of my all time favourite Anvil songs due to the main riff. The midway guitar solo and drum assault must have shaken the foundations of the venue.
'On Fire' sums up the performance here as Lips jokes "i love the canned audience, hilarious. Feels like I'm on a game show. The Price Is Right!" Jams are well and truly kicked out as it lives up to the song title and Anvils dedication to what they have done since forming in 1978 in Toronto.
The pace drops, but not the heaviness as the epic 'This Is Thirteen' oozed from the stage on a Sabbath like wave of doom. A chilling monster full of howling feedback and mystical lyrics.
'Mothra' spreads its wings for a lengthier running time than the album version, mainly from the ear splitting guitar solo midway, most of which comes from a vibrator being used on the strings. A killer main riff heralds a chug that chomps at the bit like the monster that's featured in the song. Lips and Chris ham it up midway hilariously!
"Now we're really gonna kick some ass" shouts Lips as 'Bitch In The Box' is more catchier than an STD. It's a quirky tune berating in car sat navs with some killer vocal harmonies.
"Here's a great song, the drums are gonna crush your fucking brains. This is Robb Reiners finest moment in the set". It's no false bravado, it's the real deal as it can only mean that 'Swing Thing' is coming! More hilarious goofing around by Chris and Lips for this lengthy instrumental sees them leave the stage for the softly spoken man at the back show how big an influence he was on the early thrash metal bands. His solo here seems even longer than usual to me, a masterclass in drumming!
Another newie I'm Alive', another Nugent tinged scream dreamer sees the speedometer level hit the red needle.
"Audience or not, it doesn't matter, we're having a fucking riot up here! Sounds great up here, probably sounds amazing online to". The gonzoid Herculean riff for 'Metal On Metal' is still seismic after all these years. It's an anthem to end all anthems.
They come back for an encore. "sounds like the canned audience wants another one, probably the real audience out there want one to" Lips quips as they crank out 'Born To Be Wild', that I've not seen them play live for quite a few years. It's a crushing cover of the Steppenwolf classic due to the kick drum overload and I'm sure the live stream audience hollered out "heavy metal thunder" as one voice!
Gig setlist:
March Of The Crabs.
666.
Ooh Baby.
Badass Rock N Roll.
Legal At Last.
Nabbed In Nebraska.
Winged Assassins.
Free As The Wind.
On Fire.
This Is Thirteen.
Mothra.
Bitch In The Box.
Swing Thing.
I'm Alive.
Metal On Metal.
Born To Be Wild (Steppenwolf cover).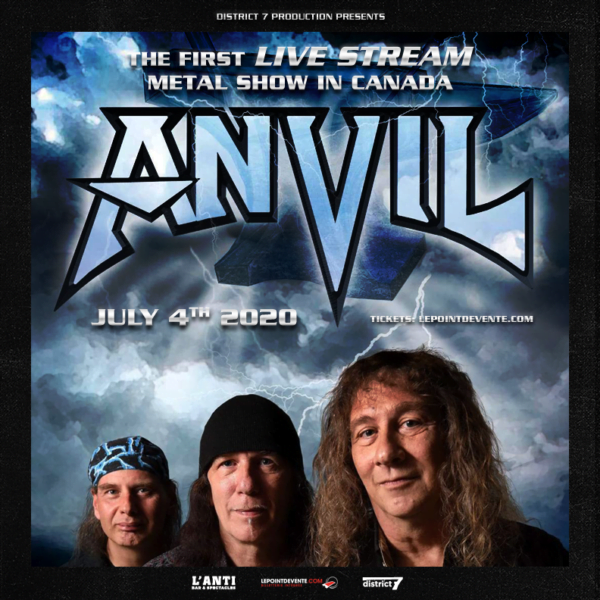 The Toronto trio show off their strength of steel in this juggernaut of a gig.