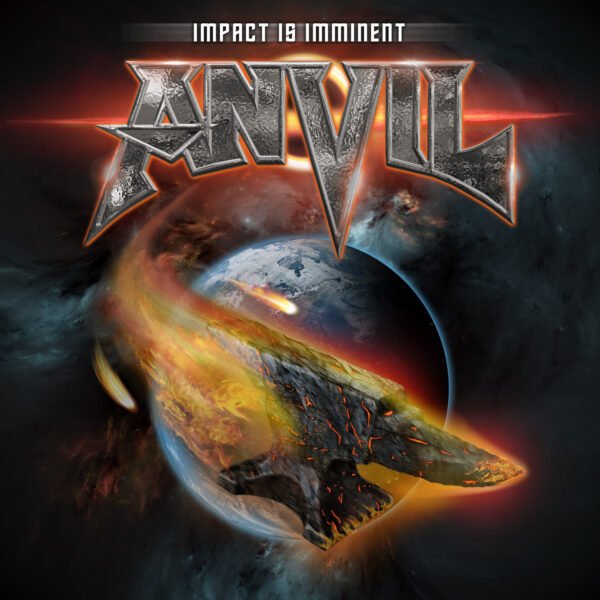 A quote from Ted Nugent of "You can't keep a good dog off your leg" perfectly sums up the dogged determination of Anvil, formed in 1978 in Ontario, Canada. Original members Steve 'Lips' Kudlow on guitar/lead vocals and Robb Reiner on drums are now a much tighter band due to Chris Robertson joining on bass guitar and backing vocals in 2014.
This point is also proven by their nineteenth studio album Impact Is Imminent due to be released on May 20th 2022 via AFM Records. A whopping fourteen songs show they are still going strong as Lips was under no race against time to write the album due to Covid -19 causing concerts to be cancelled at short notice and tours postponed which reflect in the anger of his lyrics meaning there isn't a hope in hell that the album would not have plenty of power!
The album opens with the juggernaut that is 'Take A Lesson' introduced by a fanboy speech by none other than Dave Grohl. The only lesson to be learned here is to crank it up to eleven to appreciate the speed of sound velocity as Lips delivers his vocal with a Lemmy like snarl, a hard and heavy kick drum overload and finger snapping bass guitar lines.
'Ghost Shadow' sees them do what they do best by dishing out proto thrash metal and you can't help but marvel at the time changes as a lung busting vocal precedes a guitar solo that's sheer nirvana.
A gruelling grind is launched by 'Another Gun Fight', a catchy but caustic shooting from the hip headbanger pinned down with a drum solo as if every inch of the kit was covered.
The intense riff to 'Fire Rain' brings another Ted Nugent reference due to the intensity of the riff to get under your skin. It's a trademark Anvil chugger that heads toward a snare driven piece and Lips firing up his fretboard.
'Teabag' is the first of two mental instrumentals which I assume comes from a nickname they used to call an old superfan called Sacha Gervasi, now a famous film director who got in touch with Anvil and made the Anvil : The Story Of Anvil film, released in 2009 that changed their lives forever! The song highlights their quirkiness as raw riffs and a bluesy solo are heavied up by the iron fingers of Chris on bass.
'Don't Look Back' is almost spoken word as a retrospective vocal looks also to the future as a drum cavalcade ups the heaviness ante once more to eleven.
'Someone To Hate' lives up to its title with headphone rattling power metal ferocity as kick drums are a force of nature around a supernova hot guitar solo.
It took repeated plays of 'Bad Side Of Town' for a journey to the centre of my mind to grasp. It's of hurricane force to lay waste to anything in its path, mainly from fast footed drum devastation that brought to mind 'Free As The Wind' from their Forged In Fire album.
A spooky vibe is conjured up by 'Wizard's Wand' as they chug along like their lives depend on it and just as you get into the groove Lips launches into one of the fastest solos I've heard him play.
Personal lyrics rise up for 'Lockdown' that highlight the frustration from Covid -19 once more. It's another gnarly grinder peppered with melodic guitar fills.
'Explosive Energy' hurtles along on catchy but still caustic riffing. Snare drums are crisp over pummeling bass guitar bludgeon.
'The Rabbit Hole' stamps its feet on a headbanging delivery, especially the wrecking ball power drum avalanche.
'Shockwave' rumbles along on a stiff as steel riff that drives this Sabbath tinged doom masterpiece towards claustrophobic choruses.
Album closer and the second instrumental sees 'Gomez' be the natural successor to 'Swing Thing' from their Juggernaut Of Justice album. It's a heavy metal hoedown that struts its funky stuff from powerful brass section stabs over a main riff as the rhythm section lock in for a superhuman assault.
Pre-release purchase links to the album and other band links are here :- https://shop.afm-records.de/anvil/ I http://my.tbaytel.net/tgallo/anvil/?fbclid=IwAR3QXk7w1FbzvLXHH8eJ22Ha3wETs8L160lcZVnssv808HLdscEmPuOd5gs Ihttps://twitter.com/AnvilMetal666 I https://www.facebook.com/anvilmetal
Impact Is Imminent album track listing :-
Take A Lesson.
Ghost Shadow.
Another Gun Fight.
Fire Rain.
Teabag.
Don't Look Back.
Someone To Hate.
Bad Side Of Town.
Wizard's Wand.
Lockdown.
Explosive Energy.
The Rabbit Hole.
Shockwave.
Gomez.
Anvil band line up :-
Steve 'Lips' Kudlow – Guitar/Lead Vocals.
Robb Reiner – Drums.
Chris Robertson – Bass Guitar/Backing Vocals.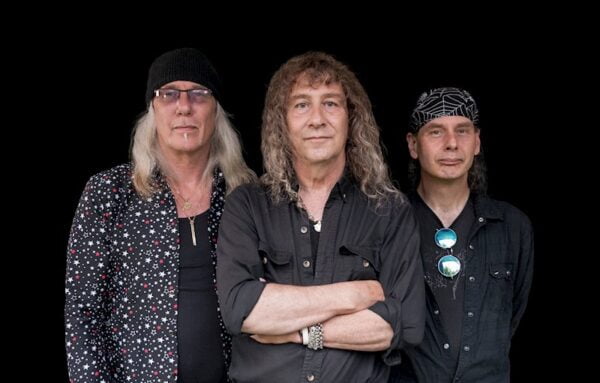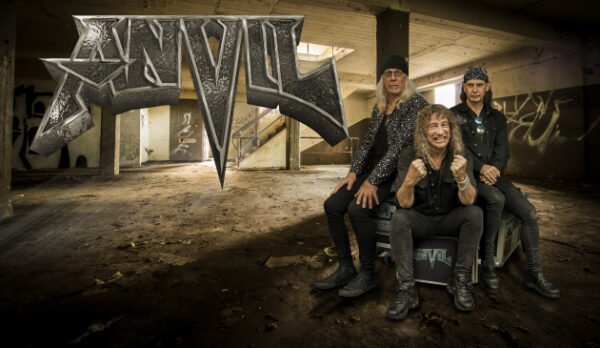 May the Anvil forge be with you as they unleash their brand new studio album Impact Is Imminent on May 20th 2022.