On the Twelfth day of Christmas PlanetMosh gave to me 'One Drummer Drumming' on eleven tracks by ACDC on their latest album Rock or Bust released via Columbia records on 28th November 2014. The band celebrated their fortieth anniversary last year after forming in Sydney, Australia in November 1973. After High Voltage and TNT were released in their home country AC/DC's debut album to be released worldwide was High Voltage starting with the song It's A Long Way To The Top and it has been a long and, sometimes, bumpy ride with original singer Dave Evans being replaced by Bon Scott in 1974, who sang on seven albums before he tragically died a 'Death By Misadventure' aged 33 in 1980.
The band could have called it a day but they enlisted Geordie singer Brian Johnson, Geordie being the name of his former band and a reference to his Gateshead roots and went on to release their best selling album Back In Black, which sold over fifty million copies worldwide. Rock or Bust is the bands' tenth studio album with Brian Johnson and their first since Black Ice was released in 2008, which sold nearly eight million copies worldwide. Rock or Bust was recorded in Spring 2014 at Warehouse Studio in Vancouver. Produced by Brendan O'Brien and mixed by Mike Fraser. It was announced earlier this year that founding member Malcolm Young would be taking a break due to illness and due to the nature of the condition would not be returning to the band. This is the first album in 41 years without Malcolm on rhythm guitar, but the band have enlisted Malcolm and Angus's nephew Stevie Young to play rhythm on Rock or Bust.
The way I like to review is to try and pull out some similarities, to give readers an idea of what the band/songs sound like, but it's proved a bit difficult with ACDC, as they're my favourite band so, to me, it all sounds like ….. well ACDC! Although I like the Bon Scott era most, and no-one else quite matches his song writing ability, I do like post Bon too and I've managed to pull out a few comparisons even if it's just likening to an earlier AC/DC release. With Brian's powerful vocals and Angus Young's skill on the six strings there is no doubt that this is AC/DC. The title track of their last album Black Ice is a more funky number and there are a few funky tracks on Rock or Bust. With it's Back in Black drumbeat Hard Times then blends into something like a funked up Hard as a Rock, from 1995 album Ballbreaker. Baptism By Fire is definitely ACDC but has a funked up vibe, say ACDC meet Extreme's Get The Funk Out and Emission Control has a James Brown Play That Funky Music White Boy vibe.
The first single release from the album is the second track Play Ball with riffage which, in places, reminds me of Show Me What You Got, the second track from the 2001 album This is Rock 'n' Roll by The Quireboys. The start of Dogs of War reminds me of the late Joe Cocker's (cover of The Beatles) With a Little Help From My Friends, and some of the riffage in places, but it also reminds me of War Machine from AC/DC's own Black Ice. Sweet Candy has a bit of a Skies on Fire (again from Black Ice) meets War Machine vibe.
My colleague Dave Bradbery says "From the first opening riff you hear, you instantly know it's an ACDC track! Tracks one, three, six , nine and eleven were my favourites (see track list below) But that said, I do think they have played it safe and made a pretty main stream album that won't lose them any fans. Perhaps it just wasn't the right time to do something that pushed on the limits of their bubble?"
I don't know if that question is for me specifically or for you, the reader, to ponder upon and come to  your own conclusion. With Malcolm's retirement from the band and drummer Phil Rudd appearing in Court on murder procurement charges which were subsequently dropped it hasn't been their best year, so maybe they did want to play it safe, but with a European Tour in 2015 they are still going strong. Rock or Bust, the second single, has the poignant lyrics 'It's rock or bust in rock we trust' and even though they suffered Down Payment Blues (a song on the 1978 album Powerage) in their early days they've carried on riding the Highway to Hell and chosen to trust in rock, and having done so have amassed a small fortune, they certainly won't be going bust! The album isn't another Back in Black or Highway to Hell but it's still a good solid album with no filler tracks meriting a worthy five stars.
Rock Or Bust is available on CD and vinyl LP featuring some amazing, multi-dimensional, moving cover art, which gives the illusion of the band's iconic logo exploding when the cover is moved in different directions.
Highlight Tracks: Rock or Bust (Dave's ultimate favourite too) and Emission Control
Set List: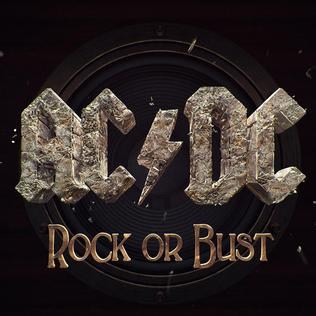 1. Rock Or Bust
2. Play Ball
3. Rock The Blues Away
4. Miss Adventure
5. Dogs Of War
6. Got Some Rock & Roll Thunder
7. Hard Times
8. Baptism By Fire
9. Rock The House
10. Sweet Candy
11. Emission Control
Band Members:
Angus Young: Guitar
Stevie Young: Guitar
Brian Johnson: Vocals
Phil Rudd: Drums
Cliff Williams: Bass
Whilst Rock or Bust isn't another Back in Black or Highway to Hell it's still a good, solid album with no filler tracks meriting a worthy five stars. Classic Brian Johnson vocals paired with Angus Young riffs. It is sure to be a welcome addition to any ACDC fan's album collection.