When the likes of Iron Maiden, Saxon and Judas Priest eventually decide to hang up their leathers, the position of being one of the superpower's of British Heavy Metal will be up for grabs. Enter Absolva, a bruising fourpiece from Manchester who are armed with all the credentials potent enough to receive the baton. If you have  followed the band since their inception I'm probably preaching to the converted as 'Side By Side' is their fifth long play release. But to  those who stick to the glamour of the mainstream it's time to take off the blinkers and revel in a genuine Metal powerhouse.
As with the first four albums, their modus operandi remains the same, pummelling tunage saddled with Melodic majesty. They immediately follow the blueprint with the hook heavy opener 'Advocate Your Fate', a towering tune stacked high with  a battling call to arms chorus and classic Prog guitar vibes, the perfect cherry popper for an Absolva virgin. Pacey follower 'Burning Star' goes down a more direct old school route but with just enough modern garnish for a wider appeal. A band who aren't afraid to proudly flaunt their influences the title track maybe a nod to that Thin Lizzy twin guitar assault, brilliantly led from the front by singer/guitarist Christopher Appelton and brother  Luke.
If you were to put this band into a time machine and transport them back to the heady days of the New Wave Of British Heavy Metal, they would no doubt hold their own against the best of them with relative ease. Retro filled 'Living A Lie' and 'Legion' wouldn't of been out of place on a dimly lit stage of the Old Grey Whistle Test with their working class Metal bravado. But don't be fooled into thinking this album is an exercise in fake  nostalgia, the galloping 'Eternal Soul' is a tight mix of traditional riffery and modern melodies that culminates in a finger shredding guitar solo.
New age Metaller's who like their band's in three quarter length shorts and sporting big holed ear piercings might not initially take to the pie and mash honesty of Absolva's music, but a dive straight to the contemporary 'Heart Let's Go' is the perfect starting point. But for the more conservative headbanger the two stunning bonus tracks consisting of versions of Iron Maiden's '2 Minutes 2 Midnight' and Black Sabbath's 'Heaven And Hell' leave a sweet aftertaste. Another stellar piece of work from the clenched fist of Absolva.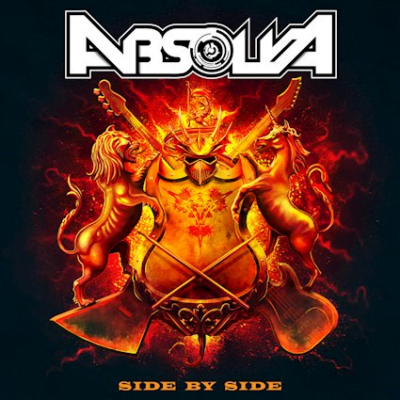 Track Listing:
Advocate Your Fate
Burning Star
The Sky's Your Limit
Side By Side
Living A Lie
Legion
Eternal Soul
End Of Days
Heart Lets Go
From This World
Bonus Tracks:
2 Minutes 2 Midnight
Heaven And Hell
Absolva deliver another masterclass in Melodic Metal.