When a new band on the scene features two members of Ministry, you know it's going to be a bit special. 3 Headed Snake is the brainchild of guitarist Sin Quirin on guitar joined by fellow Ministry member Derek S Abrams on drums. Aided by Johnny Ray on vocals and D.V Karloff on bass guitar, their self titled debut three track E.P is very very impressive!
I caught them play a spotlight stealing set at Bloodstock Open Air Festival 2019 and they were utterly compelling. It was hard to believe it was their first ever gig. The E.P was played that day and it opens up with 'Wisdom Screams' as a slow burning intro leads into a riff that could knock Godzilla to the ground as the vocal prowess of Johnny Ray sees him hold notes longer than waiting for the next Guns And Roses album! Eerie synths, a Thor hammer like pound and a chilling vocal intro for 'Symbiotic' sees it veer off into a kick drum driven headbanger backed by raging riffing that will surely make it a stone cold circle pit opener.
It all ends too soon with closing track 'Money God'. It's an all consuming vortex of restrained heaviness. A spine tingling laid back vocal sees Johnny switch between a manic leer and a soothing soar as Sin lets rip with a fretboard burning solo midway. Hopefully a full album release is on the horizon.
3 Headed Snake E.P track listing :-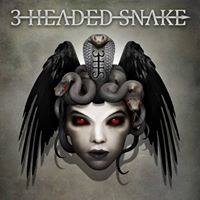 01. Symbiotic
02. Wisdom Screams
03. Money God
3 Headed Snake band line up :-
Sin Quirin – Guitar
Johnny Ray – Vocals
D.V Karloff -Bass guitar
Derek S. Abrams – Drums
Find 3 Headed Snake on Facebook here.
A venomous debut E.P from the fangtastic 3 Headed Snake!