Today, 3 DOORS DOWN release a re-mastered, 20th Anniversary Edition of The Better Life album along with the nine-song "Escatawpa Sessions" as a box set on high-quality 3LP vinyl.
The "Escatawpa Sessions," recorded in the band's Mississippi hometown in 1996, features seven demo versions from The Better Life, as well as three previously unreleased tracks, and comes on green vinyl. The 3LP box set features a custom lithograph, a six-page booklet with never-before-seen photos and extensive liner notes, and interviews with the band and executives from their label and talent agency.
For collectors, this is fantastic. The presentation is second to none and it's an absolute shame to break the seal on the box, but these things have to be done from time to time! It's still hard to believe that this debut album is over twenty years old. The re-mastering has made it as fresh as the day it was born.
Starting with the superb 'Kryptonite ' and followed by the Alice In Chains vibed 'Loser ', it's easy to see how great albums sometimes unfortunately get lost in time. Some folk would say that a re-issue is just a money spinner, but I say a re-issue is a celebration of something special.
All 11 original tracks are re-mastered and brought up-to-date, and lets not forget how touchingly beautiful 'Be Like That ' is and how it brought such joy twenty years ago. Still as sensational as ever. Watch it on the video link above. 'The Better Life ' is, and will always be one of the great true rock albums.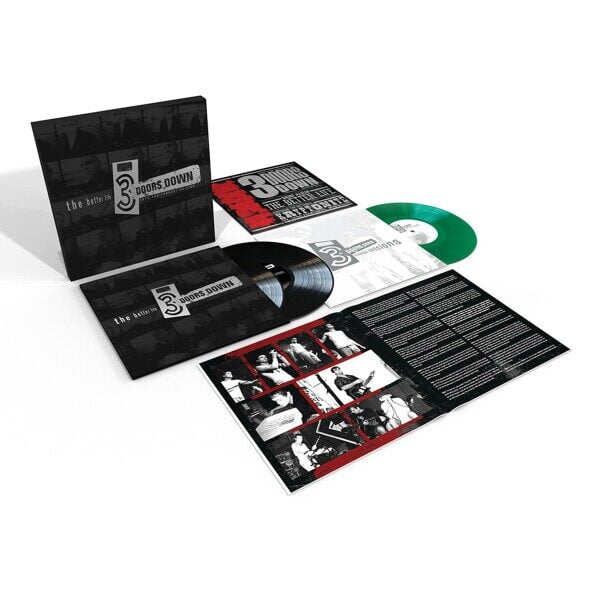 And so on to the 'Escatawpa Sessions '. The demo's I believe the band were signed up on the back of. Listening to these it's hard to understand how they sound so crisp, so fresh. There's seven tracks on offer from 'The Better Life ' , together with three unreleased tracks, 'Man In My Mind ', 'Dead Love ', 'Sarah Yellin 86 ', and they introduce themselves on stunning green vinyl.
These demo's are beautiful to listen to and distribute an easy path to understanding the band's history and roots. They ooze clarity and class and are a worthy extra to this brilliant package. A must for all 3 Doors Down fans, and a must for raising awareness for new fans. Lovely.
The Better Life:
1 – Kryponite 2 – Loser 3 – Duck And Run 4 – Not Enough 5 – Be Like that 6 – Life Of My Own 7 – The Better Life 8 – Down Poison 9 – By My Side 10 – Smack 11 – So I Need You
The Escatawpa Sessions:
1 – Kryptonite 2 – Loser 3 – Life On My Own 4 – Smack 5 – Down Poison 6 – Dead Love 7 – Wasted Me 8 – Man In My Mind 9 – By My Side 10 – Sarah Yellin' 86
Links:
Release date: 26/03/21. Running length: 40mins 46secs (Original release). A powerful and superbly presented celebration of the band's debut album. A must for collectors.
£12.09 (CD) / £43.07 (3 x Vinyl Box Set)

editor rating