PlanetMosh is proud to be sponsoring the main stage at the fourth incarnation of Monsters Of Rot, which takes place in Letterbreen, County Fermanagh, on this day week (Saturday August 16).
The festival brings together some of the best extreme metal bands on the island of Ireland.  As part of our build up to the event, we will be interviewing all of the main stage acts:  today it is the turn of Pete and Adrien from NI death metallers Zombified to go under the PM spotlight…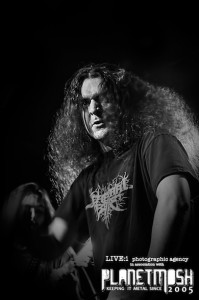 How would you describe your style of music?
Death Metal
Who all is in the band and how did you come together?
The current line-up is Adrien and Jamie on guitars, Gary on drums, Chris on bass and Pete on vocals.
Jamie started Zombified with the intention of making it a one man band affair. As time went on, he recruited Gary on drums, which was quickly followed by Adrien on guitar and Willy on bass.  We recruited Pete six months down the line.  In 2012, Willy exited the band and we asked Chris of Altus Astrum to join the ranks. Pete had known him from his earlier bands and it turned out he was a great fit.
Do you have any material available?
That we do. Our original EP, 'Outbreak', was released in 2010 – which I'm afraid is sold out. Our follow up, 'Backroom Eugenics', is still available from the band at shows and from our label www.grindscene.co.uk.  Last year we released 'A Split Worse Than Death', a split CD that included Basement Torture Killings, Foetal Juice, Decimation and Nailed; it's also available from the band and from the label. All are on CD format. If anyone would like to press any of them onto vinyl, USB drive or table cloth, please get in touch.
Do you have any new material coming out in the near future?
We are currently working on our first full length that we hope to have out in 2015. So far we have five tracks written for it and a few others in the pipeline. I'll look forward to rereading this interview in 2018 wondering why the hell our album isn't out yet!
Have you played with any of the other bands on the MOR bill before?
That we have, [and we're] looking forward to seeing them all live again.
What other bands on the MOR bill are you looking forward to seeing?
Weed Priest. Can't go wrong with a name like that!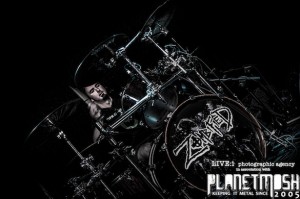 What is your assessment of the current state of the Irish metal scene?  Is it in a good state of health?  Are there too many bands and not enough venues/promoters, or is there a good balance between the two?
All things considered, I'd say it's healthy.  No one has any money these days, venues are closing all over the place yet you can still see new bands every week in the likes of the Limelight, Voodoo, The Empire, The Pavilion and even Queen's Students Union on occasions.  On top of that, local labels, PR companies, metal blogs and fanzines are still cropping up, so I think it would be insult to fans/bands/promoters and the like, to say that the scene isn't doing well. Yes it's hard to get heads through the doors but I think it's also hard to allocate blame i.e. is it the promoters fault for not promoting enough? The band's for not being good enough?  Or that the local economy is shit.  In my opinion, the local scene is what you make of it.  Zombified enjoy being a part of it and we have a loyal fan base. And for that we are thankful!
Is there enough support for the metal scene in the Irish media?  Or is that important?
I don't think I have ever checked a local paper to see what's going on. I think I remember checking the paper in 1998 to see who was playing The Rosetta that weekend and I think that was about it. Yes it would be great if mainstream, or even local papers, took more of an interest but maybe that's just a reflection on the popularity of heavy metal as a whole.
Is social media more important than traditional channels (ie newspapers/radio) in communicating with your fans and attracting new ones?
I wouldn't say it's more important, I think the fact that it is more accessible creates the illusion that it's more important. It's still more of an achievement to be promoted through "traditional media", although social media has given bands the ability to take steps towards promoting themselves when mainstream exposure is not yet an option.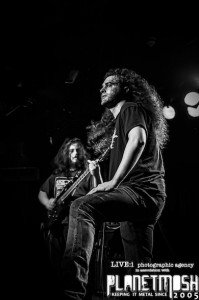 Outside of the bands at MOR, what other Irish bands would you recommend PM readers check out?
Thin Lizzy… I jest, of course! In no particular order: Nomadic Rituals, Shrouded, Ceaseless Blight, Warpath, Honey For Christ.
Apart from your instruments (obviously), what is the one essential item you always carry when playing a gig or festival?
Flashlight, binoculars and a camo net are of course the essentials! I jest… no camo net!
Finally, MOR is a week after Bloodstock:  do you think a festival like BOA would work on the island of Ireland?
Unfortunately, probably not. The guys who used to organise Days Of Darkness did an amazing job and from what I know, poured their hearts and souls into that festival and it wasn't sustainable.  By no means was that a reflection on their efforts, I think more so a reflection of the size of the scene over here. The Rottfest proved that an outdoor metal fest in Belfast is not only a logistical nightmare but also a pointless endeavour…
You can find out more about Zombified at https://www.facebook.com/zombifieduk and check out their music at www.reverbnation.com/zombifiedni.
For more information on Monsters Of Rot, visit www.monstersofrot.com.