Swedish Death Metal outfit Wretched Fate release this, their debut album. This follows a two-track demo released last year. And I must admit a very good album it is too. It's typically what you would expect from a Swedish Death Metal outfit. They have a Morbid Angel feel to them which suits me down to the ground as Morbid are a big favourite of mine, ever since I saw them in Manchester back in 1989 on the infamous Grindcrusher tour along with Bolt Thrower, Carcass and Napalm Death, which, interestingly enough, was Barney's first ever gig for Napalm Death. I remember being invited into the dressing room with them and was in awe at Pete Sandoval running around hitting his drum sticks on every wall. Great days.
But that was then and this is now. And what I like about now and this album is that it's taking me back to that era. That magical time from the late 80's. Opener 'Wretched Fate'  is pure thrash in your face. Straight at you at 100mph. No stopping. No letting go. 'Only Death To Abide'  starts by giving us a nice stop-start beat, but soon releases into a tirade and Death Metal abuse. Adrian Selmani demonstrating his vocal ability with stunning effect.
Wretched Fate are a mixture of bands to me. Napalm Death, Sinister and also some Deicide. There's also a lot of technical appearances in most of the songs, 'Alters Of Misery'  is a prime example with an eerily haunting background choir. 'Fear Expulsion'  boasts some very clever guitar work, and this makes it one of the best songs on the album. The band really coming of age here through the intensity and precision that holds this track together. A midway haunting background again comes into effect and draws the best out of the song. Fabulous.
In fact, every track here oozes manic Death Metal chaos from every pore. It's brilliantly written and I can guarantee that each and every one of us who grew up in the late 80's and early 90's who doted on this genre, will love this album. These guys lash out with no mercy and go for the throat. Take 'Hived Mind'. Brutal, pulsating, assaulting. As is 'Ominous Shadow'.
Title track 'Fleshletting'  treats us to some insane drumming from Samuel Karlstrand, allowing us to realise that these guys can really play and are as precise and as tight as you will ever hear from a Death Metal band. This is a seven minute epic full of chapters of speed, intensity, haunting backgrounds and guitar solos. Good grief how this track flies by in an instant. 'Heading For A Beheading'  will have the mosh pit circulating like a swarm of ants.
'Epitaph',  together with 'Split Tongue Illumination'  close what is an exhilarating debut album. We've been back to the past with Wretched Fate, but I am so looking to the future with them too. A must have album.
Track Listing:
1 – Wretched Fate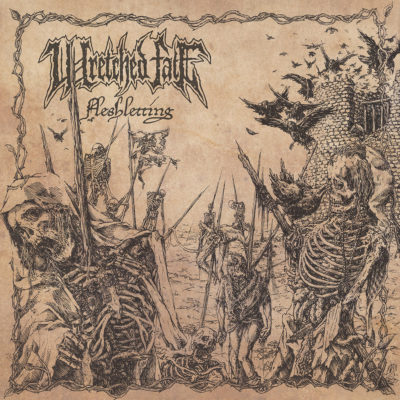 2 – Only Death To Abide
3 – Altars Of Misery
4 – Fear Expulsion
5 – Taker Of Souls
6 – Writhe
7 – Hived Mind
8 – Fleshletting
9 – Ominous Shadow
10 – Heading For Beheading
11 – Epitaph
12 – Split Tongue Illumination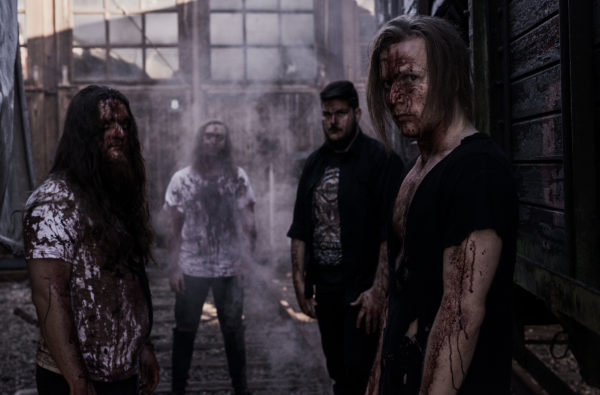 Line-up:
Adrian Selmani – Vocals
Mats Andersson – Guitars
Robin Magnusson – Bass & Vocals
Samual Karlstrand – Drums
Links:   Official Website   Facebook   Bandcamp   Redefining Darkness Records
Release date: 22/02/19. Length: 57:15. A Perfectly ferocious debut album. Buy it!!
£7.99(Download)

editor rating