Back at Rock City again in Nottingham and Planetmosh was right at the forefront of the action, there to cover this classic three band gig on Sunday night. Three great bands coming together not for the first time, but a first for Nottingham's ardent rock fans.
First up on stage was home grown Nottingham group Wraith. This group has only just celebrated their 25th year in the music industry. Now they are back, re-formed and re-modeled, after they decided to split up in 1998. The five guys are now stronger than ever, with a classic heavy rock sound and big stage presence that reflect what we saw and loved way back when. They played us a selection of their old hits and new material, which warmed up the gathered crowd and was getting the evening off to a flying start with their first song 'Inside Me'.
Front-man Myke Barker was on top form tonight, not only did he belt out some great songs, he was absolutely bounding around on stage, as brilliant a showman as every front-man/lead-singer should be. Meanwhile Gregg Russell and Andy Gamble on lead and rhythm guitars were bringing to the fore the group's well known signature dual guitar sound, supported by new band member Ian Wright on drums and regular group member Ian Scruffykid on bass. 'Never Been Better' was the next track, a real classic Wraith song. After three more top tracks we got treated to 'Into The Fire', 'You Got It Comin' and they finished off their set with a great performance of 'Crazy'. This was made all the more spectacular by the addition of the two dancing girls, Jenny Silver and Julie Fox. It was an awesome start to a night combined of a mega mix of heavy metal, rock blues and classic 80's rock songs.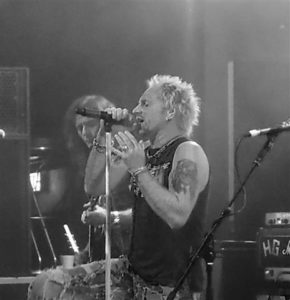 Wraith's set list:
Inside Me
Never Been Better
Hungry
Human Zoo
Get What I Want
Into The Fire
You Got It Comin
Crazy
After a short break to get the stage re-set, newly formed British super group Snakecharmer came out to set foot on the hallowed planks of the Rock City stage. These six guys have been together since 2011 and have combined their vast experience from years of hard work in the music industry to put together a blues-melodic rock band. Former Whitesnake members Micky Moody and Neil Murray have joined forces with Laurie Wisefield from Wishbone Ash, Chris Ousey from Heartland, Adam Wakeman (son of Rick) of Ozzy Osbourne and Harry James, late of Thunder.
Looking every part the professional seasoned group, the guys got a big cheer from the Nottingham crowd as they came on stage. They started off the night with their own song 'Guilty As Charged', a good track to get warmed up with before they then rolled out an old favorite, 'Ready And Willing', a Whitesnake track that is always a hit with the crowds, while Micky and Laurie gave us a peek of what was to come later on the guitars.
'Accident Prone' sounded like this song had been around for years! Following on from 'My Angel', 'Falling Leaves', 'Walking In The Shadows' and 'Nothing To Lose', Micky then played a solo blues set that was phenomenal.
A short while after, he was joined on the drums by Harry and this combination was electric. They now continued to give us a duel between the two instruments, culminating in Harry looking like he would destroy his drum kit at any minute! A true ' had to be there' moment. Three more tracks then took us into an epic classic cover version of Whitesnake's 'Fool For Your Loving'. Chris Ousey sang this song as good if not better than Coverdale himself. Half way through he invited the house to sing with him, they did, and did it in style too singing every verse and chorus.
Adam Wakeman on keyboard must have worn out his fingers as he finished off the encore by jumping up onto his electric piano and played it using his feet! It was an outstanding overall performance by the members of Snakecharmer; true rock n roll.


Snakecharmer's Set List
Guilty As Charged
Ready An' Willing (Whitesnake cover)
Accident Prone
My Angel
Falling Leaves
Walking In The Shadow (Whitesnake cover)
Nothing To Lose
Slow An' Easy (Whitesnake cover)
Here I Go Again (Whitesnake cover)
Take Me With You (Whitesnake cover)
Encore:
Fool For Your Loving (Whitesnake cover)
German giants of rock, Bonfire, were the final act of this stunning Sunday evening. The lights went down to cover the stage in dark shadows. On the P.A. system we heard the sound of a Bavarian Um-pah band start to play. After a few  minutes of this the guys then rushed onto the stage and started booming out the great classic song 'Tony's Roulette', finishing to well deserved loud applause and riotous shouts of "more, more, more". Claus Lessmann then spoke to the crowd and thanked them all for a fantastic welcome back to the UK. You could see he was genuinely pleased to be there for the group's only planned UK gig of 2013.
Next up was 'But We Still Rock', another classic Bonfire track. To see these guys live for the first time brought back memories from the 1980's ( now old ) videos. We also got to hear them play "Hot To Rock", "You Make Me Feel" and "S.D.I." from their 1986 album "Don't Touch The Light" plus "Ready 4 Reaction", "Never Mind", "Champion", "Sweet Obsession", "Fantasy" and "Give It a Try" from the 1987 album "Fireworks". In all this was a good set and the Nottingham crowd just loved listening to the guys bringing us some rock n roll German style!  Fingers crossed for a full UK tour sometime in the future.
Bonfire's set list:
Tony's Roulette
But We Still Rock
Never Mind
Hot To Rock
Fantasy
Follow the Rainbow
Under Blue Skies
You Make Me Feel
S.D.I.
Sweet Obsession
Ready For Reaction
Give It A Try
Champion