Fittingly enough, when I started to review Nightside, the eighth studio album from Swedish death metallers Witchery, the bright sun was pushed aside for heavy thunderstorms. Recently released via Century Media Records its easily the heaviest album I've heard in 2022.
Formed in Linkoping 1997 it's their first concept album that deals with witches and witchfinders, curses and charms, and the overpowering stench of religious brutality!
These eleven caustic tracks kick off with 'Witching Hour' and its definitely witching hour, not happy hour as an unrelenting aural assault pummels for three skin flaying minutes of guttural vocals, wrist snapping snare work and a grinding guitar groove that has to be heard to be believed.
A punk tinged intro to 'Don't Burn The Witch' then heads off into a gruelling death metal dirge as broken glass gargled vocals add to an already intense track as a midpaced thrash section gives a pause for breath until furious salvos are unleashed by the guitars.
'Storm Of The Unborn' surges along on a 'Children Of The Grave' like headbanger. The songs title is devilishly captured by a pure evil vocal vehemency as it shifts into catchier rhythms and midway guitar overload.
To these ears 'Er Steht In Flammen' is a monastic spoken word piece as the lyrics are truly skin shivering backed by sledgehammer pounds.
'Popecrusher', the first single taken from the album is a hellish pit opener to the fiery pits of hell and circle pit opener when played live due to its death defying, astonishing tempo changes.
The bass heavy intro to 'Left Hand March' sets the bar high early as kick drum battery pounds hard and heavy around fretboard burning guitar solos but the spotlight is stolen by vocals that need to be exorcised!
Metronomic grooves for 'Under The Altar' are earthshaking, backed by buzzsaw like riffing to make it a major rager mental instrumental.
'Churchburner' is like being in the eye of a metal storm, albeit one whipped up by a full force blast of devastating death metal and the drum assault is from another planet!
'Crucifix And Candle' seems to be an evil cackled twist on the Lords Prayer as this midpaced mauler undulates throughout four grimly fiendish minutes.
The fastest and heaviest track here by far comes from 'A Forest Of Burning Coffins' as they switch into overdrive with a lobotomy inducing battery of staccato riffing, auctioneer speed delivered vocals and a kit smashing drum armageddon!
This magnum opus closes on 'Nightside' as Godzilla stomped dynamics crush with no mercy given over a horrifically spoken word vocal.
Witchery band links are here :–https://witchery.lnk.to/NightsideID I https://www.facebook.com/officialwitchery
Nightside album tracklisting :-
Witching Hour.
Don't Burn The Witch.
Storm Of The Unborn.
Er Steht In Flammen.
Popecrusher.
Left Hand March.
Under The Altar.
Churchburner.
Crucifix And Candle.
A Forest Of Burning Coffins.
Nightside.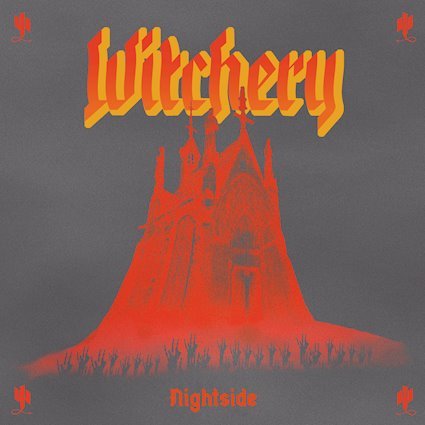 Witchery band line up :-
Angus Norder – Vocals.
Jensen – Rhythm Guitar.
Chris Barkensjo – Drums.
Rickard Rimfalt – Rhythm/Lead Guitar.
Victor Brandt – Bass Guitar.
Witchery conjure up eleven spellbinding songs for new studio album Nightside.