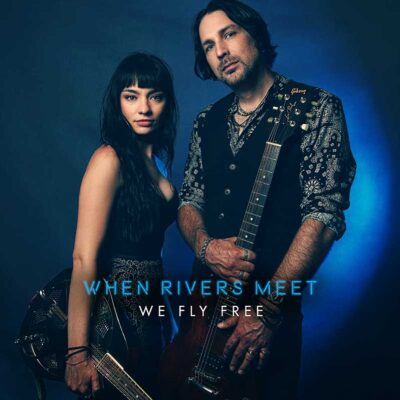 Appearances can be deceiving sometimes, point proven by the cover of the debut album We Fly Free from husband and wife duo When Rivers Meet. I was expecting something laid back but could not be more wrong as they bring the noise with gusto.
They are a new band to me who came highly recommended by Peter Noble from Noble PR and was delighted to be asked to review it. Two EP's, The Uprising EP in April 2019 and Innocence Of Youth in May 2020 have paved the way for the album, due for release on November 20th 2020 via their own record label One Road Records.
Grace Bond provides vocals, mandolin and violin with Aaron Bond adding vocals and guitar. The variety of styles here are breathtaking and kept this reviewer on his toes for every twist and turn as 'Did I Break The Law'is a rambunctious opening track. A metronomic pound, almost tribal in its delivery provides the backbone to a gargantuan guitar riff and all hell breaks loose with the siren like charm from the vocals of Grace. A curveball comes from slide guitar that's like aural barbed wire.
'Bound For Nowhere' switches back and forth with spaghetti western like pieces and seismic guitar heavy bluster. The vocals enchant as well as scared the hell out of me! Strangely enough I was getting a lot of influences from 'Angie Baby' by Helen Reddy in the verses of 'Walking On The Wire' as twin vocals send the song skywards. The mood shifts to a ballad that's stripped to its bare bones as 'I'd Have Fallen' has a sassy vocal croon that soothes like melting snow and sweeping strings to make it even more grandiose.
'Battleground', the first single taken from the album is a gritty garage rock like growler as a no frills delivery gives it a blackened heartbeat. This snarling song muscles up to an earthshaking drum driven outro. 'Kissing The Sky' sounds more like it's headbutting it due to its feisty dynamics as a swirl of keyboards give the song a dash of prog rock and a histrionic guitar solo dazzles. A gospel like  vocal from Aaron is breathtaking throughout 'Breaker Of Chains'. The emotion shown is truly ethereal as it weaves around a sinewy guitar line but muscles up for a clarion call outro.
'I Will Fight' has a put up or shut up attitude that tears through this call to arms number as it rises and falls on a myriad of emotions, as does the heart melting guitar solo. 'Bury My Body' is my favourite track purely for the beautiful shared vocals which take centre stage with acoustic guitar to get its point across and a lilting piano is a tranquil accompaniment. Aaron takes the vocal reins for the high kicking hoedown of 'Take Me To The River'. It's peppered with slide mandolin from Grace as well as vocal melodies in the boisterous choruses.
The silence is almost deafening in 'Friend Of Mine' as Grace's vocals chill with an emotional quiver. This very impressive debut closes with 'We Fly Free'. One word to describe it would be pounding as the laid back lead vocals from Grace vie for attention with the full on bombast. The album is available on CD, coloured vinyl and a digital download.
We Fly Free album track listing :-
Did I Break The Law.
Bound For Nowhere.
Walking On The Wire.
I'd Have Fallen.
Battleground.
Kissing The Sky.
Breaker Of Chains.
I Will Fight.
Bury My Body.
Take Me To The River.
Friend Of Mine.
We Fly Free.
When Rivers Meet album credits :-
Grace Bond – Vocals/Mandolin/Violin.
Aaron Bond – Vocals/Guitar.
Adam Bowers – Bass/Drums/Organ/Piano.
Robin G Breeze – Bass/Organ/Piano.
Band links :-
http://www.whenriversmeet.co.uk/ 
https://open.spotify.com/artist/3r4hYfzQA1yuQFEKMDJzJi
https://www.instagram.com/whenriversmeet/
https://www.twitter.com/whenriversmeet/   
https://www.youtube.com/whenriversmeet/   
http://shop.whenriversmeet.co.uk
An electric eclectic debut album!