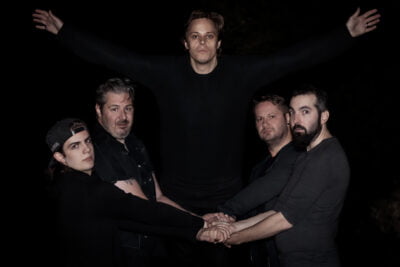 UK crossover unit WEAPONRY have just released their killer new single and video, Something I Lack – https://youtu.be/_x8_tuqUB_U . The track is really picking up steam and with this in mind, we caught up with the guys to find out more about them:
What is the full band line-up, who sings and who plays which instrument?
Al Bristow – Lead Singer; Dan Ashworth – Guitar; Max Ashworth – Guitar; Jay Rozentals – Bass; Tim Doyle – Drums.
How and when did the band form? Tell us anything interesting about your hometown.
We used to write music together years ago and did some gigs but never really took it seriously. We're from Reading and the festival site is a 20 minute walk from where we all used to live and every year we'd go, drink loads and tell each other that we could totally do what all the bands were doing. How many times can you get drunk and tell each other that you should start a band before you actually do it? Every time we'd make a drunken pact but then never mention it when sober. Then one morning we were all still really up for it and we actually started the band.
When and how did the band really start gelling and solidifying?
We've had some quite memorable gigs already but there has always been something missing and I think we realised what it was when Tim started playing at his audition. We've had a couple of drummers before him but just seeing the man in action made us realise that we needed that extra touch of quality to push on. No disrespect to our past drummers of course, they were great and we still get on, but Tim is another class. He's also a lot more dedicated and actually feels more a part of the band than the others ever did.
Who are your musical influences?
We've been to record with Daly George at The Ranch Production House in Southampton a few times now and it's always a joke with him that we just turn up and ask to sound like Deftones – but honestly that is exactly what happens! The British Post Hardcore scene in the 00's play a big part in our sound too – Funeral for a Friend, Reuben, Hundred Reasons, Hell is for Heroes etc.
Because we span a lot of ages in the band we've got influences coming from the 90s Grunge era and the Nu Metal/Rap Rock at the turn of the millennium. And then Max is 16 so he loves lots of stuff the rest of us haven't even heard of. And Al gets his inspiration for lyrics from all over the place – pretty much all genres of hardcore and metal, rappers, 80's love songs! Oh, and Eliot Smith.
How far back does your history with each other (the band members) extend?
Al – Dan was a friend of my brother from the time he left school. He was a few years older than me but we connected with music when I played him Funeral for a Friend's "Four Ways To Scream Your Name" EP. He took me to Reading Festival when I was 14! It was actually at that festival that Max was conceived…
I met my wife a few years later and that's when I got to know her brother Jay. He literally learned to play bass to be in a band with us. He had only been learning bass for 4 days when he played his first gig!
We adopted Tim at the beginning of this year after an online search. He's not allowed to leave unless he divorces Jay.
Are you friends from school or any family relations?
Al's married to Jay's sister and Dan is Max's father! We had to wait until Max's 14th birthday to play gigs. Al was 9 when he met Dan, a friend of his brothers at the time.
In your opinion, how is your band different from all the other bands out there?
Our drummer is the most talented musician in the band!
Other than having a father & son guitar duo, being a family band and having a DIY ethic towards almost everything we do we also have a weekly show we put up on YouTube called No Lasting Memories. It was an idea to show people what it's like being in a band to keep promotion going while we can't gig and it's been going quite a while now. We'll shoot short clips when we rehearse every week or hang out together and try to edit it into an enjoyable watch.
If a deaf person were to ask you to describe the sound of your music, how would you describe it?
A bleak and intense wave that once hits the shore presents small drops of light glistening and reflecting with hope.
Where can we find your social media sites?
https://open.spotify.com/artist/7v91OLWScLkhP7JbsYsbCL?si=IFDA2p2QSTqMPTRvhyAtiQ
https://www.facebook.com/weareweaponry
https://www.instagram.com/weareweaponry/
https://www.youtube.com/channel/UC9oSXemxfrJmJve7dHLMJ7w?