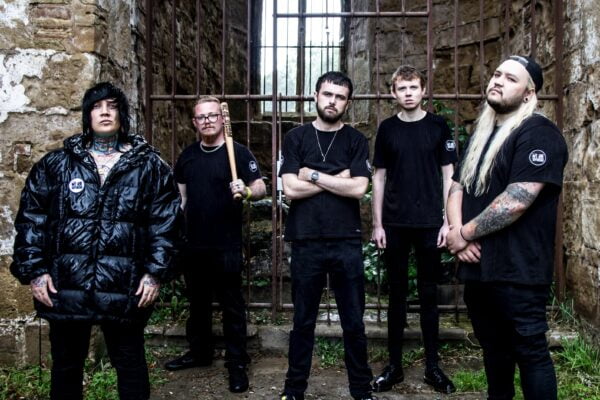 WE ARE SOVEREIGN are a brand-new cutting-edge metal crew who have just dropped their debut single and accompanying video, Bridges Burnt Lessons Learnt (Betrayal) featuring Ryan Tuck O'Leary from Fit For A King. Watch the video, here – https://youtu.be/or-sYi5EOzM .
To find out more, we chatted with the guys about their beginnings and more:
What is the full band line-up, who sings and who plays which instrument?
We Are Sovereign is formed of Laura Russell who brings the naughty screams, we have Ash Ho bringing the angelic cleans, Sam Maltby on bass, Sebastian Foster on Guitar and Alfie Wickham banging the drums.
How and when did the band form?
It all started in 2019 in a tiny apartment bedroom of vocalist Laura Russell in Chaddesden Derby. After being in bands since she was 15 drumming and screaming, along the way she felt she never got to express her creativity and ideas freely or to their full potential. She felt she was always around the wrong people or people she couldn't relate to or felt she was around people who saw it as more of a hobby than a serious potential career. She decided to start from the very beginning to take it upon herself to get everything written and ready to go alongside her childhood friend Arran Bee, then get members on board who were as passionate and committed to the vision of the band as she was. That was the start of We Are Sovereign being created.
Tell us anything interesting about your hometown.
ohhhh some juicy facts about the East Midlands ……. to start off with Robin Hood strutted about here. A huge one which we love is Bruce Dickinson from the legendary Iron Maiden was born in Nottingham. The ibuprofen was also discovered in Nottingham so think of all the endless hangovers we've cured. If it wasn't for us you'd still all have banging heads now. ohh Jason Statham was also born here and the famous fictional character Lara Croft from tomb raider was created here which is pretty cool! Lastly boring as anything and nobody will actually care but a sweaty Derby park was the public's first in England.
When and how did the band really start gelling and solidifying?
The band first started off in 2019 founded by Laura who then went on to find Ash on join my band. They both began working on vocals for a good year with the foundations Laura had before they found Sam, Alfie and Sebastian. It was in 2020 that things really started to get moving and we found a majority of the members. We recorded all the instruments in September 2020 and that's when things started to become real and we knew we finally had movement. The pandemic held us back quite a lot and we had a lot of mad stuff thrown our way to overcome but on a positive we had more time to really put our heads down and make sure the music and vocals were the best they possibly could be for us.
As a band we feel like a family already and feel like we've known each other all our lives as weird as that sounds!
Also here's a funny story for you the first time we met our drummer it ended up costing us £200. We arranged to meet him on a road in Derby to pick him up and both Ash and Sam were driving at the time in separate cars. They pulled into a private car park for 5 minutes to get out the car to introduce themselves and soon later they had £100 fines each through the door haha. Most expensive band member introduction ever made.
Who are your musical influences?
As a band every single member has such broad influences and music taste. The sound of We Are Sovereign is made up of a blend of many genres and influences from growing up, mixing the elements together and bringing back that early 2000 alternative nostalgic feel. If we had to give band influences based on the music being written it'd be Blessthefall, A Day To Remember, Eyes Set To Kill and early Bullet For My Valentine.
Laura – I'd say for me it's such a broad thing as one minute I'll be listening to AC/DC, next it'll be Motionless In White, My Chemical Romance three cheers album to Chimaira, to 90s Dance music to biggie smalls and then to Chris Stapleton. I absolutely love all kinds of genres of music and feel they all have an influence. Vocally I'd say my massive influences growing up were Oli Sykes, Mitch Lucker and also Brody Dalle. The song that made me want to pick up a microphone and learn how to scream properly was Tears Don't Fall by Bullet For My Valentine with the famous line "LETS GOOOOO" I used to spend hours in the music room at college until my throat was sore trying to get it right ( I no know about warming up haha). I remember going to the kerrang tour I think it was 2005 and seeing bullet live and I knew at that point I wanted to really be a vocalist. I'd also say Blink 182 the self titled album, Panic At The Disco, A Fever You Can't Sweat Out and My Chemical Romance Three Cheers For Sweet Revenge really influenced me to experiment a lot more writing vocals and instruments as those albums are absolute masterpieces. I also absolutely love my Pop punk too!
Ash – Growing up the first band I ever listened to was Linkin Park. I began listening to bands like Blink 182, Sum 41 and softer stuff like Busted. I slowly began to venture out of rock into different genres like rap and grime but always found heavy music to be my true love and truly found love within Metalcore. Bands that potentially influence me vary from different stems of rock and metal. I'll listen to A Day To Remember but flick to All Time Low, I think there's nothing more earfully pleasing than clean vocals back to back with filthy screams. Cleans and Screams and the vocal harmonies truly cut the soul. I love to also jam out bands like Blessthefall, Too Close To Touch, Sleeping With Sirens, and Coldrain.
Alfie – Bring Me The Horizon were the first heavy band I properly got into and that inspired me to get into the whole genre. Slipknot and Joey Jordison are the main influences in making me want to be a drummer and also a massive influence to my style of playing and fills I write and use. I then got into hardcore which I was instantly attracted to because of the pain and trauma constantly projected within their songs, not forgetting the simplistic heavy as breakdowns that just make you want to tear the place up. I love to listen to BMTH, Slipknot, Infant Annihilator, Knocked Loose, Asking Alexandria, Code Orange and Silent Generation they're proper edgy and different. I'd say now my style is a blend of all of the above and I just love to bang drums like a mad man.
Sebastian – My music influences are AC/DC that's where my passion for music truly began. My mum and dad were always blasting Black Sabbath, Led Zeppelin and Metallica so of course I now love all those guys. I'm also a huge Slipknot fan and take a lot of inspiration from them when writing riffs to jam to. Growing up the bands I felt myself going back to where Megadeth, Bullet For My Valentine, Metallica, BMTH, Lamb of God,Pantera and many more. I just fell in love with the fast chugging and brutal riffs that make you insanely bang your head and for me all those bands made be a better guitarist.
Sam – My influence that got me into bass was Blink 182, specifically Mark and Tom. I started on guitar then moved to Bass. I learned to play in the style of blink even down to my pick strumming. Enter Shikari is the biggest influence on my music, always changing and never becoming predictable which is what We Are Sovereign are aiming to achieve. AC/DC, Pink Floyd, and Led Zeppelin were the bands that made me listen to music as before that I dismissed it. I felt without purpose as I don't like sports and had little in the way of hobbies. Music filled that hole and I started playing it and writing my own.
Where did the name of the band come from?
In the very early days of forming, We Are Sovereign Laura and a potential member at the time sat down and wrote loads of band name ideas and that one was the final one chosen that stood out and represented the band story. The band name idea evolved from the concept of being in loads of bands previously and with us all getting older this realistically is our last shot of making our dreams come true as musicians it felt right to be that name. We Are Sovereign stands for the representation that this band we feel is the highest we've ever felt musically and visually amongst everything we've ever been a part of.
How far back does your history with each other (the band members) extend?
Vocalist Laura and Ash met in April 2019 through join my band after Ash replied to Laura's advert. Next along came bassist Sam Maltby in June 2020 through contact of a join my band advert. Alfie Wickham the drummer then joined in September 2020 after Sam responded to Alfie's ad on join my band and then Sebastian Foster the guitarist joined in January early this year 2021 after being recommended by Alfie's Dad.
Are you friends from school or any family relations?
Nobody in the band are of any family relations however Alfie and Sebastian go way back to when they were 12 years old but didn't actually realise or remember they knew each other until they met in person again for the first time this year since they were kids. Alfie's dad recommended Sebastian to Alfie.
In your opinion, how is your band different from all the other bands out there?
The foundations of We Are Sovereign was created and fuelled from Laura's real life experiences. Every song is based on a true story and emotion in what Laura went through in order to get We Are Sovereign off the ground. The songs,and everything we stand for is raw and real. We feel we bring a huge variety of different genres into every song written so with We Are Sovereign no song is ever going to have the same feel. We don't write following any rules and strive for perfection in every little thing we do. If there's a soft piano part we aren't afraid to get some screams over it. With our concept and visuals, we feel we have a massive story to tell and a massive message to reach out to people. We feel as though we all go through everyday life surviving but never truly stop, think and reflect about the emotions and chapters we all experience. Life is a scary and unpredictable journey and we set out to cover all aspects of it in our records. We want to help people through our music by having written about some of the most defined chapters of life we all go through along the way starting with Betrayal, and future records set to cover Loss, Heartbreak, Torment, Reflection, Acceptance and Resilience. If you can relate to something you tend to feel less alone and that's what we want to achieve with our audience.
We know people are ready for something different and we're going to bring just that.
If a deaf person were to ask you to describe the sound of your music, how would you describe it?
We'd describe our music as a mix of raw story telling real life emotion accompanied by music created from every genre you can imagine blended together. It's not just music it's a real life story but instead of being read out it's being sung and screamed out. We have synth, we have emotional guitar solos, we have screams over pianos, electronics and no song sounds the same. We're a band with music you can listen to and walk away and think I've felt that I've been at that point in my life. If you imagine a mix of 2000 metal core, elements of pop punk and post hardcore along with synth strings and choir you're about there.
Facebook – https://www.facebook.com/wearesovereignband
Instagram – https://www.instagram.com/wearesovereignofficial
Twitter – https://twitter.com/W3AR3SOV3R3IGN