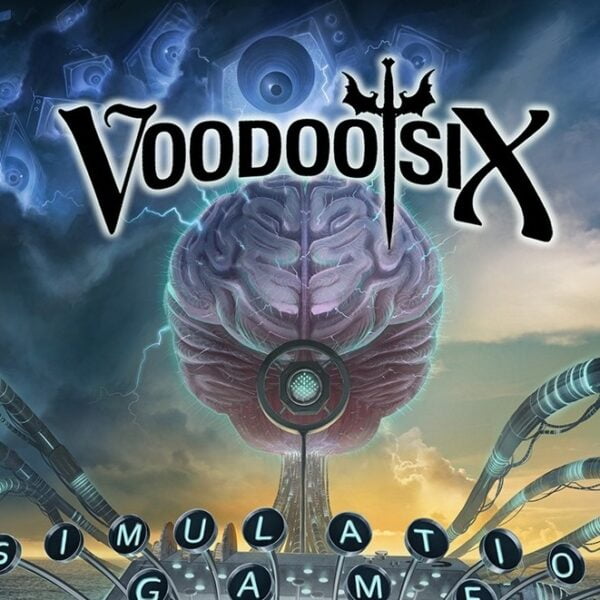 Links to the band can be found below :-
It's been too long since we've had any new music from Voodoo Six, in fact it was the Make Way For The King album in 2017. So here we are waiting for October 16th 2020 for the highly anticipated follow up Simulation Game.
Whether or not Covid 19 has affected their songwriting, it's a really heavy release lyrically and musically. They have also added orchestral strings which make these ten songs sound even more majestic, point proven by opening track 'The Traveller'.
A grinding opening riff is joined by an earworm inducing second guitar, militaristic drumming and thrilling strings. It's an amazing start as it heads off into a hefty headbang and instantly memorable choruses feature a spotlight stealing lead vocal from Nik Taylor-Stoakes. A bass guitar heavy midsection from founder member Tony Newton drives along towards air guitar inducing twin guitar solos from Tommy Gentry and Matt Pearce.
'Gone Forever' has a heavy progressive rock main riff that picks up the pace for some glorious melodic rock. Once again the strings weave their magic around off kilter drum patterns, a heart worn on sleeve vocal and a laid back outro guitar solo.
'Liar And A Thief' is thumping heavy rock with brick heavy riffing that add muscle to the melodies.
An all consuming main riff adds a doom metal vibe to 'Inherit My Shadow', snare drum driven choruses pack a hefty punch and a pleading vocal make it my favourite track here.
'Last To Know' is a sumptuously heavy ballad with balls. It shimmers throughout on twin guitar majesty, a rock hard rhythm section, sweeping strings and a fretboard burning solo is the icing on the cake.
The only thing lost in 'Lost' was my hearing as the dynamics tore through my headphones and clinical kick drumming from Joe Lazarus nails this moody number down.
Heavier use of strings in 'Never Beyond Repair' send it to the heavens and a totally captivating lead vocal makes the subject matter even more emotional.
'Brake' is a raucous rock out as they pull all the stops out for a drum dominated devastating assault to the senses. It surges along, taking no prisoners on its booming six minute savagery but takes a breath for a brief lilting midway passage until all hell breaks loose once more.
'Control' is a blazing bluster of riffing matched in power by swathes of strings. Moments of calm come from soul searching segments and twin lead overload ups the heaviness ante.
'One Of Us' closes the album on a high with its race to the finish line velocity. It's another hairy headbanger of the highest order as a bluesy solo offers some respite before the twin lead frenzy that follows.
Voodoo Six band line up :-
Nik Taylor-Stoakes – Lead vocals.
Matt Pearce – Guitar.
Tommy Gentry – Guitar.
Tony Newton – Bass guitar.
Joe Lazarus – Drums.
Simulation Game album track listing :-
The Traveller.
Gone Forever.
Liar And A Thief.
Inherit My Shadow.
Last To Know.
Lost.
Beyond Repair.
Brake.
Control.
One Of Us.
With this album, Voodoo Six are not playing any games!