Brit Rock n Rollers Fragile Things deliver their new EP 'Broken Sun' this March. However, before then we sat down for a chat: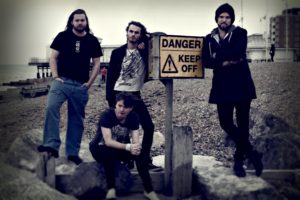 What is the full band line-up?
Richie Hevanz – Vocals, Mark Hanlon – Guitar,Steve Lathwell – Bass,Hugo "Wolfie" Bowman – Drums.

How and when did the band form?
The band came from the remnants of Endless Mile which Richie, Mark and Steve were all in. Hugo joined at a later date after we advertised online for a drummer. We are very spread out around the country, Hugo is from Brighton. Mark and Steve are from Leighton Buzzard in Bedfordshire and Richie is from Abergavenny in Wales!

When and how did the band really start gelling and solidifying?
It all started in December 2015, after Endless Mile split up. Mark, Steve and Richie parted ways for a little while until they realised that the foundations and potential for something really good was created in Endless Mile and to walk away from it would have been foolish. We all sat down and had a handful of songs that we all worked on together. This wasn't something we had really done before, but we found that we we're creating some of the best music we had ever written. After Hugo joined the band, we really began to feel like a complete unit. He bought a very strong and much needed backbone to our music that just propelled it to a better level that we had before.

What are your musical influences?
We all have quite varied tastes in music. We all listen to stuff from Alice in Chains and Tool to Dead Sara and Bon Jovi. We appreciate all sorts of music and we will often try and incorporate different styles and techniques into our playing.

Do you have a tour on the horizon?
We are currently booking up show in 2017 and currently have dates booked up until April. We hope to announce these in the next few months.

Where can we find your social media sites?
Website – www.fragilethingsofficial.com
Facebook – https://www.facebook.com/fragilethingsofficial/
Twitter – https://twitter.com/fragilethings_
Instagram – https://www.instagram.com/fragilethingsofficial
YouTube – https://www.youtube.com/channel/UCBWL-_V4xpNOaYa71RGCIMA