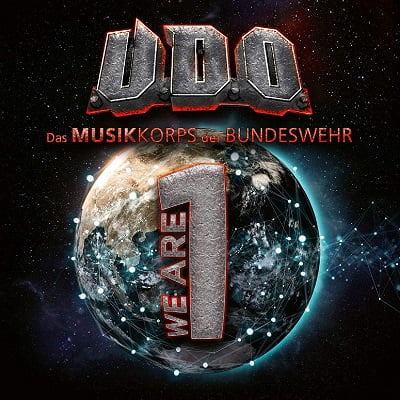 In just a few weeks time it should have been Wacken Open Air, and one of the acts that was due to perform was former Accept frontman, Udo Dirkschneider with his band U.D.O performing a special set with the Musikkorps der Bundeswehr (the concert band of the German armed forces). All is not lost though as the band and orchestra have teamed up for this new album that pairs a metal band with an orchestra. Yes that sort of thing has been done before but it's generally been a band adapting some of their songs so they can perform them with an orchestra. This however is a bit more than that – the songs were written from the start with the pairing of metal band and orchestra in mind. For that reason the results are more than just a metal song with a few symphonic bits bolted on – this album really does take the best of both band and orchestra and bring them together.
The new single is "Neon diamond" and features singer Manuela Markewitz.
The album contains 15 new songs that have been developed and arranged by U.D.O. together with Lieutenant Colonel Christoph Scheibling, commander of the orchestra. The two former Accept musicians Stefan Kaufmann and Peter Baltes have been part of the songwriting too – as well as the German Armed Forces´ composers Guido Rennert and Alexander Reuber.
The 60 piece orchestra has plenty to offer here and the fact the songs are written to use the orchestra makes a big difference compared to other projects where the orchestra is just bolted on afterwards. It's something we've seen done in symphonic metal but this is mainly traditional heavy metal. I say mainly but there's a huge variety of sounds here – this is the most diverse album I've heard from Udo Dirkschneider
The songs on "We Are One" are a reflection of a world in which we all live. "We all live on this planet. No matter who we are or what we do, we all just have this one planet", Udo Dirkschneider explains about the message behind the songs. "There is no planet B. When I see the pictures of all the plastic in our oceans and when I hear about the next climate catastrophe in the news, I really start wondering how respectless and irresponsible we sometimes are. It ´s not just about us, it ´s also about all the others and last but not least about our children!"
This means there are songs about climate change, pollution, refugee movements worldwide, about Germany having been reunited for 30 years now, and also opposing the far right in society. Those are some fairly weighty subjects to tackle in song lyrics.
This album has been a long time coming – U.D.O performed with the orchestra five years ago at Wacken, and the year before that they performed with the Navy band, but it's only now that they've played music thats been written with the orchestra parts built in from the start. The very first song on the album, "Pandemonium" shows just how well the orchestra and band have worked together, and it sets the tone perfectly for the album.
I've been a fan of Udo Dirkschneider from his time in Accept and subsequent solo albums and U.D.O albums, so it's no surprise that I like this album. I have to say though that it's far better than I'd hoped for (since most albums with orchestras outside the symphonic metal genre are fairly disappointing), and the fact that there's so much variety here was a surprise (but a good one). An excellent album that's well worth checking out.
"We Are One" will be released on 17th July 2020
Tracklisting:
Pandemonium
We Are One
Love And Sin
Future Is The Reason Why
Children Of The World
Blindfold (The Last Defender)
Blackout
Mother Earth
Rebel Town
Natural Forces
Neon Diamond
Beyond Gravity
Here We Go Again
We Strike Back
Beyond Good And Evil
Probably the best metal album done with an orchestra as the orchestra was involved in the writing and arranging rather than being brought in at the end of the process