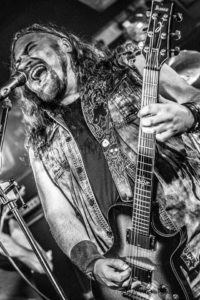 The Diamond Rock Club, buried deep in the County Antrim hills, seems to be the venue of choice for Glaswegian troupe Attica Rage to end up their tours, as this is the second such occasion they've chosen the best li'l rock club on the island of Ireland to host their end of term party (yes, we know they closed Highway To Hell shebang back on their home turf the following evening, but this was the last 'official' night of their current run of dates.
Despite playing to one of the smallest crowds I've seen at the DRC in a while, the Rage get a nevertheless enthusiastic reception for their brand of solid, classic rock influenced street metal.  Despite a few flaws, including more than a few missed notes, guitarist Stevie Bell pulls out every trick in the book of shredding, his understated but effective style delivered with a smooth confidence, while frontman Jonny Parr does his job with aplomb and not ineffectively.   The best performance of the night, however, is bassist Colin Wilson, who is note perfect throughout and more than ably covers up a few mistakes from rhythm partner Richie Rage.
A cover of The Osmonds' 'Crazy Horses' seems a weird mid-set choice (and Tank did it so much better many moons ago), but 'Back To The Old School' summarizes their approach – even if they end with unnecessarily pedestrian – and, in the case of the latter, misjudged – versions of 'Overkill' and 'Paranoid'.
https://www.facebook.com/atticarageofficial
Attica Rage play Hard Rock Hell VII at Haven Hafan Y Mor Holiday Camp in Pwllheli on November 28 – December 1 (day and time to be confirmed):  http://www.hardrockhell.com/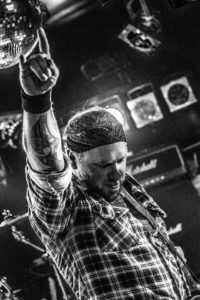 Playing the Diamond for a record 18th time, Trucker Diablo quickly get a reaction (from the now slightly larger crowd) to their invitation to "let's fucking rock" as they roll into the Ahoghill to prove – as if they needed to – that this is the 'Year Of The Truck' by blasting through a riff-fuelled set drawn mostly from their recent sophomore album, the suitably monickered 'Songs Of Iron'.
The passion of frontmen Tom Harte and Simon Haddock comes across in their faces and the sweat dripping from their brows, but the sheer joy that they have playing live, especially in front of what comes as close to a 'home' crowd as they're likely to get (especially with Tom's mum taking pride of place in the middle of the room), is also reflected in their smiles – and those of bandmates Glenn Harrison and Terry Crawford, with the latter spending nearly as much time standing on his drumstool as battering 50 shades of red, white and blue (sorry, Norn Irish joke there!) out of his kit.
The mid-Ulster quartet deliver another true 'Juggernaut' of a set, bulldozing their way through the room and out the back wall, and only easing off the pedal for the lush new single 'Maybe You're The One':  by the time the anthemic 'Voodoo' we're running on diesel fumes… but a pit stop at the bar and the supercharger kicks in as the big truck rolls on to a suitably bulldozing finale which leaves everyone breathless and wondering how the guys continue to up the ante with every gig they play…
 https://www.facebook.com/TRUCKERDIABLO
You can watch Trucker's amazing new video for 'Maybe You're The One' here:  http://www.youtube.com/watch?v=-19eBmcWyBk
'Songs Of Iron' is out now on Ripple Music.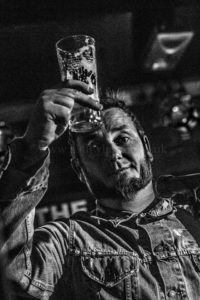 Trucker Diablo play:
Thursday October 24th – Yardbirds, Grimsby
Friday October 25th – Corporation, Sheffield
Saturday October 25th – Bully On Rocks, Bully les Mines, France
Sunday October 27th – nambucca, London
Forthcoming gigs at the Diamond Rock Club:
Saturday October 12th – Acoustic TV (Terrorvision un-plugged) + Stevie Blues
Saturday October 19th – Dan Reed Network
Saturday November 2nd – Con Jovi
Sarday November 16th – Tigertailz + Maverick
Saturday November 23rd – Dan Baird and Homemade Sin
Tuesday December 17th – Ricky Warwick
Saturday December 21st – The Pat McManus Band
Saturday 21stDecember 21st –  Stormzone
Photographs courtesy of Paul Wharton.