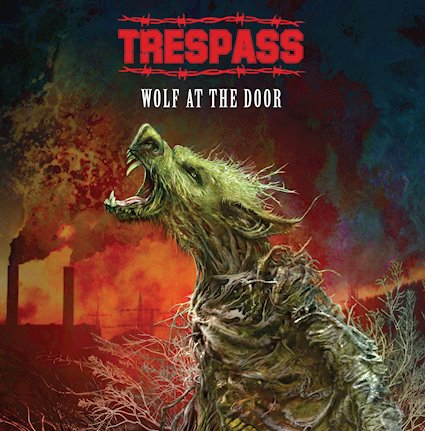 It seems rather fitting that Wolf At The Door, studio album from Trespass is released on May 26th 2023 via From The Vaults!
Formed in 1979 in Sudbury, Suffolk by guitarist/vocalist Mark Sutcliffe and brother Paul Sutcliffe on drums , they embraced the NWOBHM (New Wave Of British Heavy Metal), releasing 'One Of These Days', their first single via Trial Records and The Bright Lights EP, their final release for Trial. Disbanding in 1982, they reformed in 1992 as Trespass, releasing their debut album Head in 1993 and Footprints In The Rock album in 2016. Wolf At The Door opens up with 'Blackthorn'. From the off, huge riffs shout out that "We're back!" to drive this headbanger along with a secondary riff that weaves around a melodic vocal, shout em out loud and proud choruses and fiery twin lead guitar prowess.
'Daggers Drawn' lives up to its title as it jabs with power as Mark ups the heaviness ante in the fist clenching choruses, pausing midway for a brief bass heavy piece and twin lead majesty.
'Force Of Nature', melodic doom anyone? Why not as as raging riffs enshroud ethereal passages of gentle guitar as a melancholy vocal briefly soothes, heavying up for the choruses and a drum driven air guitar inducing outro.
Vocals swoop and soar throughout 'Other Worlds' as serene riffing stands up to more powerful ones towards fretboard fury midway, heading towards an ear piercing outro.
Sturdy riffs provide the backbone to 'Ghost Pilot' as this cranium cruncher makes for the heaviest song. Grooves are speaker rattlers taking no prisoners, especially for the galloping twin lead midsection and a mantra like delivered vocal.
'Back To The Woods' is a song we can all relate to as snare drum snaps drive verses along towards heartfelt choruses that reflect the beauty of nature and our chance to cling to it while it's still here.
'Crooked Cross' is a full throttle turbocharger that burns up the tarmac for four frantic minutes of razor sharp riffing that crucify anything foolish enough to stand in its way, backed by shimmering guitar solos.
'Unsinkable' is an epic to end all epics as Mark delivers his most prolific vocal here that tell a tale of lives lost at sea to give it a symphonic feel, cruising to a morose finish.
Another magnum opus is 'Stranger In Paradise', a seven minute behemoth that doesn't outstay its welcome due to a soul searching vocal whilst the riffs claw at the choruses, ending on an heraldic feel of heading off into battle rhythms.
'Live Like A King' has more "Whoa oh oh's" that you ever need but keep em coming as this rock royalty song see the band play like their lives depend on it and it's peppered with earworm twin lead guitar mayhem.
Final track is the title track as 'Wolf At The Door' has a bit of a grungy vibe going on due to a caustic main riff that dominates, finishing this highly impressive comeback album on a fast and furious riffed outro.
Pre-release links to the Wolf At The Door album and other band info are here :- https://targetgroup.bandcamp.com/album/wolf-at-the-door I https://targetshop.dk/trespass?fbclid=IwAR2V I https://www.facebook.com/trespassnwobhm I https://www.youtube.com/results?search_query=trespass+band
The album will be available in the following, black vinyl ltd to 300 copies, CD and digital formats.
Wolf At The Door album track listing :-
Blackthorn.
Daggers Drawn.
Force Of Nature.
Other Worlds.
Ghost Pilot.
Back To The Woods.
Crooked Cross.
Unsinkable.
Stranger In Paradise.
Live Like A King.
Wolf At The Door.
Wolf At The Door album band personnel :-
Mark Sutcliffe – Guitar/Lead Vocals.
Wil Wilmot – Bass Guitar.
Joe Fawcett – Guitar.
Jason Roberts – Drums.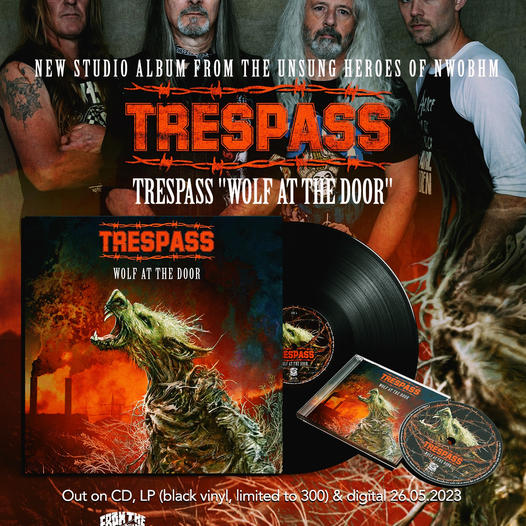 Trespass return from the wilderness with their latest soon to be released studio album Wolf At The Door.