Tracer returned to our shores this week for the first of two visits this year and, having waded our way through the confusion of the Kings Cross station re-development (there's a different way to go every time we come here) we headed across to the second night of their headline tour at London's Scala.
Support on this tour comes from British band Cage the Gods. They prove to be a perfectly matched support band for Aussies Tracer, their blend of rock with bluesy undertones has the surprisingly large (for a support band on a Monday night in London) audience loving every minute of what they have seen and being grateful that they bothered not to go to the pub, or at the very least to have left it early.
Cage the Gods have certainly made a good number of new fans amongst the Planet/Classic Rock influenced crowd tonight. Their songs have noticeable differences over the common rock sound, which make them interesting to listen to and perhaps with a little something over some other bands of their ilk on the current circuit. Just listen to the difference between the opening lines of 'Promises' and 'Sacrifice', both of which can be heard on their Facebook page, to see what we mean. 'Sacrifice' is a beautifully sung American rock influenced number that wouldn't be out of place on a movie soundtrack.
Cage the Gods put on an entertaining show and performed their task as the warm up band perfectly. Each member knows well the part they and the others have to play, they both come up to the mark to shine when it is their turn, such as Jam's guitar solos or step back and let another band member have his moment in the spotlight. Singer Peter has a good rock voice, which is evident on tracks like 'Bruce Willis', with just the right pitch and growl, he carries the notes well and his sound fits the music they play brilliantly.
They close on the track 'Promises' which derives musical influences from U2, but the edge (excuse the pun) they have with this track is that this is heavier, the opening lines certainly catch your attention and just as you think "now what does this remind me of" it changes into the heavier rock grove and you forgot all about that thought….just! We are sure that this tour will be very worthwhile for Cage the Gods and will inevitably garner them many new fans.
Tracer come on stage to rapturous applause, it is great to see how much their fan base has grown these last couple of years and it can certainly be heard tonight as they open. Considering their latest album 'El Pistolero' is a concept album with it's own story, Tracer have chosen their set list carefully and mixed tracks from both albums well. Opening with the track that got them recognised 'Too Much', they are then straight into 'Manic For Ya' from their new album and certain sections of the assembled crowd certainly are going manic for Tracer, leaping through the audience around them as if on a pogo stick, whilst the majority nod appreciatively.
One notable point is that Tracer do not stop for the entire time they are onstage, there is no break in the music driving straight from one song to the next until they break for the encore. A commendable feet and one which leaves your focus entirely where it should be, on the music.
There were some particular stand out tracks during their set 'Spaces In Between', the title track from their debut album was one of them. It had an extra energy about it that captured the mood in Scala. The track is also a great one for showing off Michael Brown's powerful vocals. Watching him sing live, backed by Andre on drums and new bassist Jet, you can see how well their albums capture their live performance with minimal editing and shows how consequently, their material translates so well to the stage. The quality of their live show is something that is frequently commented on in reviews and deservedly so. The hard work they put in is evident.


Another was 'Wrecking Ball' which saw singer/guitarist Michael Brown climbing atop the speaker stack with his new favourite guitar and belting out a bluesy solo to the whooping delight of the audience, which bled seamlessly into 'Lady Killer', which Tracer absolutely nailed! Andre is all over his kit, new bassist Jett truly comes up to the mark, with his amp cranked up to just the right level making for a thunderous bass line.
They closed their set with 'Santa Cecilia' and 'Devil Ride', which was a perfect end to a bloody good night of rock'n'roll. Without a doubt, the 'Wrecking Ball' and 'Lady Killer' minutes were the highlight of the night.
Whilst we may have to wait a bit longer to see Tracer headline the likes of Shepherd's Bush Empire, they will be back here in October to support Northern Ireland's The Answer at the Electric Ballroom, now that is a show not to be missed.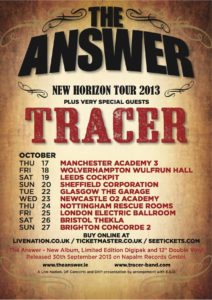 Set List – Cage The Gods
The Ending
BadLands
Bruce Willis
Sacrifice
Falling
From The Start
Promises
Set List – Tracer
Too Much
Manic For Ya
Walk Alone
Dirty Little Secret
Don't Forget My Name
Voice In The Rain
Spaces In Between
El Pistolero
Wrecking Ball
Lady Killer
There's A Man
Dead Garden
Santa Cecilia
Devil Ride