Canadian dirty hard rockers Thunderfuck And The Deadly Romantics, continue to promote their latest release "Dirty Sleazy Rock'n'Roll" via Cargo Records UK.
April 2022 Drink This Party Dry UK Tour
Originally planned for May 2020 and cancelled thanks to a worldwide pandemic, booking agents and venue owners across the UK have seen fit to book The Deadly Romantics around the country for an extensive UK Tour:

April 14 Subside Bar Birmingham
April 15 The Olde Sal Nottingham
April 16 Satan"s Hollow Manchester
April 20 Bannermans Edinburgh
April 21 Trillians Newcastle
April 22 Waterloo Music Bar Blackpool
April 23 The Black Heart London
Bands on the bill:

KONTROL FREAKS
Hard rocking four-piece band from North London, Kontrol
Freaks combine the upbeat excitement and energy of hard
rock heritage with a brazen modern spirit. "Monster vocals
and a band we definitely need more of" – TotalRock Radio
THE BIG DIRTY
Sit back and get ready for one of the dirtiest encounters you
may come across from one of the newest bands in Hard Rock.
Northampton Sex Rockers (their words, not mine) THE BIG
DIRTY have released debut album The Sex and you better be
prepared for this. These guys could give STEEL PANTHER a run
for their money.
DIRTY ROSE
Listening to the record, the brotherhood of Dirty Rose is strong
and chemistry between them is palpable. Their tag line of "Your girlfriend's favourite band" may
just be true, but you should also make room for them in your own playlist because Rock & Roll Is
My Religion" is proof enough that these young musicians play this kind of timeless rock n" roll for
all headbangers out there.
BIO Thunderfuck & The Deadly Romantics:
How does one go about describing Thunderfuck & The Deadly Romantics? One Part RAMONES, one part AC/DC, add in a little GUNS'n'ROSES and a dash of STEEL PANTHER! Loud-Stuff states "Any band who have got the guts to call themselves Thunderfuck and the Deadly Romantics are ok in my books! What you've got here is a band who can play, understand their songs but have set out with a mission to bring old school, dirty, sleazy rock and roll back to the forefront of things – and it"s
worked."

Originating from Hamilton, Ontario, Canada, with a 10-year stint in the UK, the band is an
example of how modern-day rock and roll is created. With members now permanently located in
Canada, shows are moments to be celebrated.

"Real sleaze rock with punk attitude and 80s metal guitars; Thunderfuck and the Deadly Romantics sound like they have been on a Jack Daniel"s diet for a few years!" states Veglam, "A bit of WRATHCHILD (UK), ROGUE MALE & MENTORS, these guys seem to know a lot about dirty, debauchery rock"n"roll/punk metal. Bikers, punks and bad girls can party together again!" All About The Rock says; "Sonically this band will knock your socks off. Thunderfuck himself, who is an absolute minotaur of a man, has a stage persona that reminds me of GG ALLIN. Albeit without the nakedness, shitting on stage or punching the audience but he does have that air of danger that has been missing from Rock n Roll since the Sex Pistols. The Deadly Romantics are a highly polished set of musicians. A lot more Paul Di"Anno fronted IRON MAIDEN punk style crossed with the chops of ZODIAC MINDWARP. Thunderfuck is a master of his craft. Engaging with the audience whenever the opportunity arises. You get a very special live experience with this band.

This band thrives in a live environment. The sing/shout-along choruses coupled with the natural call
& response are a great blend. The diehard fans love it & the new discoverers in the audience
certainly get into the spirit of things too. Overall this band are fantastic. One hell of a live act
who make absolutely no apologies & take no prisoners with their lyrical content, stage persona"s
or the total onslaught of in your face Rock n Roll. Although Thunderfuck & The Deadly Romantics
proclaim not to take themselves seriously they are master craftsman at what they do & that"s all
that matters.
Stream the Band here
https://soundcloud.com/deadlyromantics
VIEW ON YOUTUBE https://www.youtube.com/watch?v=pCZ-MAFbEqE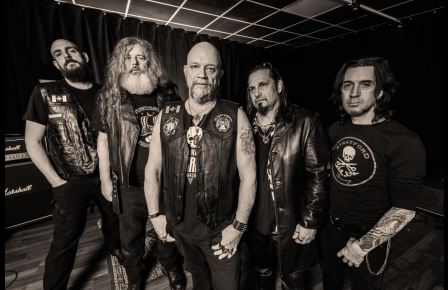 The Band
Thunderfuck : Vocals
Johnny Douchebag : Guitars
Stacy Stray : Guitars
Ryan Cümsock : Bass
Brian Bones : Drums