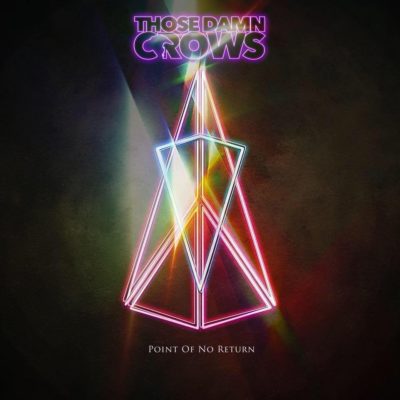 It's been a long time since I've been so excited waiting for the second album from a band. The first time was way back in 1980 for Iron Maiden when their self titled debut was followed by Killers and now Bridgend based Those Damn Crows have shown their full potential with Point Of No Return!
Currently released via Earache Records, the band have written a heavier album than their debut Murder And The Motive. Thirteen tracks at first glance made me think it could be too much to take in for a review but after the first listen I couldn't have been more wrong as they bristle with a chest beating pride. Some of these songs I'd heard live last year so I sort of new what to expect but this album exceeds all of my expectations. Opener 'Who Did It' that has been championed by Planet Rock radio is a strong start with Godzilla stomped rhythms as the unmistakable Welsh twang from lead vocalist Shane Greenhall sees his golden tones deliver vocals that lead to earworm choruses.
'Set In Stone' is a hefty riffer that hurtles along at full pelt for a white knuckle ride as a drop in pace midway makes way for a vocal tour de force as a snare drum outro from Ronnie Huxford adds true grit. The guitar intro to 'Skin On Skin' has a 'Now I'm Here' vibe to it that backs a menacing vocal as the song heavies up to speaker rattling bombast. 'Be You', another Planet Rock radio regular is no less than a drum driven turbocharger. Their knack of penning beautiful ballads is highlighted by 'Never Win' as the piano intro gave me shivers from the off and it would take a very cold heart not to be melted by this beautiful song as Shane soars to the stratosphere. They return to the rock with the monstrous grooves of 'Send The Reaper', an adrenaline rush three minutes that doesn't pause for breath.
'Kingdom Of Dust', one of the heaviest songs they've written so far is a full on headbanger. 'Going Down' is a short, sharp, take no prisoners opus chock full of knock out punch dynamics with thundering bass guitar lines courtesy of Lloyd Wood. 'Long Time Dead' is an all guns blazing bluster with Ronnie testing the strength of his kit yet again. 'King Of Second Chances' certainly does not portray their status as their current seven date headlining UK tour sees three of them sold out even after venue upgrades! One of which was at Manchester Academy 3 last night that saw Shane heading to the venue bar before playing 'Send The Reaper', ordering five drinks to take back to the band to celebrate the album release date that day.
'Go Get It' is all melody with muscle as heartbeat like bass guitar lines vie for attention with killer riffing from Ian "shiner" Thomas and David Winchurch with lung busting vocals. The vitriolic lyrics in 'Hey Man (Look At Me Now)' are the perfect foil for the raucous musical backing. I wondered whether they would end the album with another ballad but they leave us with 'Devil In My Pocket', another headbanger and it's a fast and furious end to a triumphant release.
Point Of No Return album track listing :-
Who Did It.
Set In Stone.
Sin On Skin.
Be You.
Never Win.
Send The Reaper.
Kingdom Of Dust.
Going Down.
Long Time Dead.
King Of Second Chances.
Go Get It.
Hey Man (Look At Me Now).
Devil In My Pocket.
Those Damn Crows band line up :-
Shane Greenhall – Lead vocals.
Ian "shiner" Thomas – Guitar.
David Winchurch – Guitar.
Lloyd Wood – Bass guitar.
Ronnie Huxford – Drums.
Those Damn Crows ruffle their feathers for a flocking great second album!