I'll admit to being late for the These Wicked Rivers party, having only seen them twice in a matter of weeks. Once at the Tivoli in Buckley giving Massive Wagons a hard act to follow and last night closing the Rock The Railway four day festival in Nantwich, part of Jubilee weekend but rock royalty from them certainly crowned the festival as they threatened to lift the marquee from the ground from an extremely crowd friendly fifteen song set chosen from their debut album Eden, EP's and three brand newies!
No KISS, Rammstein stage set needed from these guys as standard lamps and drapes gave a homely vibe but not to their performance as set opener 'Shine On' was a full on romper stomper intro, sugar sweet harmonies, swirling keyboards from Rich Wilson and an outrageous guitar solo from Arran Day who had previously earned brownie points by hitting a few bars of 'Stranglehold' in the soundcheck.
Air guitar heaven came from new song 'Force Of Nature' that lived up to its title with mighty vocal "Whoa oh oh's", ground shaking drum overload and seismic mid section bass bombast from Dale Tonks.
A Deep Purple tinged intro saw 'Evergreen' be an all consuming hard rocker that only took a breath for the serene choruses, finishing on a snare driven outro from Dan Southall.
'When The War Is Won' made time seem to stand still for this sumptuous ballad, an emotional tour de force made even more poignant by a shimmering guitar solo and lungbusting outro, or to put it simply by me, "It's the real deal".
'Black Gold', second new song played is a gnarly party starter and finisher but even from first listen it's going to be a future crowd favourite from their future second album.
Doomy grooves free their shackles for the shout it loud and proud choruses of 'Floyd' and fretboard melting solo.
"A song about the end of the World" introduced by lead vocalist John Hartwell began with an almost spoken word first verse to add despair to 'World In Chains' and acoustic guitar from multi instrumentalist Rich Wilson added extra hues as the stage was just about big enough for a four guitar line up!
'Lonely Road', another of their lovely ballads proves that you don't need a wall of Marshalls to get your point across throughout this heart worn on the sleeve number.
This mood continued with 'Bottom Of Here' as a quivering intro backed by sparse keys and gently strummed bass was brought to life by some serious string bending for the outro solo.
Volume levels surely reached into the red levels as twin guitar overload and ear bruising bass brought us back to life in new number 'Riverboat Man'.
'Money' followed a speech about their forthcoming crowdfunder campaign for their second album, a fiery funky dance floor filler but also heavy enough to keep the air guitarists (Kevin 'Harry' Brothers) happy especially in the solo drenched midsection.
Third new song 'The River' flowed on a relaxing groove and almost hypnotic lead vocal.
'Testify' testified to be another heavy song to their armoury, almost stoner rock at times with a full on virtuoso guitar solo including some tasty wah-wah pedal work.
Set closer 'Don't Pray For Me' has a vocal crackling with emotion, almost as if begging for forgiveness as this magnum opus bursts into a crushing crescendo ending on a skin tingling spoken word outro from John, written by Neil Young of "Hey hey, my my. Rock and roll can never die. There's more to the picture than meets the eye. Hey hey, my my".
John then asked "Do you mind if we do a cover?" as what was left of our hearing was tested by a full on turbocharged delivery of 'Rocking In The Free World' by of course, Neil Young! A fantastic finale by a bonafide "I was there gig".
After the dust had settled I took a few quotes from fans front of stage as Stu Hunting proclaimed "Seeing these guys live is therapy for the soul. Just keep getting better. SEE THEM LIVE!". Andy followed that with "They get better everytime I see them, literally on fire seven times in 2022" and Elizabeth Turner hit the nail on the head with "Fucking awesome!"
These Wicked Rivers band line up :-
John Hartwell – Lead Vocals/Rhythm Guitar.
Arran Day – Lead Guitar.
Dan Southall – Drums.
Dale Tonks – Bass Guitar.
Rich Wilson – Multi Instrumentalist.
These Wicked Rivers crowdfunder link and band info are here :-https://www.thesewickedrivers.com/category/crowdfunder I https://www.facebook.com/TheseWickedRivers I https://linktr.ee/thesewickedrivers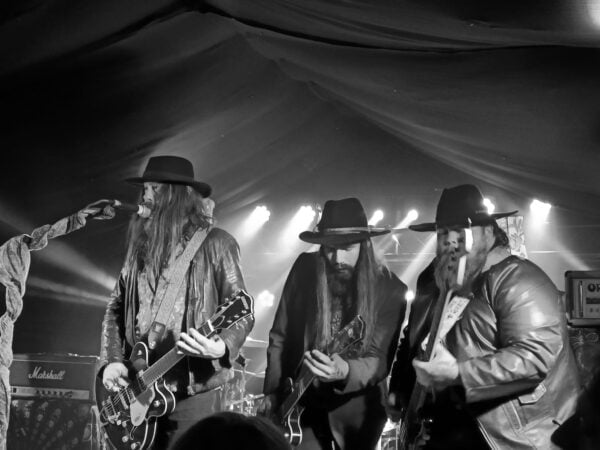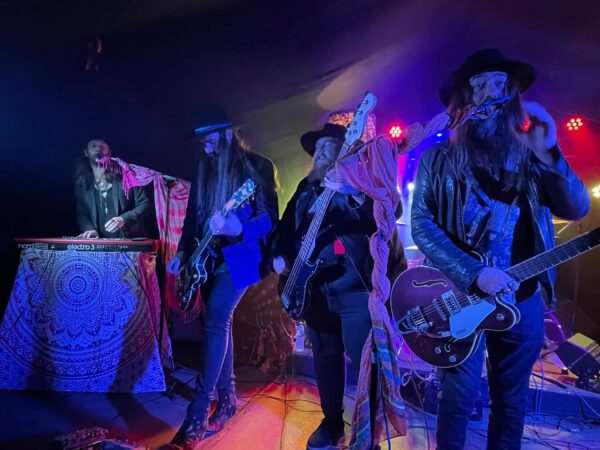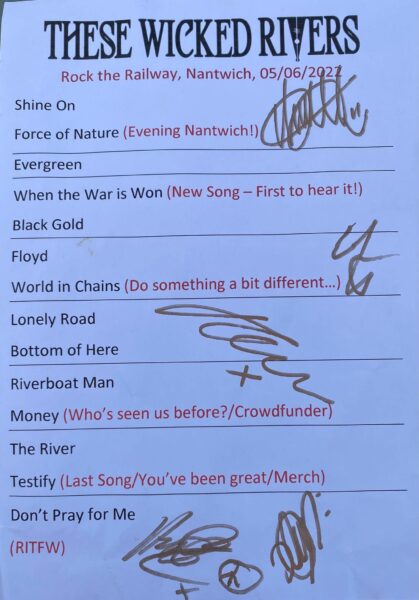 These Wicked Rivers will soon be sailing the Seven Seas judging by the quality of their performance at Rock The Railway.