The Wildhearts released their new mini-album Diagnosis on 4th October 2019.  
Featuring five brand new songs and one song you may be familiar with, Diagnosis off their acclaimed album Renaissance Men.
The Wildhearts feature the iconic line-up of Ginger, CJ, Danny McCormack and Ritch Battersby who are proud to reveal their mini-album Diagnosis. This stunning release isn't a bitter pill to take in fact it's downright addictive and loaded with infectious anthems and kick-ass riffs.  The band give you every drop of their worth and Diagnosis has the essence of the early 'Wildhearts stylings to it. A definite must listen to even if The Wildhearts isn't your number one band.
The CD is presented as a gatefold sleeve, and upon opening, it reveals comic book style artwork based around the lyrics of the title track Diagnosis. With the inlay folded into the guise of a prescription, you'll find the credits and songs details, this opens out to A4 size and has the song lyrics on the reverse.
Diagnosis tackles the subject of mental health; an issue that has become prevalent with as many as 1 in 4 people experiencing a mental health issue. I myself walk that very road and I know dozens of friends who are battling the same.
I really commend The Wildhearts teaming up with The Samaritans and including their Helpline card with the album. The Samaritans are a support group and are available 365 days a year, 24 hours a day; whatever you are going through The Samaritans are here to listen. The number is free to call 116 123 or visit https://www.samaritans.org/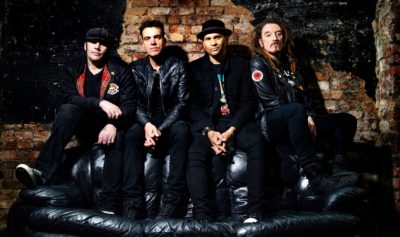 Diagnosis opens with a single chord as it tub-thumps into a crescendo of sound.  Ginger charges his vocals at you; this life on life track depicts the stigma people have to deal with when given the label of having a mental health issue and are seen by society as 'a one label fits all' even down to the available treatments.  But that's not the truth, and as the chorus says 'you are not your diagnosis' 'you are not animal, you are a human being!'
This song stood out on Renaissance Men and it's great to see its concept been given the full ratio it deserves on Diagnosis.
Written by CJ, God Damn is a vibrant punkish song about starting up again, hence the lyric "god damn, I find myself, I got to start back again?'' With a great harmony, the vocals are delivered clean by Ginger, and the sound reminds me of the American nu-punk bands from the 2000s, with its punchy beat.
What do you get if you mix The Wildhearts and The Yo Yo's?  A Song about Drinking.                        Drum rolling into this anthemic, straight up, easy-going tune,  it's reminiscent of bassist Danny McCormack's time in The Yo Yo's;  with a big dash of The Wildhearts to give you a nice edge.
The First Time is a rocky, bouncy number that has undertones of rockabilly meets '50's rock and roll (think Little Richard). I like the jive and it strikes all the right chords. This makes for a fine a tune that has all the trappings of Wildhearts, with its big verses and rhythm stylings provided by CJ on guitar.
I wonder if we'll find out who or what drummer Ritch Battersby penned That's My Girl about? This is the penultimate song on this mini-album. And could be written about a girl, a drug, or even Gingers dog Maggie?  I like the hard-hitting riffs at the start as it ricochets into its persistent lyrics of 'that's my girl' 'come, come, come' that become engrained to memory.
The final track on this mini-album is a frantic distorted mass of fuzz guitars, with Ginger's voice mashed over a distortion box. As Ginger eloquently introduces LOCAC  with "bollocks is the language of cowards and cunts."  I like the passive-aggressive vibe, there's an underlying melodic riff throughout this direct angst-ridden track. LOAC poses the question mid lyrics before the onslaught of a full out band jam 'Are you been honest with yourself?' Beneath the demolition of noise if you listen closely you can hear the songs purpose.
The Wildhearts have raised themselves another bar with the delivery of Diagnosis. And in support of this super mini album, you can find the band touring this October. See the links below.
Diagnosis Tracklisting:
Diagnosis
God Damn
A Song About Drinking
The First Time
That's My Girl
LOAC
Useful links to The Wildhearts:
https://www.facebook.com/TheWildhearts
https://twitter.com/thewildhearts
Band Members
Ginger – Vox/guitar
CJ – guitar
Ritch Battersby – drums
Danny McCormack – bass
Diagnosis. This stunning release isn't a bitter pill to take in fact its downright addictive and loaded with infectious anthems and kick-ass riffs