The Treatment live review of their Leeds show at the Brudenell Social Club, with support from South of Salem and Piston
Tonight is show number 13 of their extensive 18 dates 'Devil In The Detail Tour' as these three impressive bands take the stage at Brudenell Social Club in Leeds, on 27 April 2022.
South of Salem
The doors opened early at The Brudenell and South of Salem (SoS) brought its Coven with a hardcore following of fans taking the front row, along with some cyber dressed dudes to the side of the stage.
To quote me when I reviewed their debut album 'Sinner Takes It All. "The sound of SoS is hard rock, with a twist; that brings about the imagery of a lusty emo-goth party, fuelled by sleazy hooks and broken bedroom promises which leave dark tears stains running down your streaked face! 
Now, I should mention that someone (me) forgot their SD card so rather than risk missing SoS's set and going back to the car, I stayed and watched their highly energetic show.
Vocalist Joey Draper leads his army of devoted and positions himself on one of the two podiums in front of the stage, along with his fellow band members who make use throughout adding impact to their performance of The Hate In Me.
The energy is full-on from the band and the crowd is full-on back with 'whoa's, whoa's' on the chorus of Made To Be Mine as Draper hammers home the verses during this sing-a-along.
Losing friends to suicide is hard. Draper tells how the band lost three friends during the lockdown. And how some of the crowd was in their video for this next song; and if the crowd ever feel they need someone 'The Band' is here for them. Slowing the pace as they pay tribute and dedicate Demons Are Forever to their lost ones.
I can't help but think of Johnny Depp and Amber Heard on Pretty Little Nightmare that Joey dedicates to us 'wonderful ladies,' Thanks! Not before challenging us to a scream off – I think us 'ladies' could've done better!
Closing with Cold Day In Hell, it's over, all too soon.
You can still catch South of Salem later in May at Call of The Wild Festival 2022.
Setlist – Let Us Pray – The Hate In me – Made to Be Mine – Demons Are Forever – No Plague Like Home – Pretty Little Nightmare – Cold Day In Hell
Website: https://www.southofsalem.com/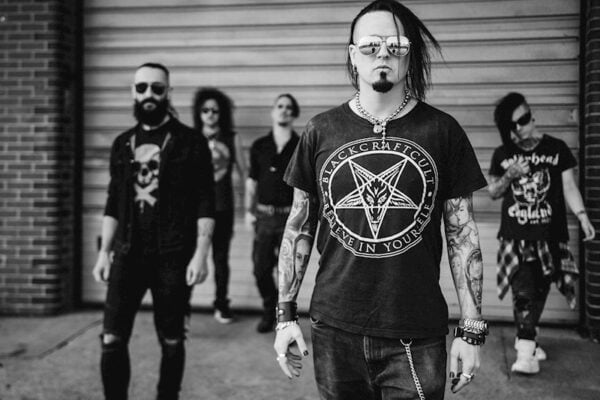 PISTON
Running like the devil is chasing me, I retrieve my SD card from the car and make it back in plenty of time to catch Piston as their changeover is still taking place.
Led by frontman Rob Angelico, the Cannock based rockers have a hint of blues about them. Smokey, dirty rock n roll springs to mind as they open with the banging Rainmaker, the deep basslines and anthemic beats grab your attention from the off.
Pounding out another hard-hitting riffer on Leave If You Dare. Having not seen 'Piston' before, I'm liking what I'm getting. Reminding me of The Black Crowes, 'She Talks To Angels' – Love Will Carries Us Home is the nearest to a ballad the band does. It's big and bluesy and Angelico's vocals provide the perfect harmonies.
Rolling on the river, we are introduced to Piston's kick-ass version of 'Proud Mary' or as Rob tells us 'the Tina Turner song'. Taking a stand on his kit, drummer Brad Newlands with arms out and sticks in hand encourages the crowd. As singer Rob prepares for take-off as he gives a shoutout to 'the togs to get ready' as he leaps into the air! Creedence Clearwater Revival would be very proud of this version.
Ending the set, literally with a 'Boom' of the drums Piston end the show but not before posing for a group photo together on stage.
Setlist – Rainmaker – Leave If You Dare – Shangri-La – Carry Us Home – One More Day – Proud Mary (cover Creedence Clearwater Revival) – Boom!
The Treatment
Let's get Dirty as The Treatment opens with this melodic rocking belter from their Power Crazy album. For a minute, I thought they had a new singer as Tom Rampton has ditched the black hair in favour of dirty honey-blonde.
Taking up the tempo, Let It Begin brings the powerhouse rock the band is known for.
Now on dates 13 out of 18, the band hasn't had any days off and they wish they had 18 more as Tom tells the now thirsty crowd. They pack a punch with their showcase track, Devil In The Detail off their latest album 'Waiting For Good Luck'.
It's been a good while since they have played Leeds and they don't disappoint, packing in all the favourites. As a heckler shouts 'play us something we know?' Okay, replies Rampton 'wanna hear an old song?' The sleazy rocking vibes of The Doctor get the crowd rocking along and nicely ready for the epic I Bleed Rock + Roll. And yes, we do, it's oozing from every pour on this mid-week Wednesday show.
"Sticks and stones will break my bones", these are the snarly opening words from Rampton's raspy vocals on the power rocking AC/DC vibing Back Bite with a steady paced stoner riff/solo from Tagore Grey.
True To The Heart of Rock and Roll
True to the heart of rock and roll is how I would describe The Treatment, a great British rock band that never disappoints. Each time I have seen them, they are vibrant and full of energy, and like a magic trick they pass this on to their audience. I have always come away from their shows with a feeling of joy and that's what you need to escape the daily grind.
Which leads nicely to the encore of Rat Race and Running With The Dogs, (the best pack to be in).
Missed this tour, you can catch The Treatment later in May at Call of The Wild Festival 2022
Setlist – Let's Get Dirty – Let It Begin – Eyes On You – Devil In The Detail – The Doctor – On The Money – I Bleed Rock + Roll – Bite Back – Wrong Way – Get The Party On – Shake The Mountian Encore – Rat Race – Running With The Dogs
Line-up: Tom Rampton – Vocals, Dhani Mansworth – Drums, Tagore Grey – Guitars/backing vocals, Tao Grey – Guitar and Andy Milburn, Bass Guitar.
https://www.facebook.com/TheTreatmentOfficial
https://www.instagram.com/thetreatmentofficial/
More photos from the show here – https://flic.kr/s/aHBqjzNdum
Words and photo's by Alex English