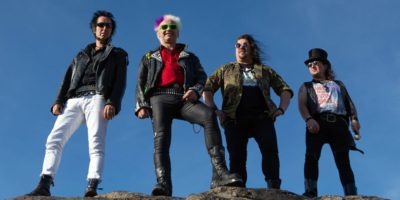 Leeds based Sleaze-Punk-n-Rollers The Kingcrows released their latest album Brute Force and Ignorance via Corvus Rex Recordings earlier this year. If you did Latin in school you may remember that the translation of Corvus is crow and Rex is King. I'll leave you to work out for yourself whether it's a self release! Were it not for a queue for the toilets at an Alice Cooper/Twisted Sister gig one Saturday Night* (in) Rock City, or the city of steel (Sheffield) see a more detailed bio here The Kingcrows as we see them today may never have existed. However since that opportune male bonding at the urinal session The Kingcrows have played with many notable icons including UK Subs, Anti Nowhere League, 999 and Dead Boys to name but a few!
Whilst I had thought queuing for the next available toilet at gigs was a women's problem it seems not, as after a few Beer & Whiskeys on One Night Only, Blood Brothers Lee and Ratbag were reunited. So does this album need a good old Royal Flush down the pan or have The Kingcrows played a winning hand? Here are my Bum Notes and Feedback!
The album starts with what sounds like the tick tock of a clock, either that or heavy marching footsteps, and a psychotic joker style laugh from Phil E Stine leading nicely into the catchy tune Psycho Radio a solid opener with an Exploited vibe. Blood Brothers pummels those ears before a dirty bassline drives Car Crash Cadillac along nicely I'm thinking something like Peter Gunn, crashing into the Taxi Driver of a Brand New Cadillac make that Duane Eddy, crashes into Hanoi Rocks being chauffeured by Vince Taylor (and his Playboys). This would be a great song for Phil to get his big brass instrument out to at gigs!
I Love Myself a fast punk rock n roller, with some great lyrics which you can probably relate to, and easily sing along to, 'I ain't going to change, no matter what you say 'cos I love myself just the way I am' ending with a drum roll and a final 'cos I love myself and I don't give a damn!'. Another bass driven track comes next in Vic The Vigilante. Then the Kings become Queens for a day with City Kids a track reminiscent of Queen's Tie Your Mother Down! Although I also picked up a choppy drumbeat akin to Adam Ant say Kings of the Wild Frontier, a right royal combination here then! The superfast Bum Notes and Feedback follows and you can raise your glass to some A-List Celebrities as Z-List Celebrity reminded me of Blondie's One Way Or Another! The Kingcrows do Debby Harry? In their dreams!
The fast pounding beat of Saturday Night Rock City comes before the Ramones-esque One Night Only which speeds up as it goes along and had me thinking of Rockaway Beach. The punishing bass beat in Do What You Do has a flavour of jam. What flavour? You might ask, Eton Mess? No! Think something along the lines of Eton Rifles by The Jam!
Rip It Up a song with an essence of Stop Playing With Yourself by Hung Like Hanratty. Don't stop playing this album to yourself just yet though as the end is near in My Heart, My Life the last song and a good song to end the album on, with a Buzzcocks vibe. What do I Get? In 'Brute Force and Ignorance' you get a winner. I can't use brute force to make you listen but, in this case ignorance isn't bliss as, you'd be missing out on an album packed full of sleazy rock n roll tracks!
Highlight Tracks Car Crash Cadillac and Vic The Vigilante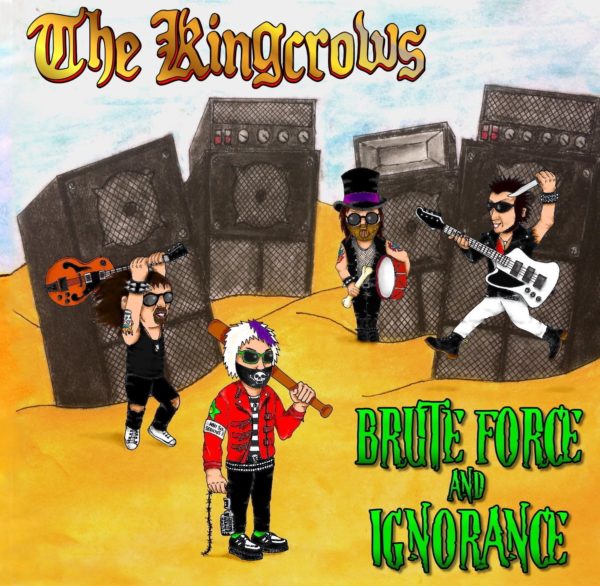 Track Listing:
1: Psycho Radio
2: Blood Brothers
3: Car Crash Cadillac
4: I Love Myself
5: Vic The Vigilante
6: City Kids
7: Bum Notes and Feedback
8: Z-List Celebrity
9: Saturday Night Rock City
10: One Night Only
11: Do What You Do
12 Rip It Up
13: My Heart, My Life
Band Members:
PHIL E. STINE: vocals
LEE J: guitar/vox
ROCCO: bass/vox
RATBAG: drums/vox
Links:
*I don't actually know what day of the week it was but let's just go for Saturday!
The Kingcrows have definitely played a winning hand with 'Brute Force and Ignorance' a full suit of sleazy rock n roll tracks with an added joker thrown in for good measure!