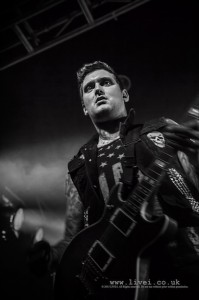 All ages gigs, when you get to a certain 'vintage', can be weird affairs at best and uncomfortable ones at worst.  It's OK if you've got your own sprog to keep an eye on, but when you're there on your ownsome merely to observe the proceedings on stage, it can be somewhat disconcerting – especially when you spend some considerable time at the beginning of the evening trying to figure out how many of the prepubescent lifeforms around you actually fit the '14+' age group…
Anyway, that said, your somewhat more mature scribe casts aside the feeling of being somewhat, er, 'out of place', to venture into darkened bowels of Belfast's otherwise deserted Students' Union building (well, the university term doesn't start back for another couple of weeks) to catch two of the fastest rising acts in the British metal firmament.
Glamour Of The Kill get the party started right away, with the entire room responding immediately to frontman Davey Richmond's call to "jump. jump. jump', and the Yorkshire quartet have everyone in their back pocket from the off with their infectious, toe-tapping hooks, poppy melodies and singalong choruses.  Their sound is very much rooted in classic UK metal, combined with the more attractive elements of the latter day 'core sound – very much in the mould of early Bullet For My Valentine, if truth be told.
Musically, the band are tight, especially in the rhythm department, and Mike Kingswood delivers a nifty line in guitar solos (something two many of today's young bands have forgotten how to do).  Richmond is a charismatic frontman, engaging well with his audience and getting exactly the reaction with his young, adoring audience bouncing, jumping and crashing into each other without the need for a second bidding.  Set highlights are two of the tracks aired from the band's forthcoming sophomore album, 'Savages':  the hugely melodic 'Second Chance' and the groovy 'Freak'.
[youtube=http://www.youtube.com/watch?v=fRY8Vg_2GzI&feature=youtu.be]
https://www.facebook.com/glamourofthekill
'Savages' will be released on September 23 in the UK and Europe through SPV:
http://www.amazon.co.uk/Savages-Glamour-Kill/dp/B00EITW70K/ref=sr_1_1?s=music&ie=UTF8&qid=1379142998&
Like GOTK, The Defiled are making a return visit to Belfast, having – in contrast to the openers' headline appearance at a pub less than half a mile down the road back in 2010 – played this very same venue less than 12 months ago, opening for Dragonforce.
Now, I'll be honest and admit that I wasn't overly impressed with the London quintet on that occasion:  in retrospect, however, that may be attributable to their incompatibility with the rest of the bill (Alestorm completed the line up)!
Looking like the bastard children of Rogue Male, Motley Crue, WASP and the Nephilim, they immediately draw comparisons, in my mind at least, with the likes of the dreaded Black Veil Brides or Hollywood Undead (and it has to be said that frontman Stitch D does look like an unholy cloning of Blackie Lawless, Nikki Sixx and Andy Biersack).
But, their sound is harder and heavier, veering from NIN-esque gothic industrialism to glam rock anthemics, and the show is anarchic, punky, energetic and above all highly entertaining – the latter thanks, in no small part, to The AvD, who twirls his keyboard and stand around the stage with more panache than many wannabe guitar gods can manage!  With the other three musicians – guitarist Aaron Curse, basssist Vincent Hyde and drummer Needles (who is extremely good, it must be said) – content to play their background roles, Stitch and AvD take it in turns to cajole the frenzied young crowd to more and more frenetic reactions.
The songs are also showing definite signs of improvement, with set highlights including the thumping 'The Resurrectionist', the slightly more introverted 'Unspoken', the fist-puncher 'No Place Like Home' and the layered closer 'Call To Arms', which brings their set to a suitably raucous finale.
[youtube=http://www.youtube.com/watch?v=jaHdzo2__Gw]
https://www.facebook.com/thedefiled
'Daggers' is out now on Nuclear Blast:
http://www.amazon.co.uk/Daggers-The-Defiled/dp/B00D8FAR8O/ref=ntt_mus_ep_dpi_1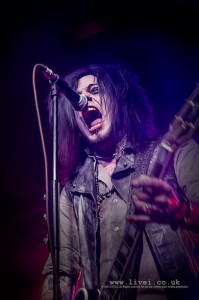 All in all, a lot more entertaining evening than I must admit I was expecting.
The tour continues as follows:
Saturday September 14 – Glasgow, Garage
Sunday September 15 – Newcastle, O2 Academy 2
Monday September 16 – Manchester, Academy 2
Wednesday September 18 – Leeds, Cockpit
Thursday September 19 – Nottingham, Rescue Rooms
Friday September 20 – Birmingham, O2 Academy 2
Saturday September 21 – London, The Forum
Sunday September 22 – Bristol, The Fleece
Monday September 23 – Portsmouth, Wedgewood Rooms