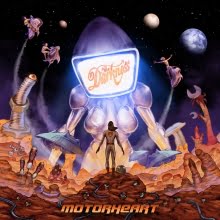 Flamboyant British rockers The Darkness have just released their seventh abum Motorheart via Cooking Vinyl.
Opening the album with Welcome Tae Glasgae which roughly translates as Welcome to Glasgow! A song with a U2 meets Aerosmith vibe, as a didgeridoo guitar effect leads into bagpipes. A "Glasgow Kiss" gets this album off to a cracking start, as you're going down under making Love in an Elevator to a place Where The Streets Have No Name!
It's Love, Jim follows. Do you know your Morse code? Whilst Morse code doesn't actually feature on the album it does start the video. I think it's saying 'Beam me up Scotty It's Love, Jim but not as we know it!' A song about loving an extra-terrestrial body and whilst it's an interesting song the video is far more entertaining. Microphone swinging, cattle humping and Justin's best Dad dancing moves!
After a stint on Masked Singer will Justin appear on Masked Dancer? He could certainly do a fine Paso Doble to title track Motorheart, about sex with a robot, with it's El Matador meet's Black Sabbath's Symptom of the Universe vibe, Ozzy Osbourne also being a master of fringed lycra, high pitched vocals and Dad dancing!
The Power and the Glory of Love is an AC/DC meets The Who number. Hell Ain't a Bad Place To Be? Well you Won't Get Fooled Again!
At the midway point comes Jussy's Girl with it's J J J Jussy's putting me in mind of the Ch Ch Ch Changes in David Bowie's song of the same name. It also nods back to the stadium filling bands of the 1980s, think Bon Jovi and Aerosmith. Although it seems Jussy is more into physical attributes than personality as he asks 'If you don't want to be Jussy's girl have you got a friend who looks just like you who isn't as fussy?'
Sticky Situations, about solo pleasures of the flesh has an AC/DC vibe before Nobody Can See Me Cry hints at Status Quo. Then we come to the penultimate track Eastbound about a night out in their hometown Lowestoft, with a The Boys Are Back in Town by Thin Lizzy feel. Last but not least, we reach our final destination Speed of the Nite Time which winds the album down nicely.
The number seven is considered a lucky number and it's turned out to be fortuitous for The Darkness as it highlights their versatility. They are currently on a twenty two date tour showcasing the new album, see here for upcoming shows.
Track List: –
Welcome Tae Glasgae
It's Love, Jim
Motorheart
The Power and the Glory of Love
Jussy's Girl
Sticky Situations
Nobody Can See Me Cry
Eastbound
Speed of the Nite Time
Band Members:
Justin Hawkins – Vocals/Guitar
Dan Hawkins – Guitar
Frankie Poullain – Bass Guitar
Rufus Tiger Taylor – Drums
Links: –
Facebook / Instagram / Twitter / Website
Motorheart highlights the chameleon like versatility of both Justin Hawkins and The Darkness!