Hollywood's newest rock'n'roll up-and-comers The Bites have announced their first UK headline tour.
The tour will start in Milton Keynes at The Craufurd Arms on 28th November and will run alongside
their festival appearances at Winter Rocks in Sheffield and Planet Rock Radio's Planet Rockstock in
Trecco Bay, where they will share the main stage with the likes of Phil Campbell and the Bastard
Sons. The band will also appear at record stores across the country with a stripped-back set and
album signing and will perform a full electric out-store show with an album signing at The Jacaranda
in Liverpool.
Full dates are below.

Frontman Jordan Tyler comments: "We are beyond excited to tour the UK finally. It'll be a first-time
experience for most of us, so needless to say we're ready to tear it up. So much of our influence
comes from UK rock and roll, so being able to follow in their footsteps and be on their stomping
grounds is going to be incredible. Considering how much airplay we've had on UK radio, it's gonna
be such a blast to meet our fans who've been supporting us since Do Me a Favor dropped. We're
comin' for ya!"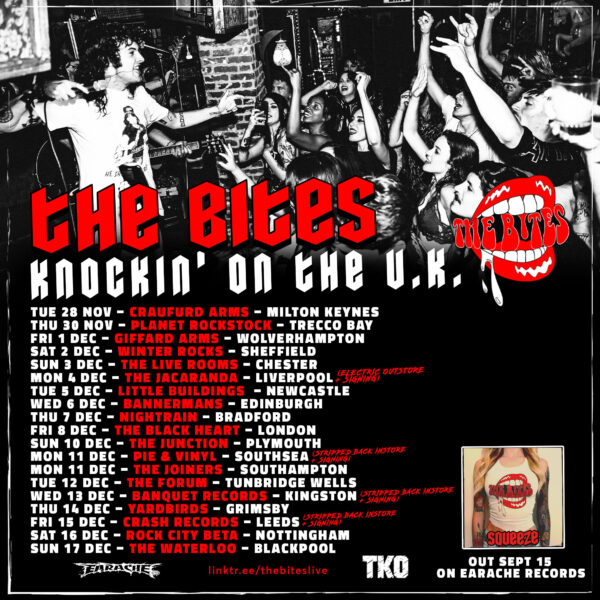 The announcement follows The Bites' August tour with Small Town Titans in the US and has been
much anticipated thanks to their radio hit "Do Me a Favor", which became the #1 most-played track
on Planet Rock's airplay chart alongside a Kerrang! Radio playlist spot. Additionally, Louder Sound
named the band as one of '10 new artists who are going to set 2023 on fire' and Classic Rock
magazine featuring them in the High Hopes spot of their September 2023 issue.

UK Tour Dates – Nov/Dec
Tue 28 Nov – Craufurd Arms – Milton Keynes
Thu 30 Nov – Planet Rockstock – Trecco Bay
Fri 1 Dec – Giffard Arms – Wolverhampton
Sat 2 Dec – Winter Rocks – Sheffield
Sun 3 Dec – The Live Rooms – Chester
Mon 4 Dec – The Jacaranda – Liverpool (Electric instore + signing)
Tue 5 Dec – Little Buildings – Newcastle
Wed 6 Dec – Bannermans – Edinburgh
Thu 7 Dec – Nightrain – Bradford
Fri 8 Dec – The Black Heart – London
Sun 10 Dec – The Junction – Plymouth
Mon 11 Dec – Pie & Vinyl – Southsea (Stripped back instore + signing)
Mon 11 Dec – The Joiners – Southampton
Tue 12 Dec – The Forum – Tunbridge Wells
Wed 13 Dec – Banquet Records – Kingston (Stripped back instore + signing)
Thu 14 Dec – Yardbirds – Grimsby
Fri 15 Dec – Crash Records – Leeds (Stripped back instore + signing)
Sat 16 Dec – Rock City Beta – Nottingham
Sun 17 Dec – The Waterloo – Blackpool

The Bites have also dropped their new video "Good Love" alongside the announcement – a track
taken from their debut album 'Squeeze' and a spectacle of the band's renowned live show
exuberance as they allow fans a peek into their live rehearsals.
Watch it here:

Dropping jaws with their monster hybrid of breathtaking garage rock rhythms, gargantuan choruses,
unashamedly retro style and, above all, their dedication to making every live show an undeniable
excuse to party, The Bites released their debut album 'Squeeze' on 15th September 2023. 'Squeeze'
resurrects the style, hop and swagger of early rock'n'roll, displaying the no-nonsense attitude of The
Hives and the sheer recklessness of Mötley Crüe. Fans of new rockers Greta Van Fleet, Dirty Honey
and The Struts will also delight in the emergence of The Bites.

Having watched his profile on TikTok (@jordantylerbites) blow up, with over 2.2 million likes amassed
on his music-obsessing 'Toks and classic rock covers, Jordan felt compelled to follow his true
passion of creating original music so he founded The Bites with LA drummer, producer
extraordinaire and long-time friend Mark Hylander. The duo are joined by guitarists Dustin Coon and
Jono Richer, and bassist Zack Currier to round out the sound.

"Putting this record, 'Squeeze', together, I really wanted to create something timeless. The stigma of
"rock is dead" has been so blown out of proportion. All the music we grew up with from the rock
legends of the 60s, 70s and 80s, we've heard over and over again to the point where it's become a
part of us. We want to give fans something special with 'Squeeze', when you hear this album in full,
for the first time, hopefully, it'll give you the excitement and joy of albums that you've been listening to
for decades. It's gonna get in your bones, baby!" Jordan testifies.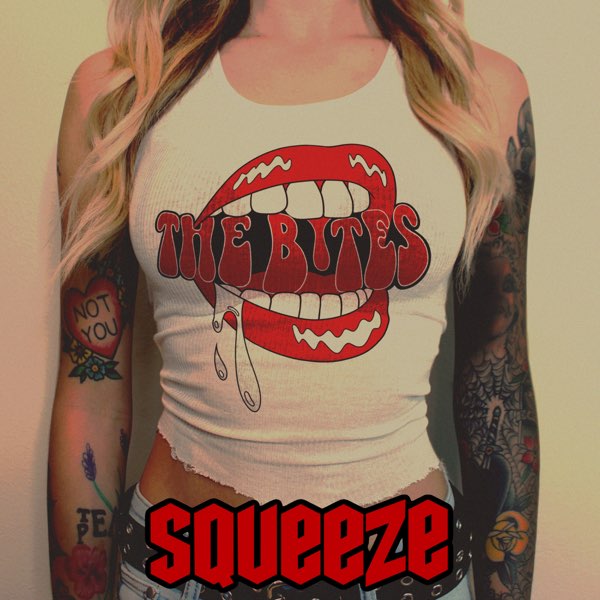 'Squeeze' is out now and available to purchase at earache.com/thebites on limited edition colour
vinyl, signed zebra print CD with handwritten lyric sheets, signed vinyl and more.
The Bites 'Squeeze' OUT NOW! on Earache Records earache.com/thebites