A Canadian darkwave ensemble who incorporate elements of electronica, goth and new wave into their lush and atmospheric dark-pop sound, The Birthday Massacre have enjoyed success over the last decade with albums such as 'Hide And Seek' (2012) and 'Under Your Spell' (2017), both of which charted at home and abroad. The early spring of 2020 then saw the release of the brooding and mystical 'Diamonds', just as the onset of the global pandemic curtailed extensive touring plans to promote it.

Elaborating on that period, lead singer Chibi says "The world shutting down was not something anyone, anywhere, could ever have anticipated. The band locked down like everyone else did, and entered into the same isolation. 'Diamonds' had just been released and the tours were scheduled, and then… full stop. During that time, self-reflection took over. Loneliness took over. When forced to spend so much time with oneself, you can uncover some very dark things, some very beautiful things, but they are all so personal that it can start to feel overwhelming."

The band members were eventually able to reconvene and start writing new songs for what has become their ninth album, 'Fascination', which is out on 18th February. A song from it entitled 'Dreams Of You' has already been made available as a single. "Getting back together in the studio to write and record 'Fascination' was a step towards releasing those emotions and feeling like maybe things will be right with the world again soon," she continues.

Expansive sounding yet intimate feeling, 'Fascination' is TBM's most fully realised effort to date, with the group's signature blend of captivating electronics, aggressive guitars, cinematic melodies and beautifully bewitching vocals on full display. The album shows that their music and the magical world it creates remains ever captivating.

The Birthday Massacre begins an extensive US tour the week after the album release, which will be followed by a twice rescheduled tour of the UK and plus dates in mainland Europe in the autumn. The UK itinerary commences with a newly added Halloween date in London due to ticket demand for their previously announced show in the capital on 12th November. "The next step is getting back out on the road and being able to share our new music. We have not been to the UK, or anywhere for that matter, in a few years. England and Scotland have always been favourites to tour in, and we are so glad that we will finally be able to visit once again and have some fun! We all deserve as much of it as we can get after all this, don't you think?" Chibi concludes.
The full list of UK dates is as follows:
31.10.22  LONDON Lexington (extra show)
02.11.22  YORK Fulford Arms
03.11.22  NEWCASTLE Cluny
04.11.22  EDINBURGH Opium
05.11.22  GLASGOW Ivory Blacks
08.11.22  MANCHESTER Night People
09.11.22  NOTTINGHAM Rescue Rooms
10.11.22  WOLVERHAMPTON NAC (new venue)
11.11.22  BRISTOL Exchange
12.11.22  LONDON Garage


The Birthday Massacre formed in 2000 in Ontario and were originally known as Imagica, their name taken from the title of a novel by Clive Barker. Relocating to Toronto, they renamed themselves The Birthday Massacre just before the release of their 2002 debut album, 'Nothing & Nowhere'. The 'Violet' EP was issued in 2004 and then made available in expanded form as a full album via Metropolis Records, a label with whom the group have remained ever since.

The next two TBM albums, 'Walking with Strangers' (2007) and 'Pins and Needles' (2010), plus the EP 'Imaginary Monsters' EP (2011), were followed by 2012's 'Hide and Seek', which enjoyed an excellent critical reception and chart success. Their sixth album, 'Superstition', appeared in late 2014 and was supported by major tours in North America, the UK, mainland Europe and Brazil.

A compilation of early four-track demos entitled 'Imagica' (2016) preceded 'Under Your Spell', released in 2017 and which made a strong showing on multiple US charts. Three years later, the band celebrated their 20th anniversary with 'Diamonds', its release seeing new drummer Phillip Elliot and bassist Brett 'Bat' Carruthers join the band's ranks.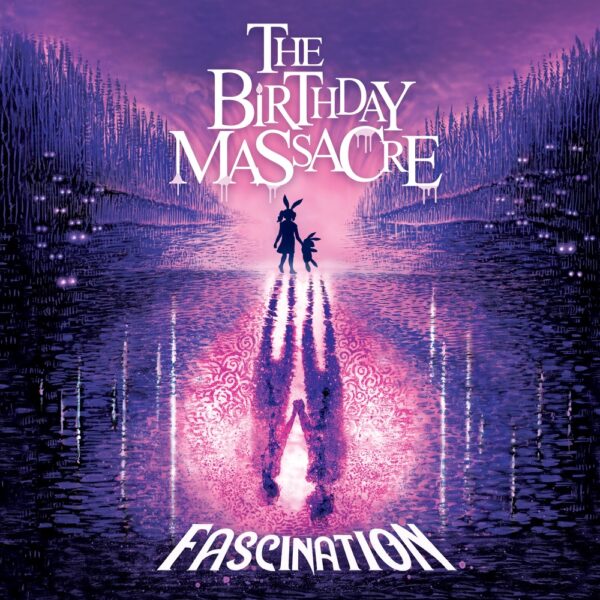 FASCINATION
TRACKLISTING
1  Fascination
2  Dreams Of You
3  Cold Lights
4  Stars And Satellites
5  One More Time
6  Like Fear, Like Love
7  Once Again
8  Precious Hearts
9  The End Of All Stories
THE BIRTHDAY MASSACRE
FASCINATION
new album
out 18.02.22
[Metropolis Records]
new album by leading Canadian dark-pop act
album pre-order link
thebirthdaymassacre.bandcamp.com/album/fascination
includes the single
DREAMS OF YOU
audio
youtu.be/9Iymjr9eW_o

THE BIRTHDAY MASSACRE photography by Andrea Hunter

THE BIRTHDAY MASSACRE
Chibi – vocals
Rainbow – guitars, programming, vocals
Falcore – lead guitar
Phillip Elliott – drums
Owen – keyboards
Brett 'Bat' Carruthers – bass