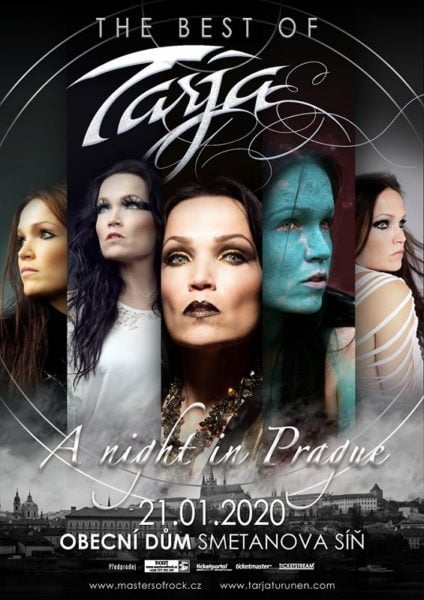 Ahead of her tour to promote the new album, Tarja Turunen made time to do two special shows. The first was at Obecní Dum – Smetana Hall in Prague, a beautiful historic venue. The second show, two days later was in Bucharest and was performed in the round with the stage almost completely surrounded by fans. The shows were billed as "The best of Tarja" and featured songs from her entire solo career. While some people still talk about the band she found fame with, she's been a solo artist for the last 15 years with her first solo rock album coming out 13 years ago. With 5 solo albums plus some EPs she's got plenty to choose from for the shows.
Rather than just bring her band along to the shows, she chose to go big, so as well as a drummer she also had a percussionist, instead of one keyboard player she had 2, there were also two bassists, two guitarists, three backing singers and a four-piece string section. The singers included her brother and also Visions of Atlantis singer Clementine Delauney, and as we discovered during the show they weren't just there to do backing vocals – all three got a turn at sharing lead vocal duties with Tarja.
I was lucky enough to be able to watch the soundcheck before the show, although it was as much a rehearsal as a sound check since as well as getting levels right, there were changes being discussed as to where people should move during certain songs, exactly when things happened and so on. It lasted for around 90 minutes before Tarja was happy and they all took a break.
When it came time for the show I was beginning to wonder if I was in the right place – rather than the usual rock gig audience dressed in jeans and Tshirts, lots of the audience were in formal evening wear and there was a wide age range, so perhaps some had come based on her classical performances. Either way everyone seemed to enjoy the show. Being an all-seated gig it took a while before people decided to stand up and stay standing but once they did that really lifted the atmosphere.
Tarja was in fantastic form and really did sound fantastic. She's always had an incredibly beautiful and powerful voice and tonight with the addition of the other sings and the extra musicians things really did sound great. It was great too to see her clearly having a lot of fun on stage. It took her a few years to get her confidence as a solo artist and to get the writing right but now she has she's making some fantastic music. From the latest album, set closer "Tears in rain" is one of my favourites and it was great to hear it live for the first time here in Prague.
The special show in Prague was fantastic – the only shame is I couldnt make it to the Bucharest one. Happily both were being recorded and possibly filmed for later release, so that's something to look forward to (although it will probably be a year or two before it gets released).
After this show I'm really looking forward to the UK tour which is likely to focus more on the new album (In the raw).  See the tour dates below.
Setlist:
Mystique voyage
500 letters
Naiad
Diva
You and I
Love to hate
Demons in you
Never enough
Falling awake
I feel immortal
I walk alone
Victim of ritual
Innocence
Die alive
Tears in rain
Dead promises
Until my last breath
Shadow play
UK TOUR DATES
Tue 17thMarch 2020 – London, Electric Ballroom
Thu 19thMarch 2020 – Manchester, Academy 2
Fri 20thMarch 2020 – Glasgow, Garage
Tickets for all the shows are available here: https://myticket.co.uk/artists/tarja