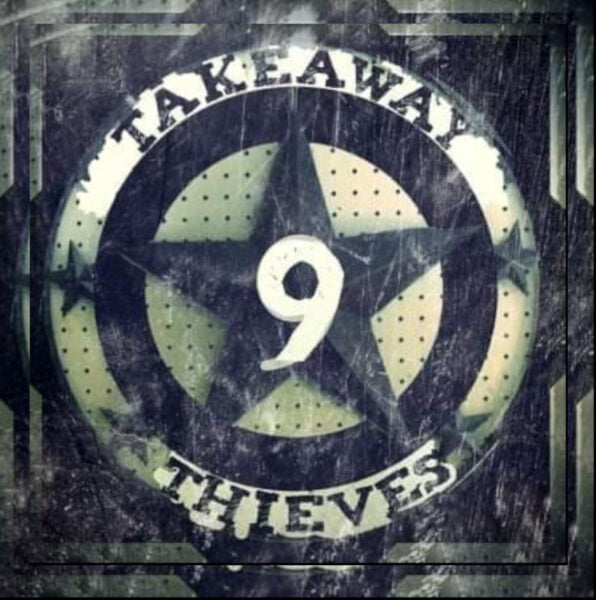 After one listen to 9, the debut album from Blackpool based Takeaway Thieves, you'll be ringing 999 for an ambulance to check your vital signs after being blown away by the attitude of these 9 songs, point proven by album opener '13 Feathers'.
It's not unlucky 13 for the listener as riffs roll along the prairie like Love era The Cult, all swaggering vibes and the heavier side brought to mind Krokus as lead vocalist Peter McLoughlin delivers with the rasp of Marc Storace and a catchy riffed midsection precedes a finger bleeding guitar solo from Ben Gibson.
'Snakes And Daggers' sees some clever word play and dark humour for a gloves off put up or shut up headbanger toughened up more by a gang style delivered chorus and a shimmering fretboard tirade is a treat for the air guitarists out there!
'Soothe Me' was the first single released and is a bona fide rock club dance floor filler. Stop start dynamics in the verses give way to the luscious laid back sugar sweet choruses.
'Big Mistake' is a song we can all relate to (well I can!) as this bar room boogie toe tapper tells of having more than one drink too many, telling one story too many and not getting home until the next day as Peter sings with a Bon Scott like wink of an eye leer.
They certainly lose it throughout 'Lose It' as the guitars of Ben Gibson and Neil Hunter strain at the leash to unleash their ferocity after an insanely heavy opening riff. This crunchy hard rocker sees Peter belt out a vociferous vocal tour de force. Definitely a force to be reckoned with!
'Hot Cat' has always been my standout song live and the studio version also gives me cat scratch fever as the marching drum beats from Max Yates and bullish bass guitar of Adam Hall make for a potent rhythm section. Feel good grooves light the touch paper for the raunchy lyrics, definitely worthy for an "Oooh matron!" and steady your hearing for a wrist snapping snare drum outro.
They channel their inner AC/DC throughout 'Spider', second single taken from the album to shake your ears as well as your foundations with Peter barking out the lyrics with drill sergeant precision.
'Honky Tonk' has nothing to do with Dick Emery for the older Takeaway Thieves fans but it's a rip roaring party starter chock full of earworm guitar lines, a spotlight stealing lead vocal and more full on band choruses.
After all this bombast we have our ears caressed for the final track 'Stranger In This Town'. Peter's forte is personal lyrics and he comes up trumps with some truly heartfelt ones here in this beautiful ballad that exceeds all expectations as he croons over lilting keyboards.
Not ones to rest on their laurels, they held an album launch party at a packed out The Waterloo Bar in Blackpool the day before 9 was released and on release day they played at The Pub in Lancaster where they promised "Acoustic and full tilt electric sets".
Album purchase links and band links can be found here :- https://www.facebook.com/takeawaythieves/shop_tab Ihttps://www.takeawaythieves.com/ I https://www.facebook.com/takeawaythieves/ I https://open.spotify.com/album/52c1fHU5DZ9R0XanwW0o4F I https://www.youtube.com/channel/UCdN2iuQ2RckAfjuJn9YvnbQ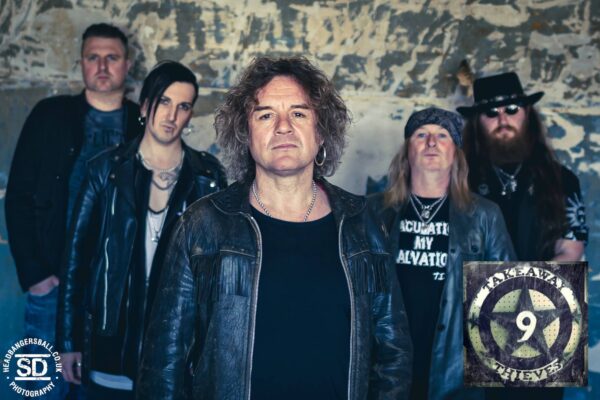 9 album track listing :-
13 Feathers.
Snakes And Daggers.
Soothe Me.
Big Mistake.
Lose It.
Hot Cat.
Spider.
Honky Tonk.
Stranger In This Town.
Takeaway Thieves band line up :-
Peter McLoughlin – Lead Vocals.
Ben Gibson – Lead Guitar.
Neil Hunter – Rhythm Guitar.
Adam Hall – Bass Guitar.
Max Yates – Drums.
Hot cats Takeaway Thieves show they have more than 9 lives with their feline feel good debut album 9.