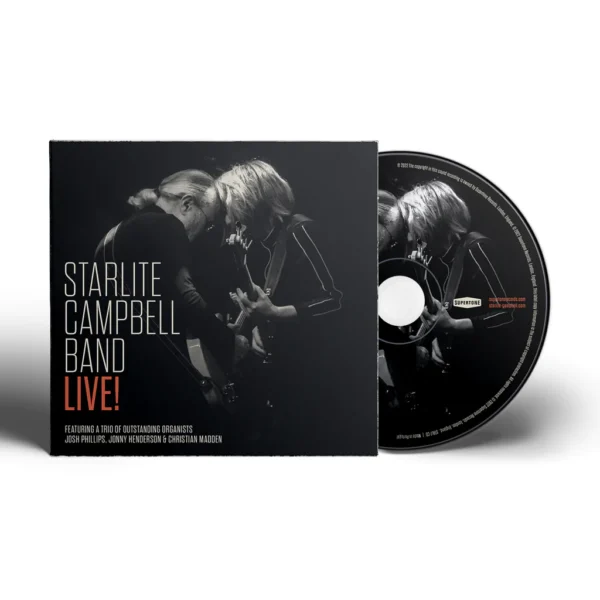 Now there are live albums and there are LIVE albums. The Starlite Campbell Band on July 22nd 2022 release their LIVE album Starlite Campbell Band Live on Supertone Records. Following on from their first two studio releases Blueberry Pie and The Language Of Curiosity this live album recorded at the Met in Bury and the Grange Theatre in Oldham proves that their saying that they are "Flying in the face of disposable music and keeping the roots of rock alive" rings true!
Formed by the husband and wife duo of Suzy Starlite and Simon Campbell, these lengthy eight tracks leave room for some thrilling improvisation, point proven by eight minute long opening track 'Brother'. It's hectic fiery funk that would have James Brown owning the dance floor. A helluva freaky jam of swirling keyboards and fretboard fury is pinned down by a seismic rhythm section and sassy lead vocals.
More axe attack comes from 'Cry Over You' as poignant blues lines share the spotlight with some full on serious string bending, a crooned lead vocal and soothing backing vocals. Keys come to the fore midway with a 'Child In Time' vibe.
'Take Time To Grow Old' is a beautiful ballad to tug at the heartstrings to convey a powerful message to make the most of our time while we can. It ebbs and flows on winsome melodies and ends on a P.A system rattling power chord.
'Said So' starts by kicking out the jams then puts its foot on the brakes for tender bass and guitar work until it surges back on bass heavy boogie, outrageous keyboard wizardry and the outro brought to mind Mahogany Rush era Frank Marino.
A song of beauty comes from 'Guilty' as Suzy takes the reigns to deliver a quivering lead vocal until guitar histrionics ensue.
'Preacher Of Love' is a rabble rousing rock and roller of snare driven fury. Riffs are a force of nature as touches of colour come from keyboard stabs.
There are no misgivings from me as the epic 'Misgivings' grabbed me from the opening shuffle. It's a finger clicking jaunt and the midway guitar solo should raise every venue roof. A lengthy keyboard solo is out of this world made even more cosmic when the guitar decides to duel along with it.
This highly impressive album ends on a goosebump raising take on 'A Whiter Shade Of Pale'. A heartbreaking lead vocal from Simon leads to keyboard duties delivered fittingly by Procul Harums player Josh Phillips.
A pre-release link to the album and other band info are here :- https://www.facebook.com/starlite.campbell/shop_tab I https://www.facebook.com/starlite.campbell I https://twitter.com/suzyandsimon I https://starlite-campbell.com/ I https://www.youtube.com/channel/UCcPi_U0Bi94ZCFSi9RtHtUw I https://www.instagram.com/starlitecampbell/https://open.spotify.com/artist/24UPCThmLgpiEP1wV6SQkN?si=IxuWBIjYQEC9XsVKRVZKYQ&dl_branch=1&nd=1
Album track listing :-
Brother.
Cry Over You.
Take Time To Grow Old.
Said So.
Guilty.
Preacher Of Love.
Misgivings.
A Whiter Shade Of Pale.
Album personnel :-
Simon Campbell – Vocals/Guitar.
Suzy Starlite – Bass Guitar/Vocals.
Josh Phillips – Hammond Organ.
Steve Gibson – Drums.
Jonny Henderson/Christian Madden – Hammond Organ/Wurlitzer Electric Piano.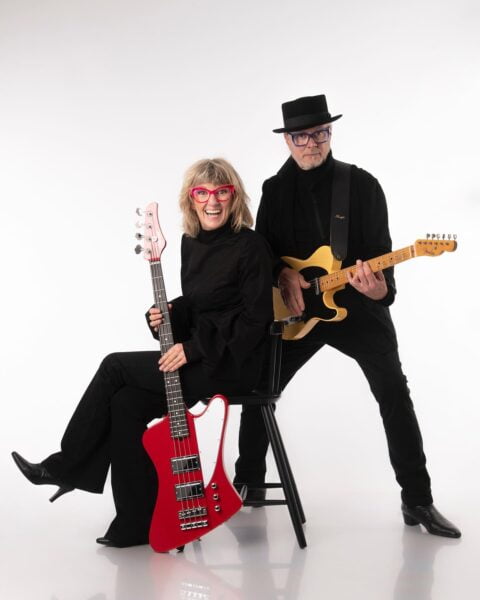 The Starlite Campbell Band light up the sky with brand new album Starlite Campbell Band Live.