Slyder Smith & The Oblivion Kids Premiere 'Pleasure Victim' Video Ahead Of New Album And Electric Boys UK Tour this August
In advance of the band's debut LP, 'Charm Offensive', which is out on 19th August, the swaggering British rock band, Slyder Smith & the Oblivion Kids, have premiered a brand new video for their latest single, 'Pleasure Victim'.This new material lands as the group prepare for an extensive UK Tour commencing 23rd August as special guests to groove rock legends Electric Boys.
Watch 'Pleasure Victim' (official music video): 
'Pleasure Victim' is a sleaze-powered runaway train; a homage to the decadence and debauchery of the late 80s/early 90s Soho rock scene. The new song is a hard-hitting classic rock anthem with filthy duelling guitars, steam roller bass and a relentless pounding beat. Lyrically it tells the story of the transformation from being shackled to the doldrums of the 9-5 life to when the weekend finally comes, and the seduction of the night lures you in to live the dream of rock stardom. 
"Seduce me with all your charms, I'm a victim when I'm in your arms"
You are powerless, you are addicted to the music, addicted to the look, get dressed to impress, choose your poison, and offer yourself up to the altar of the rock gods. This is your song, this is your anthem, whether you like it or not, you are now a Pleasure Victim… at least for tonight!
Slyder Smith first swaggered onto the stage as lead guitarist with glam-tinged power popsters, Last Great Dreamers. After releasing four studio albums and one live album on Ray Records, Slyder has toured extensively throughout the UK & Europe with LGD headline shows and special guest slots to The Quireboys, The Wildhearts, Terrorvision, The Darkness, Enuff ZNuff, and more.
Slyder now takes centre stage leading his new power trio, Slyder Smith & The Oblivion Kids (featuring Tim Emery on bass and drummer Rik Pratt) in an honest outpouring of grit, glamour and emotion.
Produced by Pete Brown (George Harrison, Siouxsie & the Banshees, Marc Almond, The Smiths, Sam Brown), Slyder Smith & the Oblivion Kids' debut album, 'Charm Offensive' is a chocolate box of sonic sensations offering up a little something for everyone – from heavy riffage with walloping drums akin to AC/DC to the anticipated sleaze rock shades of Hanoi Rocks.
However, this band is not afraid to step away from their rock roots, instead, with nods to the likes of The Doors, Velvet Underground, The Stranglers and The Kinks from the past and the alternative rock sound of Manic Street Preachers, The Oblivion Kids have reimagined an 80s synth pop classic and mastered singalong pop, gothic, dark Americana, and dare we say it, funk rock?!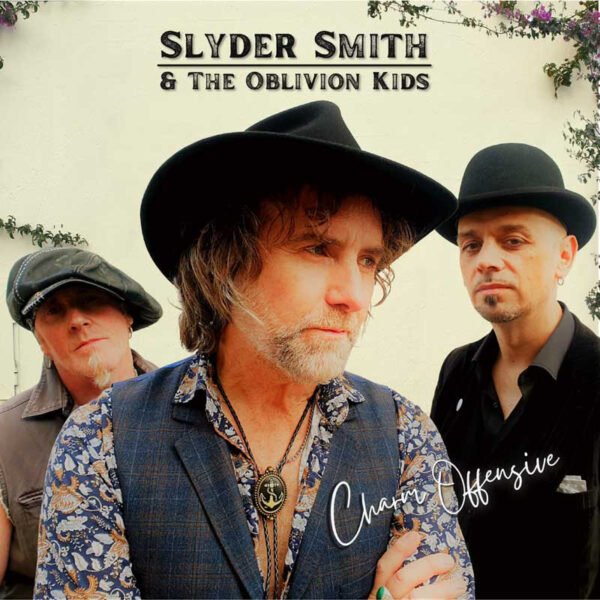 'Charm Offensive' is out on 19th August via Ray Records.
Pre-Save Digital: https://lnk.to/ohXqhj
Pre-Order Physical: https://cargorecordsdirect.co.uk/products/slyder-smith-and-the-oblivion-kids-charm-offensive
Tour dates:

23rd Aug – STOKE – Eleven (w/ Electric Boys)
24th Aug – LONDON – The Underworld (w/ Electric Boys)
25th Aug – SWANSEA – Hangar 18 (w/ Electric Boys)
26th Aug – Y LLEW COCH – Mach, Machynlleth (w/ Electric Boys)
27th Aug – BRADFORD – Nightrain (w/ Electric Boys)
28th Aug – SHEFFIELD – HRH Sleaze
30th Aug – NEWCASTLE – Trillians (w/ Electric Boys)
31st Aug – EDINBURGH – Bannermans (w/ Electric Boys)
1st Sept – GLASGOW, Hard Rock Cafe (w/ Electric Boys)
2nd Sept – WOLVERHAMPTON, The Robin (w/ Electric Boys)
3rd Sept – BLACKPOOL, The Waterloo (w/ Electric Boys)
11th Sept – BRISTOL (Southpaws) – Crofters Rights
6th Oct – MANCHESTER – Star & Garter
7th Oct – BLACKPOOL (Rockmantic) – The Waterloo
8th Oct – GLASGOW – Audio
9th Oct EDINBURGH – Bannermans
11th Oct –  EDINBURGH (solo acoustic) Bannermans (w/ Tony Wright)
3rd Dec – SHEFFIELD (Winter Rocks Festival) – The Corporation
4th Dec – NEWCASTLE – Trillians
20th Dec – LONDON – Water Rats
11th Mar – HRH Spring Break – Great Yarmouth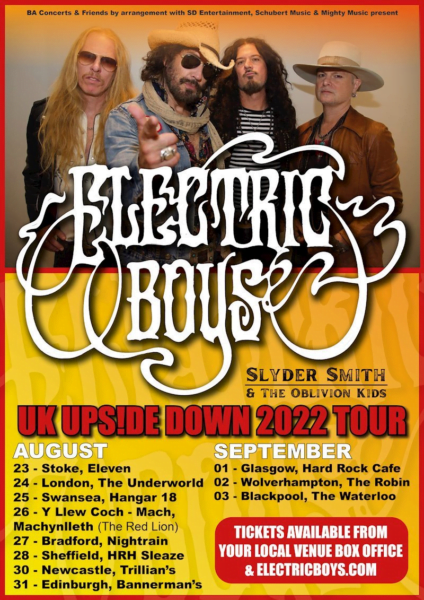 Slyder Smith & The Oblivion Kids are:

Vocals & Guitar – Slyder Smith
Bass – Tim Emery 
Drums – Rik Pratt

Connect with Slyder Smith & The Oblivion Kids:

. Official website: https://www.slydersmith.com
. Facebook: https://www.facebook.com/slydersmithandtheoblivionkids
. Spotify: https://open.spotify.com/artist/0My4aaHRcxhfetxe88lAOI
. Instagram: https://www.instagram.com/slyder_smith
. YouTube: https://www.youtube.com/channel/UCRJya7QcdImW-Y2OUS0StfQ
. Twitter: https://www.twitter.com/SlyderSmith