Belfast's "friendly neighbourhood thrashers" Scimitar having been making quite a name for themselves on the local scene over the past year and a bit.  As the four piece prepare to rip up another stage, this time at the PlanetMosh-sponsored Helloween Havok this coming Friday (November 1st), I pull up a metaphorical pew with drummer Ryan to find out more about the band, and discuss the state of the Belfast metal scene
I start by asking him to tell me a little bit about the band's background – who they all are and how they came to play together?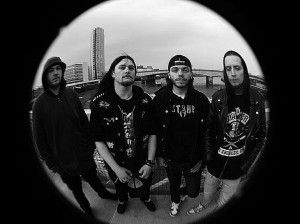 "We are Scimitar! We are a thrash metal band from Belfast, Northern Ireland. The band consists of Jonny Gray on vocals, John Thompson on guitar, Chriz Baird on bass and myself.  When we first came about it was just me and John jamming together for a few months: we wrote about five songs together and were very pleased with how they turned out.
"We wanted to take the project to the next level, but trying to find other musicians who wanted to play thrash metal was very difficult at the time.  We thankfully found out that our long time good friends Jonny and Chriz (who are very big thrash fans as well) were looking to join a band.  We got them up for a jam and within an hour we knew we had found the perfect people for our the project!  We fixed up the songs, added some lyrics and bass and everything was becoming full circle, and thus Scimitar was born!"
What are your musical influences, both individually and collectively, and are these reflected in the band's sound
"We are influenced by a wide scope of bands ranging from Black Sabbath all the way to Immortal.  We are a thrash band [and] we listen to a lot of thrash metal bands that have influenced us over the years as individuals and musicians.  We found that listening to lots of different kinds of metal has helped us capture our sound.  Our main influences are thrash metal bands, but having lots of other influences helps us be a lot more diverse and find new challenges to overcome as song writers."
You're sound has been compared – favourably – to some of the classic thrash acts:  is this an accurate comparison in your eyes (or should that be ears?)?
"We do agree with that. A  lot of people say we are like Slayer, Destruction, Kreator, Dark Angel, the likes of bands like that..  We think there is a little bit of that in our tracks because of the way they influenced us.  However, it still gives the listener a flashback to what they loved about thrash Mmetal.  We know personally when playing the songs live we do get a feel of the New Wave of Thrash Metal such as Gama Bomb or Bonded By Blood, in tracks like 'Behead The Beast' or even 'Erased From Existence'."
You've just released a new EP:  tell us a little more about it…
"Our debut EP titled 'The Act of War' was recorded at Start Together Studio by Niall Doran. He captured the energy of our music perfectly and a fantastic production behind it as well, and we couldn't be happier with the end result.  We have had numerous reviews of the EP and every review has been overwhelming.  The support from our fan base has also been fantastic.  Loads of people are still purchasing our EP and recommending it to their friends.  We couldn't be happier with it! You can pick it up at all of our live shows and from our official website (http://www.scimitar666.com)…"
With that shameless plug out of the way, what inspiration do you draw on lyrically?  Are there any particular subjects you address?
"Based on some of songs there seems to derive a love for movies, then the rest is a hypothetical view of war, evil and society.  Just what we got from growing up watching movies from the 80's and listening to other band as well and listening to what they are singing about.  We write about what we think fits our music perfectly.  Jonny is a fantastic lyricist" when he is writing lyrics, he is writing stories about war, religion, life and various other topics.
You like to keep busy on the live front, and have appeared on some pretty diverse bills:  how important is playing live, and exposing your music to new audiences?
"Very important, it's definitely one of the most important things about being in a local band. Playing on so many different kind of bills helps us expose our name and music to a much wider audience. It's definitely one of the best ways to get the band's name about!  Plus we love playing with other bands so we can experience what else Northern Ireland has to offer!  Play with everyone and everybody and play gigs for nothing!  They are the key elements to help get your bands name about…"
On the grand scale of things, Belfast is a relatively small place, and live venues are pretty scarce (especially since the closures of Auntie Annie's and The Rosetta):  how difficult is it to get gigs, and is there a risk of bands over exposing themselves because they end up playing the same places over and over again?
"For ourselves, we have never really had a problem getting gigs since our first one in The Warzone Centre in June 2012.  We have been asked to play with some outstanding bands over the two years we've been together as a band.  We do keep busy when it comes to playing live: it lets our fans know that there's always an opportunity to catch us live at some point!  With regard to 'over exposing' ourselves, we don't think we will have a problem with that.  We love playing with different types of bands that will help expose our music to different audiences and generate new fans."
You were supposed to support Evile in Dublin earlier this year, before the gig was postponed:  do you know what's happening in terms of it being rescheduled?
"We do!  Unfortunately the extremely talented Ol Drake is stepping down from his position as lead guitarist of Evile.  Due to this they have rescheduled a bunch of dates for next year.  We are still overwhelmed with the fact we are getting to play with these guys!  You can catch them in The Voodoo Lounge in Dublin next September 26th with us and extremely talented Psykosis supporting!"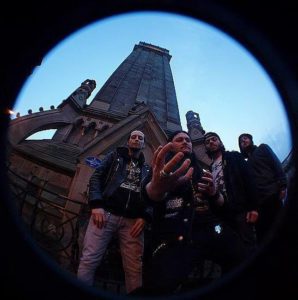 In terms of supporting touring bands, you would you like to see play in Belfast, and who would you kill dead things to get the support for?
"There are a load of bands that we would love to see play Belfast!  A few that come to mind would be Onslaught, DRI, Havok, Warbringer, Exodus, Bio-Cancer, Hyades, Vindicator, Arnocorps, D.A.M, Re-Animator, and Destruction.  We would kill dead things to pay with any one of these bands!"
What other bands on the Northern Ireland scene do you admire or would recommend to the wider PlanetMosh readership?
"The great thing about Northern Ireland is that there are LOADS of fantastic local musicians who are making some of the best music at the moment ranging from hard rock all the way to death metal.  Some of the bands that people should look out for would be  Divisions, Spittin' Teeth, Zombified, Gacys Threads, Maverick, Rabid Bitch Of The North, Buck Eejit and Nomadic Rituals! Keep an eye of for these bands:  they're all great,.."
What's next for Scimitar?   Any plans to record an album?
"At the moment we are playing as many gigs as we can to get the name about! We do have some plans to record a three track demo with some brand new tracks for people to hear hopefully near the end of the year!  Once we have gotten the demo around to as many websites, people, reviewers and fans as humanly possible, well, we will see what happens after that!"
https://www.facebook.com/Scimitar666
'The Act of War' is out now via the band's website.  Scimitar play Hallowe'en Havoc (with NASA Assassin, Altus, ForChristSake and We Are Knuckle Dragger) at Voodoo, Belfast, this Friday (November 1).
Tomorrow, in the next of our interviews previewing the event, we talk to Altus.  For more details on Hellowe'en Havoc, visit https://www.facebook.com/events/213248798814720/