I've been to many a great gig at the Tivoli in Buckley since the mid/late eighties and this three band bill headlined by the Scarlet Rebels is easily in my top five.
A stand point of mine from watching bands since 1980 is to always watch the support bands and what better way to prove that is by catching the two supports last night. Before The Storm opened the show with a very impressive seven song set. Highlights from the Wrexham based band include the bass heavy 'Pretend' that shook the venue and a nice touch came from the lead singer to give shout outs to the bands that followed and fans who had turned up early. 'Brick Wall' is aptly titled as choppy strat guitar lines fire up this grungy chugger to rattle a few early punters eardrums especially from the guitar and snare drum driven outro. 'Shine' is a gritty rocker with more hooks than a fishing tackle shop but my set highlight was final song 'Chip On My Shoulder'. Tinges of 'Copperhead Road' resounded throughout the intro until they shifted through the gears for a breathtaking outro. Band links are here :- https://site.spinnup.com/beforethestorm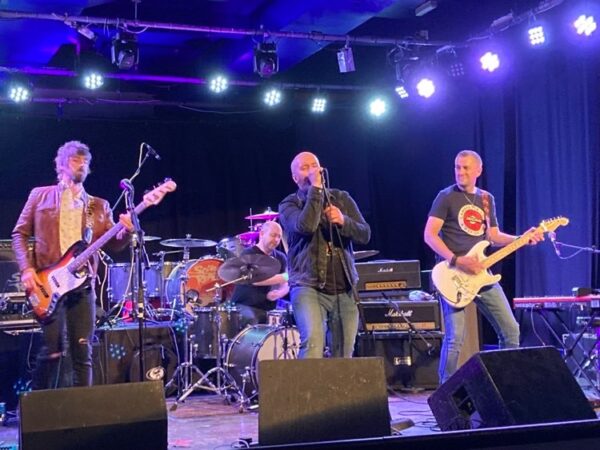 Next up were The Karma Effect, self proclaimed "Dirty, sweet rock n roll from London". I reviewed their self titled debut album a few weeks ago and was amazed with its maturity for such a young band, even more so when lead singer Henry Gottelier said that this was only their ninth gig! Their nine song set included a brand new song 'Chose This Life' that has only been played once before, a Tommy Bolin era Deep Purple slice of funk with a tight twin guitar midsection that bodes well for their second album. Other gems were set opener 'Wrong Again' that immediately showed Henrys vocal prowess that weaved around Motown vibes and luscious keyboards from Seb Emmins.
The funk stayed with us for 'Doubt She's Coming Back' as the bouncy grooves included a fretboard burning guitar solo. 'Better Days' opened with a lengthy keyboard, snare drum piece from Ash Powell, a Ted Nugent like guitar solo midway from Henry (including facial expressions) was matched by Robby Blake on his strat. Introduced as "One of our favourite songs on the album" by Henry, 'Stand' is a stunning ballad that flows towards a calm before the storm keyboard piece. My set highlight was final number 'Testify', first single taken from the album, a feel good power ballad to end an awesome set!
Band links are here :- https://www.facebook.com/thekarmaeffectuk I https://www.thekarmaeffect.co.uk/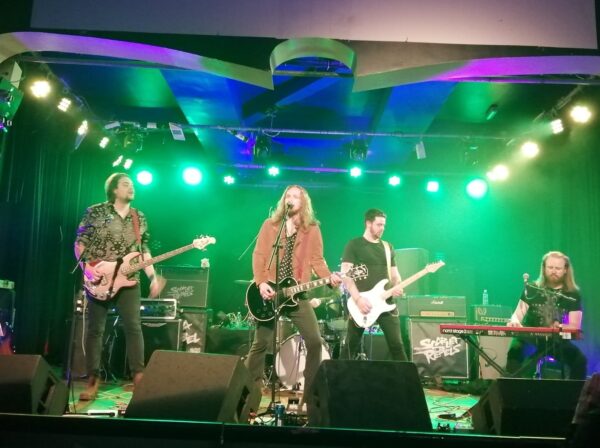 So onto the headliners Scarlet Rebels who really kicked out the jams. I first came across them about three years ago when they opened up the Rockforce Festival at the Waterloo in Blackpool at 1pm after leaving their South Wales hometown Llanelli at the sleep depriving 5am! A chat with them after the gig outside showed just how grateful they were to playing and that vibe emanated from the Tivoli, especially from lead vocalist/guitarist Wayne Doyle who seemed fit to burst looking out at the near full venue.
They treated us to a whopping fourteen song set based mainly on their current studio album See Through Blue, a politically titled affair with their anger at our current situation. 'I'm Alive' opened up and lived up to its title with guitar overload of meaty riffing and razor sharp solos. 'Storm' is a hot rails to hell headbanger nailed down by a fretboard burning solo and mighty crowd fuelled " Whoa oh oh's". An earworm main riff and three way vocal choruses added extra muscle to 'Let Your Love Go' from the Show Your Colours album.
'Let Me In' showed off their AC/DC side as this crunching rocker saw Wayne belt out his vocals backed by the crowd in the huge choruses. The riff heavy 'I Can Sleep Now' was introduced by Wayne as his favourite song on See Through Blue preceded by a passionate speech about the album kickstarter campaign that got them to #7 in the UK album charts! Their Void era song 'Say My Name' was a tour de force from a band riding the crest of a rock wave. As if they could not get any heavier 'Save Me' was air guitar heaven that included a section of 'It's A Long Way To The Top'. 'Heal' had plenty of power for this power ballad along with a spotlight stealing lead vocal. Is there such a thing as a flawless song? Set closer 'These Days' is a very strong contender but make up your own minds by watching the video below.
Band links are here :- http://www.scarletrebels.com I https://www.facebook.com/ScarletRebels