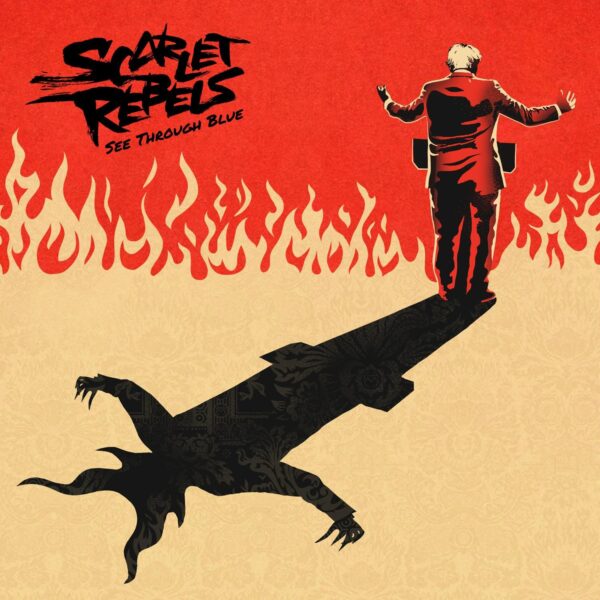 With the pandemic etc. disrupting our lives it doesn't seem like two and a half years since Scarlet Rebels not just released but unleashed their debut album Show Your Colours containing a whopping fourteen songs hammered out by a three guitar line up and thankfully they still hit hard and heavy with the follow up, soon to be released piledriver See Through Blue via Earache Records on January 28th 2022. Previously named Void and formed in Llanelli, Wales they changed it to Scarlet Rebels after their local rugby team The Llanelli Scarlets.
The album opens with 'I'm Alive' and they certainly are. Imagine the twang of the Allman Brothers with the in your face force of AC/DC and you're halfway there. It's a statement of intent opener and the guitar solo explodes to bring it to an ear ringing close.
They whip up a storm during 'Storm' with an earworm main riff that embeds in your brain and stays there until this chuggy hard rocker has finished. It's got a dead cert feel good factor as mighty "Whoa oh oh's" pepper the fists in the air, shout em out loud and proud choruses and a guitar solo with lashings of wah-wah pedal.
Jabbing dynamics knocked me out for a count of ten courtesy of 'London Story', a tale of love lost with a clever lyric of "It was a cold dark November, but she moved like the summer".
An anthem in the making sees 'These Days' guarantee to uplift any crowd as summery vibes burst out to clear the clouds away and the choruses could melt the coldest of hearts. It's a perfect song of melodies with muscle that brought to mind 'Runaway Train' by Soul Asylum.
A snare drum driven adrenaline rush fury of headbanging grooves catapult 'Take You Home' towards another smile inducing chorus that they pull out of the hat. A moody midsection of indie guitar lines, thumping kick drums and an outrageous guitar solo make for an early album highlight.
'I Can Sleep Now' is a ballistic ballad that's beyond belief in a good way of course! A skin tingling intro of an almost whispered vocal is truly ethereal that gives way to a heart wrenching chorus and all hell breaks loose for bullying riffs and guitar solos.
Once again the feelgood factor goes through the roof from 'I Can't Say', a glorious melodic rocker but the big riffs are never too far away for getting the air guitars out!
'Take It' is all powerchord heaven that unbelievably gets heavier when the choruses crash in!
'Leave A Light On' is another beautiful ballad as acoustic strums let it flow over a sugar sweet lead vocal as Wayne holds onto some seriously strong notes for the outro.
'We're Going Nowhere' is fiery funk that cuts a rug with some full on grooves and a load of soul.
An intro of metronomic drumbeats to 'Everything Changed' picks up the pace when monolithic riffs surge to make it the heaviest track on the album, especially in the stellar choruses.
This highly impressive sophomore album closes with the title track. An almost quivering vocal intro cascades towards razor sharp riffing and an overwhelming crescendo outro.
Pre-purchase links to See Through Blue and band info are here :- https://webstore.earache.com/scarletrebels I http://www.scarletrebels.com/ I https://www.facebook.com/ScarletRebels/ I https://twitter.com/scarletrebels I https://www.instagram.com/scarletrebelsofficial/ I https://open.spotify.com/artist/1gVWbJsabbAcgkD24oEVR9 I https://music.apple.com/gb/artist/scarlet-rebels/1466928458 I https://amazon.co.uk/See-Through-Blue-Scarlet-Rebels/dp/B098CMD5P2/?tag=plane09-21
See Through Blue album track listing :-
I'm Alive.
Storm.
London Story.
These Days.
Take You Home.
I Can Sleep Now.
I Can't Say.
Take It.
Leave A Light On.
We're Going Nowhere.
Everything Changed.
See Through Blue.
Scarlet Rebels Band Line Up :-
Wayne Doyle – Lead Vocals/Guitar.
Chris Jones – Lead Guitar.
Josh Townshend – Guitar.
Wayne 'Pricey' Esmonde – Bass Guitar.
Gary Doyle – Drums.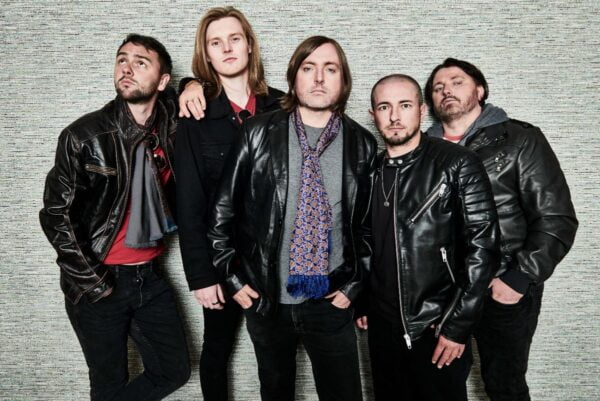 The Scarlet Rebels put the recording levels in the red for their new album See Through Blue.