Rock guitar dynamo Samantha Fish and outlaw country badass Jesse Dayton have joined forces for an upcoming album of collaborative music, due out in May 2023 via Rounder Records. In December, two cover songs and accompanying videos will be released in conjunction with four special concerts in the USA.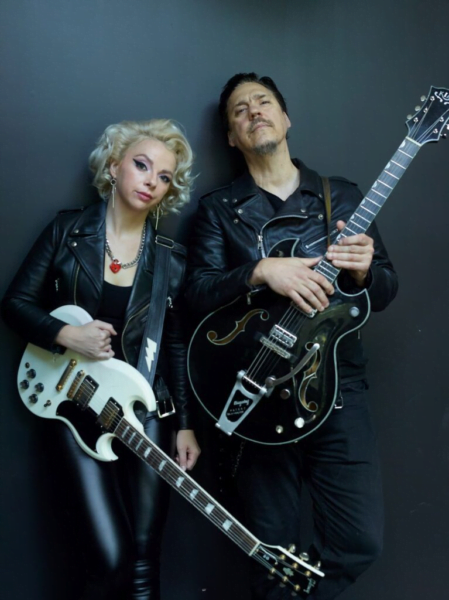 Before her U.S. tour dates with Jesse Dayton, Samantha will embark on her own headline nationwide tour of the UK from October 15-27th with special guests Wille & The Bandits.
Tickets for Samantha's UK tour dates are available from www.samanthafish.com/tourand www.alttickets.com/samantha-fish-tickets. 
An award-winning singer, songwriter, and lead guitarist, Samantha Fish has released six albums over the course of her acclaimed career, with 2021's Faster and 2019's Kill or Be Kind both appearing on Rounder Records. "It's not pure rock and roll, it's not pure blues, it's not pure soul, it's not pure pop — it's a mixture of everything," she says of her genre-bending sound, which has regularly taken Fish around the world. A road warrior, she performs 200 shows yearly, both domestically and abroad.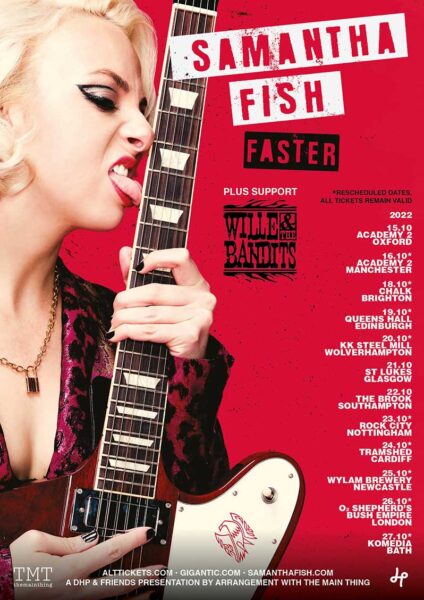 SAMANTHA FISH
OCTOBER 2022 UK TOUR
WITH SPECIAL GUESTS
WILLE & THE BANDITS

TICKETS AVAILABLE FROM
www.alttickets.com/samantha-fish-tickets
www.gigantic.com/samantha-fish-tickets
www.ticketmaster.co.uk/samantha-fish-tickets
www.samanthafish.com/tour
www.ticketweb.uk

O2 Academy2 Oxford
Saturday 15 October 2022

Academy 2, Manchester
Sunday 16 October 2022

Chalk, Brighton
Tuesday 18 October 2022

Queens Hall, Edinburgh
Wednesday 19 October 2022

KK's Steel Mill, Wolverhampton
Thursday 20 October 2022

St Luke's, Glasgow
Friday 21 October 2022

The Brook, Southampton
Saturday 22 October 2022

Rock City, Nottingham
Sunday 23 October 2022

Tramshed, Cardiff
Monday 24 October 2022

Wylam Brewery, Newcastle
Tuesday 25 October 2022

Shepherd's Bush Empire, London
Wednesday 26 October 2022

Komedia, Bath
Thursday 27 October 2022

TICKETS ARE AVAILABLE FROM:
WWW.SAMANTHAFISH.COM/TOUR  
WWW.ALTTICKETS.COM/SAMANTHA-FISH-TICKETS