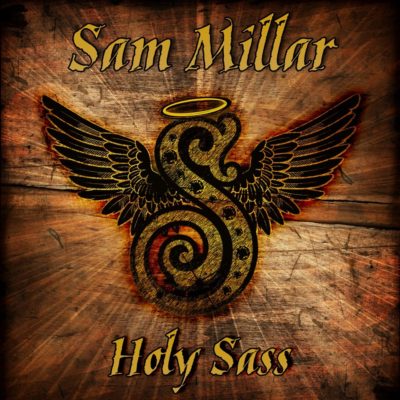 Normally the class clown on and offstage with Bigfoot, guitarist Sam Millar seems to have surprisingly grown up (but I doubt it will last) by releasing his first solo EP Holy Sass and very impressive it is to!
Its five tracks bristle with confidence, opening up with 'Eyes' it has a feel good summery vibe with a heavy but catchy main riff. I've not heard Sam sing before but he has a strong, melodic delivery and the song sets the bar high with huge choruses and a tasty guitar solo. 'Cyber Girl' is an intense power ballad with the emphasis on power due to the bombastic riffing. Soul searching verses lead to sugar sweet choruses but strangely enough I found myself singing "Hopelessly devoted to you" by Olivia Newton John during them!
'Let Me Yet' has hooks that get under your skin from the off and we even get whistling throughout but a lot more cheerful than those in 'Wind Of Change'. 'Lost In Translation' is a spine tingling ballad that builds on a heart worn on the sleeve vocal, melodic lead guitar work and sweeping strings. Holy Sass seems to come to an end too soon as final track 'Strangers' is all adrenaline rush power pop and it brings to mind the lighter side of Damn Yankees. Driving riffs are backed by additional piercing guitar lines and the choruses are surely meant to be hollered out in the car, windows down and the stereo blasting it out on eleven!
Holy Sass EP track listing :-
Eyes.
Cyber Girl.
Let Me Yet.
Lost In Translation.
Strangers.
A very impressive solo release from Sam Millar.