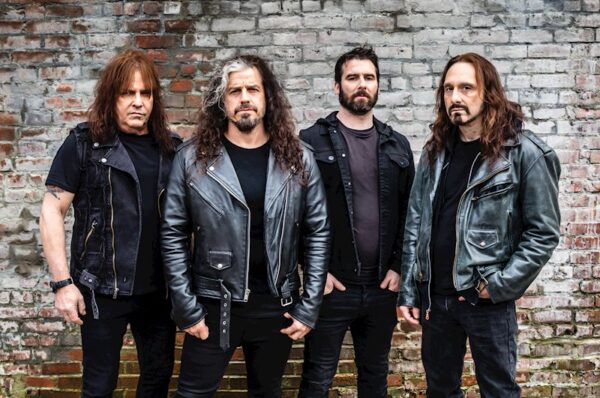 Hail, hail, hail and thrill to the return of Ross The Boss as he unleashes Legacy Of Blood, Fire And Steel via AFM Records on April 28th 2023. It highlights the best of his four solo albums New Metal Leader, Hailstorm, By Blood Sworn and Born Of Fire since his departure from Manowar, featuring on their first six studio albums and before that Shakin Street and The Dictators.
Riff after riff after motherf**king riff heralds album opener 'Blood Of Knives' as these knives scythe throughout proto thrash metal for a put up or shut up statement of intent, especially when the guitar solos arrive.
'I Got The Right' has a majestic, lengthy guitar laden intro that heads off into a full on chugger. Powerful lyrics tell of what you have to to stand up for and what you believe in!
A claustrophobic main riff for 'We Will Kill' could suck the life from whoever or whatever stands in its way as it strides into battle, taking no prisoners with a full on metal maul.
Hammer blow dynamics batter 'Kingdom Arise' for a full on gallop into glory ride for a battle to the death. Vocals are fist clenching for a bare knuckle brawl until only one man stands tall.
'Hailstorm' is heavy metal heaven par excellence, heaved out on a snare and kick drum battered journey to hell and back victoriously on an almost demonic vocal peppered with banshee screams.
Fly the flags high to the Gods in 'Great Gods Glorious' for this heavy, heraldic epic of melody with muscle for this chilling instrumental.
Heavy metal reigns supreme for 'By Blood Sworn' as this battle scarred anthem turbocharges along for the headbangers out there to test the metal mettle of their neck muscles as it surges along, ending on the chorus being pounded out with aplomb!
'This Is Vengeance' is a pit opening metal maelstrom of death defying riffing and another solid gold lung shredding vocal, and talking of shredding, check out the skin flaying guitar solos!
'We Are The Night' is a tectonic plate shifting groover to tilt our planet off its axis for four slamming minutes of fury that fights for attention with an evil cackled vocal and an unrelenting outro.
The riffs for 'Maiden Of Shadows' are a force of nature as they caterwaul over a stadium filling lead vocal as they charge into battle and coming away unscathed.
The fires for 'Born Of Fire' light the fuse for a fast and furious wheels of fire race to the finish line on a hot rails to hell hellraiser of speaker rattling prowess.
This monumental album ends on 'Denied By The Cross' is a punishing but still rewarding listen. It's a magnum opus of finger shredding guitar and seismic bass guitar. This is how metal should be played!
Purchase links to the album and other band info are here :- http://ross-the-boss.com I https://www.facebook.com/rossthebossofficial I https://www.youtube.com/results?search_query=ROSS+THE+BOSS+
Legacy Of Blood, Fire And Steel album track listing :-
Blood Of Knives.
I Got The Right.
We Will Kill.
Kingdom Arise.
Hailstorm.
Great Gods Glorious.
By Blood Sworn.
This Is Vengeance.
We Are The Night.
Maiden Of Shadows.
Born Of Fire.
Denied By The Cross.
Ross The Boss band personnel :-
Ross (The Boss) Friedman – Guitar.
Mike Le Pond – Bass Guitar.
Steve Bolognese – Drums.
Marc Lopes – Lead Vocal.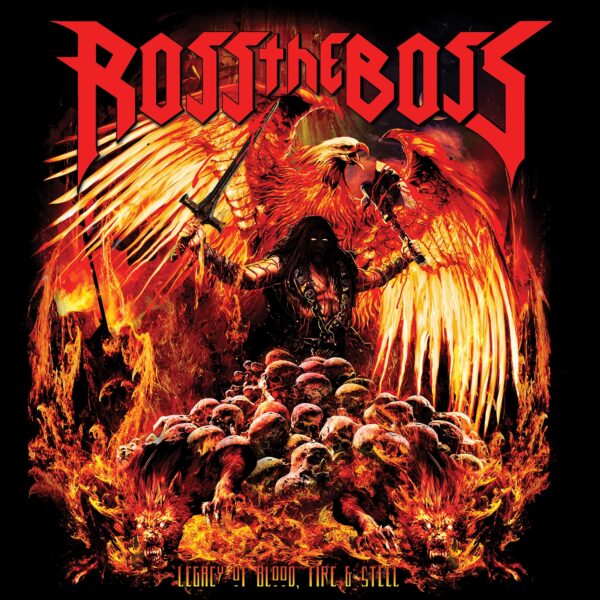 Ross The Boss returns with head held high as he releases his latest release Legacy Of Blood, Fire And Steel.